Women experiencing low back pain will find there are a variety of possible causes. Lower back pain can stem from the reproductive system or the spine itself. Finding the possible cause of low back pain can be difficult to diagnose. As well as, pinpointing the pain can be a very challenging task. Women wonder how it's possible to mistake menstrual cramps for back pain and then it happens to them. There are certain conditions that make the low back and core region a central location of continual pain. And unfortunately, women could be more susceptible.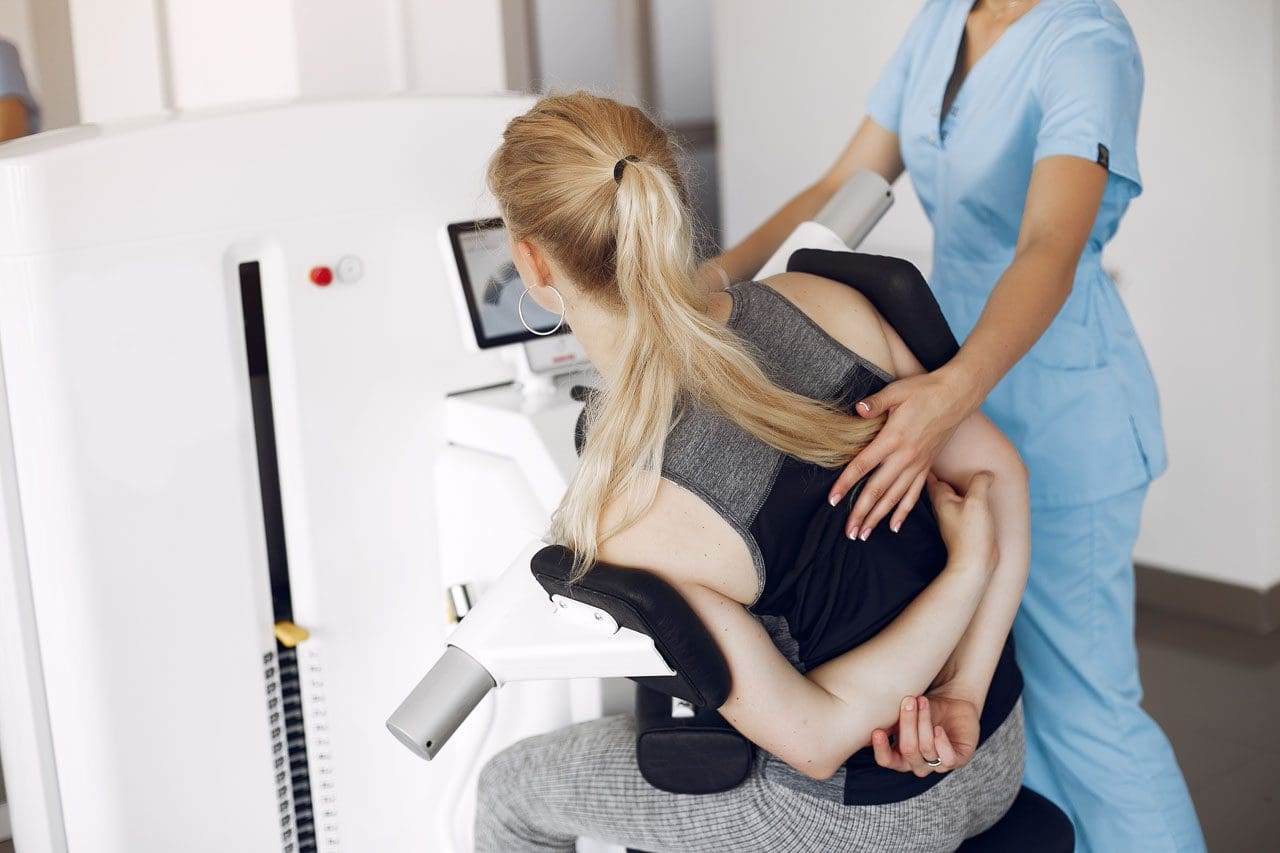 Most individuals will experience low back pain at some point during their life. However, there is a slight prevalence and is more common in females than males across all ages. Low back pain in women increases with age. A research comparison studying middle-aged individuals reported an increase of low back pain in females versus males post-menopause. Some possible low back pain causes include.
Menopause and Hormone Issues
Chronic lower back pain is one of the most reported musculoskeletal issues women face during menopause. About sixty-seventy percent of perimenopausal women present symptoms associated with estrogen deficiency. And over half in perimenopause report chronic musculoskeletal pain. Many of these studies show increasing menopausal symptoms and the correlation to chronic low back pain symptoms.
Menstruation and Uterine Dysfunction
Dysmenorrhea is a uterine dysfunction that involves frequent and severe cramping during menstruation, which often leads to low back pain. The condition is classified as primary or secondary. Both types include low back pain as a common symptom.
Primary dysmenorrhea starts when a woman begins menstruation and continues throughout their life. Intense contractions can cause continual and severe menstrual cramping. Secondary dysmenorrhea usually starts later and is caused by another condition like endometriosis or pelvic inflammatory disease.
Endometriosis
Endometriosis is a condition that can contribute to back pain in women. Tissue that behaves like endometrial tissue begins to grow outside of the uterus, in the pelvic cavity or other areas. The new tissue responds to the body's hormonal changes and can cause swelling, pain, spotting, and bleeding. Endometriosis growths bleed monthly as well. Without a place for the blood to go, the excess irritates and inflames the surrounding tissue.
The condition can cause heavy periods, chronic pain, and scar tissue build-up. Symptoms can present at any menstrual cycle stage. Pelvic pain that runs down the legs is common. Some women have also reported throbbing, shooting pain that can be mild to severe. Symptoms include:
Abdominal pain
Low back pain
Pain when walking or standing
Pain during ovulation
Pain when urinating
Urinary urgency
Pelvic inflammation
Constipation
Pain during intercourse
Bowel movement pain
Rectal pain that radiates
Pain caused by scar tissue build-up within the bladder, fallopian tubes, bowels, and ovaries
Chronic fatigue
Endometriosis can be diagnosed by a doctor during an initial pelvic exam. Further imaging tests to assist in the identification could be requested.
Spinal Issues
The reproductive organs can sometimes contribute to back pain. However, women can also be susceptible to degenerative conditions that affect the spine's structure. Low back pain is common with an average patient experiencing one to two episodes a year. Low back pain can start in early adulthood and become a chronic problem that can be triggered by various events or activities. Most back pain issues are resolved within six weeks. This is known as acute low back pain. When the pain doesn't stop for more than 12 weeks it is considered chronic lower back pain.
Postmenopausal Compression Fractures
Around twenty-five percent of women will go through a vertebral compression fracture of the middle or lower spine. The risks increase with age, with around a 40 percent chance at 80 years of age. Small cracks in the vertebrae can cause severe disability and limit function. Osteoporosis is the most common cause of vertebral compression fracture/s. Postmenopausal women are at an increase of developing osteoporosis. This comes from hormonal changes that decrease bone mineral density, leaving the bones open to fracture.
Spondylolisthesis
This is when one vertebral body, or the thick oval bone segment in front of the vertebra, slips against an adjacent body. The result is pain or mechanical symptoms. The pain can spread throughout the spine to the hip, buttocks, into the legs, and possibly the foot. The condition can be congenital, from an unknown cause, or acquired. There is some research on childbirth and hysterectomies putting women at risk for spondylolisthesis.
It is common in the lumbar spine/lower back, but can also present in the cervical spine/neck region. The thoracic/middle spine is extremely rare except in trauma cases. The thoracic spine is the longest region of the spine. It is between the cervical and lumbar regions. One cause of the increased pain is longer times spent sitting in chairs that are not ergonomic. A second is being confined to smaller workspaces. The key is to get up and move around or use a sit-stand desk to alternate sitting and standing. Irregular and localized low back pain is typical for low back spondylolisthesis. The pain usually worsens when the area/region is flexed or directly touched.
Piriformis Syndrome
Back pain sometimes isn't back pain, but piriformis syndrome. The piriformis muscle is a small muscle that extends from the lower spine to the top of the femur. It can involuntarily contract and compress or irritate the sciatic nerve. The muscle helps rotate and turn the leg and foot outward. Symptoms are consistent with sciatica. It typically presents with buttock pain that shoots, aches, or throbs along the leg's backside, thigh, calf, and foot. Tingling along the nerve along with numbness is common. Causes include:
Buttock injury
Hip injury
Weight training specifically the gluteal/buttock, hips, and hamstrings
Sitting for a long time – Examples include truck drivers, desk job workers, etc.
Damage to the piriformis muscle
Sciatic nerve wraps around the piriformis muscle
Sacroiliac Joint Dysfunction
Sacroiliac joint dysfunction involves inflammation of the joints, located at the connection of the pelvis and lower spine. It can present as low back or buttock pain that radiates down the leg/s. The pain worsens when climbing stairs or standing for an extended amount of time. Sacroiliac joint dysfunction can be tough to diagnose, as it is often mistaken for other low back pain causes.
SI joint dysfunction causes:
Pregnancy – the increased weight and altered movement/s can cause additional stress and wear.
Joint infection – in rare cases, the joints can be subject to infection.
Arthritis – the joints can develop arthritis from normal wear and tear.
Traumatic Injury – the joints can be injured from forceful impact from a fall or auto accident.
Most cases do not end up requiring medication or surgery. It is when the pain lasts more than six weeks that there could be something more taking place like neurologic symptoms or other conditions, spinal or otherwise.
Personalized Chiropractic Spine Treatment
Dr. Alex Jimenez's Blog Post Disclaimer
The scope of our information is limited to chiropractic, musculoskeletal, physical medicines, wellness, and sensitive health issues and/or functional medicine articles, topics, and discussions. We use functional health & wellness protocols to treat and support care for injuries or disorders of the musculoskeletal system. Our posts, topics, subjects, and insights cover clinical matters, issues, and topics that relate and support directly or indirectly our clinical scope of practice.*
Our office has made a reasonable attempt to provide supportive citations and has identified the relevant research study or studies supporting our posts. We also make copies of supporting research studies available to the board and or the public upon request. We understand that we cover matters that require an additional explanation as to how it may assist in a particular care plan or treatment protocol; therefore, to further discuss the subject matter above, please feel free to ask Dr. Alex Jimenez or contact us at 915-850-0900. The provider(s) Licensed in Texas& New Mexico*