You try to stand up from a seated position and feel a stab of pain in your lower back. It may even shoot through your hip, buttock, or down the back of your thigh. The pain may even get worse then you walk uphill or sit for a long period of time. While these symptoms could mean a pinched nerve, lumbar disc herniation, hip bursitis, or degenerative hip disease, it could also be sacroiliac joint dysfunction.
What Is Sacroiliac Joint Dysfunction?
The sacroiliac (SI) joint is located in the pelvis. It is very strong as it is a weight bearing joint connecting the pelvis to the sacrum. It is surrounded by tough ligaments that reinforce it, providing added support.
There is an SI joint located on each side of the sacrum and they work together, moving as a single unit to act as a shock absorber for the spine and for transmitting force of the upper body. Just like any other joint in the body, the SI joint can be injured or diseased, causing it to become unstable and inflamed, causing pain and limited mobility.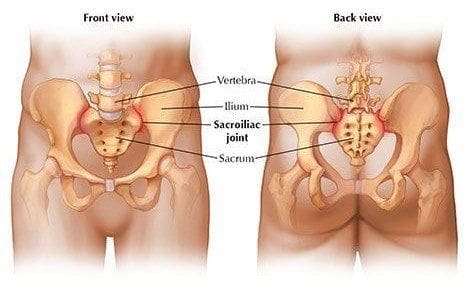 What Causes SI Joint Inflammation?
While doctors have not established how the pain is generated, it is believed that it is due to a change in the normal motion of the joint. This could occur due to:
Hypermobility (Instability or Too Much Movement) – This can cause the pain to reside in the lower back. It can also be felt in the hip or both the hip and lower back and may even radiate into the groin.
Hypomobility (Fixation or Too Little Movement) – This can cause the pain to reside in the lower back or buttocks and may radiate down one leg, usually in the back of the thigh. It usually doesn't reach the knee, but sometimes can even reach the ankle and foot. In this way, the condition mimics sciatica.
Sacroiliac joint dysfunction typically affects women who are young or middle aged. Older women and men are rarely affected although it does happen.
What Are Treatment Options For Sacroiliac Joint Pain?
When SI joint pain is initially diagnosed the treatment is usually fairly conservative. Medication, physical therapy, and injections are used by doctors for pain management.
NSAIDs and other similar medications decrease inflammation and reduce pain, while physical therapy can readjust the SI joint in cases where it is dislocated or immobilized. It also includes exercises that stabilize the joint for pain management over the long term.
Steroid injections directly into the sacroiliac joint can help with the reduction of inflammation and pain while making physical therapy more effective. When steroid injections are effective but the effects are temporary there is another non-surgical treatment that is sometimes used called RFA, or radiofrequency ablation.
In cases where the conservative methods do not achieve the desired results there are surgical options that provide pain reduction and stabilization on a more permanent scale. SI fusion involves fusing the joint, providing relief.
However, there is a treatment option that is non-invasive, doesn't involve steroids or medications that could have harmful side effects – chiropractic.
Chiropractic For Sacroiliac Joint Pain
There are two chiropractic treatments that are typically used to treat SI joint pain:
Spinal manipulation – This is the traditional chiropractic adjustment that is also known as high-velocity, low-amplitude (HVLA) thrust.
Spinal mobilization – This is a less forceful, gentle chiropractic adjustment also known as low-velocity, low-amplitude thrust.
Chiropractic is proven to be an effective, non-invasive, gentle method for relieving the pain and inflammation of SI joint dysfunction. No medication, no surgery, just relief.
So if you've been suffering from sacroiliac joint dysfunction, give us a call! Our Doctor of Chiropractic is here to help!
Injury Medical Clinic: Sciatica Treatment
Chiropractor & Functional Medicine Practitioner ⚕Injury & Sciatica Specialist • Author • Educator • 915-850-0900 📞
We Welcome You 👊🏻.
Purpose & Passions: I am a Doctor of Chiropractic specializing in progressive, cutting-edge therapies and functional rehabilitation procedures focused on clinical physiology, total health, practical strength training, and complete conditioning. We focus on restoring normal body functions after neck, back, spinal and soft tissue injuries.
We use Specialized Chiropractic Protocols, Wellness Programs, Functional & Integrative Nutrition, Agility & Mobility Fitness Training and Rehabilitation Systems for all ages.
As an extension to effective rehabilitation, we too offer our patients, disabled veterans, athletes, young and elder a diverse portfolio of strength equipment, high-performance exercises and advanced agility treatment options. We have teamed up with the cities premier doctors, therapist and trainers to provide high-level competitive athletes the possibilities to push themselves to their highest abilities within our facilities.
We've been blessed to use our methods with thousands of El Pasoans over the last three decades allowing us to restore our patients' health and fitness while implementing researched non-surgical methods and functional wellness programs.
Our programs are natural and use the body's ability to achieve specific measured goals, rather than introducing harmful chemicals, controversial hormone replacement, un-wanted surgeries, or addictive drugs. We want you to live a functional life that is fulfilled with more energy, a positive attitude, better sleep, and less pain. Our goal is to ultimately empower our patients to maintain the healthiest way of living.
With a bit of work, we can achieve optimal health together, no matter the age or disability.
Join us in improving your health for you and your family.
It's all about: LIVING, LOVING & MATTERING! 🍎
Welcome & God Bless
EL PASO LOCATIONS
Central:
6440 Gateway East, Ste B
Phone: 915-850-0900
East Side:
11860 Vista Del Sol, Ste 128
Phone: 915-412-6677