Unfortunately, there are no stretches for  Root canals or Kidney stones. But there are stretches for Piriformis syndrome.
These ailments are painful and no fun! Piriformis syndrome is especially a pain, in the butt, no pun intended.
Seriously, people suffering from Piriformis syndrome have frequent and sometimes severe pain and numbness through the buttocks and down their legs. This occurs when the Piriformis muscle spasms. When this happens, it can end up also aggravating the sciatic nerve, which compounds the pain with tingling and numbness.
The Piriformis is a short, small muscle deep inside our hips, and helps rotate our legs both outward and inward. Because of its proximity to the sciatic nerve, this little body part can cause big problems, and hinder our ability to run, or even walk, through our daily activities with ease.
Fortunately, there are a variety of exercises that help stretch and relax the Piriformis muscle, giving sufferers much-needed relief from the pain and numbness it causes. If you are dealing with Piriformis syndrome, try these stretches to get yourself back on your feet and moving, pain-free.
Stretches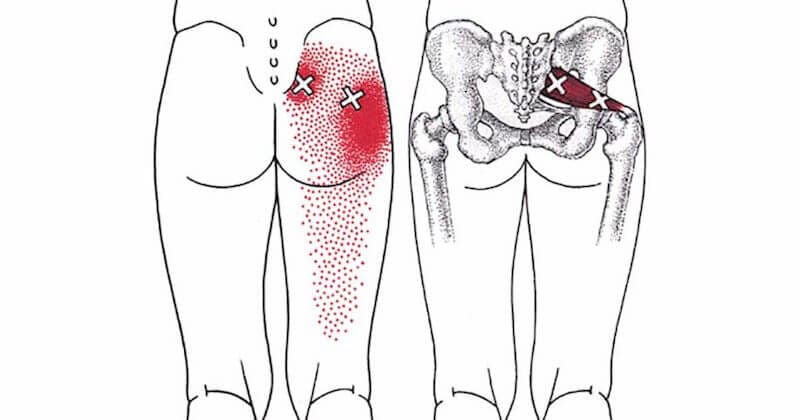 The "Knee Up" Stretch
Lie on the floor, use a mat or thick rug for comfort, on your back. Stretch both legs out, with your arms to your sides. Bend one of your legs at the knee and use your hand to pull it toward the opposite shoulder Hold for ten to thirty seconds. Straighten out that leg, and then do the same motion with the opposite leg and shoulder.
The "Cross Arm" Stretch
Arrange yourself in a sitting position. The bottoms of your feet should be touching each other, with your arms crossed and your hands resting on the opposite leg. Push both knees down toward the floor until you feel the stretch inside your thighs. Hold the position for a count of 30, then relax for a few seconds and repeat up to five more times.
The "Standing" Stretch
This is a handy exercise you can do in the bathroom at work, in a hotel, or anywhere that you would rather not lie on the floor.
Begin in a standing position with both feet flat on the floor, with your feet a shoulder-length apart.  Don't lock your knees, and keep your back straight. Lift one knee up and grasp it with both hands. Make sure you keep the knee parallel to the corresponding hip. Use your hands to pull your knee toward the opposite shoulder until you feel a pull along the side of your buttocks. Hold up to one minute, or as long as you can balance. Repeat the action with the other leg. Try to do it three times for each leg.
The "Sit and Bend" Stretch
This is another convenient exercise that doesn't require getting on the floor. Choose a solid, straight-backed chair that doesn't roll, sit, and bring one leg across the other, resting your ankle on your other leg. Slowly lean forward until you feel a pull along the crossed leg. Hold for up to 30 seconds. Repeat with the other leg, stretching each side 3 times.
Remember that consistency is key. Perform these exercises at least once a day, every day, until your pain and numbness is gone.
These four simple exercises help you make great strides in recovering from Piriformis syndrome. However, if you perform these for several days and still have pain, or experience pain while attempting the stretches, it is a good idea to make an appointment with a professional chiropractor. He or she will be able to evaluate your condition and offer a comprehensive treatment plan to treat the Piriformis so it doesn't get worse, or cause additional issues with your sciatic nerve.
Injury Medical Clinic: Chiropractor (Recommended)
Chiropractor & Functional Medicine Practitioner ⚕Injury & Sciatica Specialist • Author • Educator • 915-850-0900 📞
We Welcome You 👊🏻.
Purpose & Passions: I am a Doctor of Chiropractic specializing in progressive, cutting-edge therapies and functional rehabilitation procedures focused on clinical physiology, total health, practical strength training, and complete conditioning. We focus on restoring normal body functions after neck, back, spinal and soft tissue injuries.
We use Specialized Chiropractic Protocols, Wellness Programs, Functional & Integrative Nutrition, Agility & Mobility Fitness Training and Rehabilitation Systems for all ages.
As an extension to effective rehabilitation, we too offer our patients, disabled veterans, athletes, young and elder a diverse portfolio of strength equipment, high-performance exercises and advanced agility treatment options. We have teamed up with the cities premier doctors, therapist and trainers to provide high-level competitive athletes the possibilities to push themselves to their highest abilities within our facilities.
We've been blessed to use our methods with thousands of El Pasoans over the last three decades allowing us to restore our patients' health and fitness while implementing researched non-surgical methods and functional wellness programs.
Our programs are natural and use the body's ability to achieve specific measured goals, rather than introducing harmful chemicals, controversial hormone replacement, un-wanted surgeries, or addictive drugs. We want you to live a functional life that is fulfilled with more energy, a positive attitude, better sleep, and less pain. Our goal is to ultimately empower our patients to maintain the healthiest way of living.
With a bit of work, we can achieve optimal health together, no matter the age or disability.
Join us in improving your health for you and your family.
It's all about: LIVING, LOVING & MATTERING! 🍎
Welcome & God Bless
EL PASO LOCATIONS
Central:
6440 Gateway East, Ste B
Phone: 915-850-0900
East Side:
11860 Vista Del Sol, Ste 128
Phone: 915-412-6677