Pregnancy can take a toll on a woman's body. New aches and pains start to present as the pregnancy progresses. Hormonal changes can affect the state of mind, making trying to relax or relieve stress extremely difficult to impossible, causing more frustration and tensed muscles. It's absolutely safe and beneficial to get a professional therapeutic massage while pregnant. Most pregnant women are cleared to get massages after their first trimester. However, if it is a high-risk pregnancy, talk to your doctor before scheduling a massage.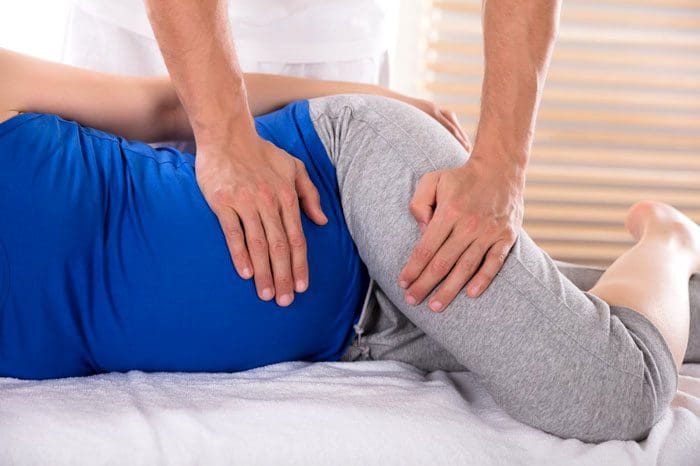 Benefits of Therapeutic Massage
A therapeutic massage while pregnant, known as prenatal massage, generates a peaceful and serene mindset. Studies show prenatal massage is beneficial for the mother and baby. Pregnant women that are unable to find discomfort/pain relief benefit from prenatal massage. Benefits include:
Swelling is reduced
Improved hormone regulation helps reduce instances of low birth weight
Joint, back, and nerve pain/sciatica is reduced, and function improved
Headaches lessen in severity and frequency
Blood and nerve circulation improves
Sleep cycles improve
Anxiety, depression, and stress improves
Types of Massage
Safe massages when pregnant. The most common prenatal massage is a Swedish Massage. This type of massage is gentle but forceful enough to provide the aforementioned benefits. Swedish Massage focuses on the topmost layer of muscle with long strokes that incorporate movement of the joints. Avoid deep-tissue massage when pregnant, as this is a more aggressive style of massage.
Back Massage
During pregnancy, posture changes from the added weight. The center of gravity shifts making the spine and back muscles work harder. This regularly makes the muscles achy, sore, and stiff. Prenatal back massage is done while sitting or lying on the side. Long strokes are performed on the muscles, along with gentle kneading. The focus is on the muscles along the spine and the low back. This type of massage is highly beneficial if sciatica is presenting.
Neck Massage
Massaging the neck loosens tight muscles, improves awkward neck posture, alleviates nerve pain preventing tension headaches, and promotes flexibility. Most therapists will start with the neck and arms while the individual sits up, then lie down to work on the rest of the body.
Chiropractic Massage
This type of massage is performed by a licensed chiropractor and/or a physical massage therapist at the direction of a chiropractor. Chiropractic massage therapists have undergone thorough training and always take care to avoid any pressure points or areas that could cause discomfort.
Areas that Are Avoided During Massage
Professional massage therapists know what areas to avoid during the therapeutic massage, but it's also important for the patient. The areas that will be avoided include:
The pressure points in the wrist and around the ankles. These areas have points that could cause uterine contractions and cervical ripening.
Around the belly. However, it is recommended to perform gentle, low-pressure massaging at home.
Around open wounds, rashes, or skin conditions.
Safety Tips
Other precautions to take when receiving a massage during pregnancy. The massage therapist should look out for blood clot symptoms or varicose veins. Other precautions to follow:
Make sure the massage therapist knows you are pregnant before beginning.
If the massage triggers nausea, discomfort, or is not enjoyable, ask to stop.
Avoid massage tables that have a hole cut out for the belly.
The recommended method is on the side, supported with proper padding to ensure stability and comfort.
The massage should be no more than an hour.
A massage in the first trimester is not recommended.
Make sure the massage oil is safe.
Avoid peppermint, rosemary, sage, and thyme oil.
Massage is not recommended if it is a high-risk pregnancy or:
High blood pressure
Severe swelling
Severe headaches
Have had a previous preterm birth
Pregnancy-induced hypertension/PIH
Massage at Home
A trained massage therapist should perform a prenatal therapeutic massage. However, a partner can perform an easy, safe massage at home following a few guidelines.
Avoid the ankles and the areas around the wrists.
Avoid the belly and the area around it.
Back, neck, scalp, and foot rubs are recommended.
Utilize long gentle strokes with all-natural and safe massage oils or lotions.
Know the signs and symptoms of blood clots. Pregnant women are more susceptible. These include:
Pain
Swelling
Heat
Discoloration of the affected area.
Talk to your physician if you have an increased risk for blood clots.
Get a Massage
A prenatal therapeutic massage can improve hormone regulation, help sleep, reduce stress and anxiety, and promote a healthy and optimal delivery.
---
Body Composition
---
Diastasis Recti Post-Baby Weight
Pregnancy can cause abdominal muscle separation or diastasis recti.
This happens when the outermost abdominal muscles/rectus abdominis, which are the muscles from the breastbone to the pubic bone pull apart from the fibrous attachment point/linea alba. Muscle separation is common after pregnancy, but the degree and location of the separation are what vary from one woman to another. As the pregnancy progresses, the uterus makes room for the growing baby. This can cause the abdominal – recti muscles to stretch and become flabby. This muscle separation is not linked with complications for the mother or the baby and it is not a sign of muscle loss.
References
Hall, Helen et al. "The effectiveness of complementary manual therapies for pregnancy-related back and pelvic pain: A systematic review with meta-analysis." Medicine vol. 95,38 (2016): e4723. doi:10.1097/MD.0000000000004723
"Perineal Massage in Pregnancy." Journal of midwifery & women's health vol. 61,1 (2016): 143-4. doi:10.1111/jmwh.12427
Schreiner, Lucas et al. "Systematic review of pelvic floor interventions during pregnancy." International journal of gynecology and obstetrics: the official organ of the International Federation of Gynaecology and Obstetrics vol. 143,1 (2018): 10-18. doi:10.1002/ijgo.12513