Back pain takes it out of all of us. That's why even the slightest pinch you may feel, shouldn't be ignored and played off as nothing because that could be the beginning of something more serious! You have healthcare options, and chiropractic treatment is one of them.
Doctor of chiropractic Alex Jimenez specializes in treating back pain. A few patients share their back pain experiences and how it affected their lives. They describe how Dr. Jimenez has helped them improve their overall health and wellness with chiropractic care. Dr. Jimenez and his team offer specialized treatment for back pain.
Wellness Doctor Rx Chiropractic
We are blessed to present to you El Paso's Premier Wellness & Injury Care Clinic.
Our services are specialized and focused on injuries and the complete recovery process. Our areas of practice include Wellness & Nutrition, Chronic Pain, Personal Injury, Auto Accident Care, Work Injuries, Back Injury, Low Back Pain, Neck Pain, Migraine Treatment, Sports Injuries, Severe Sciatica, Scoliosis, Complex Herniated Discs, Fibromyalgia, Chronic Pain, Stress Management, and Complex Injuries.
As El Paso's Chiropractic Rehabilitation Clinic & Integrated Medicine Center, we passionately are focused on treating patients after frustrating injuries and chronic pain syndromes. We focus on improving your ability through flexibility, mobility and agility programs tailored for all age groups and disabilities.
We want you to live a life filled with more energy, positive attitude, better sleep, less pain, proper body weight and educated on how to maintain this way of life.
---
Let Us Get Your Life & Health Back!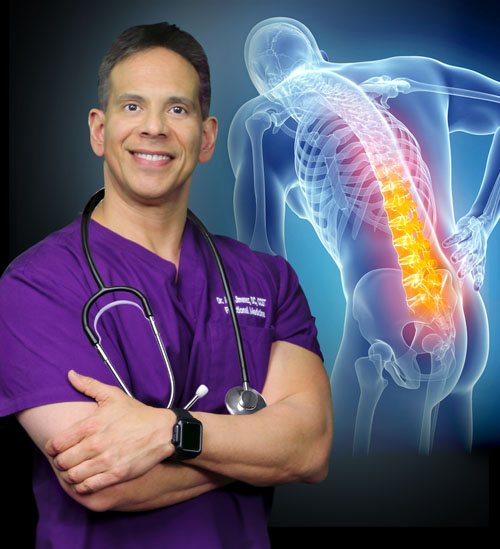 ---
Low Back Pain & Your Feet
The feet are the foundation of the body; they support its weight. If there is not enough support, various parts of the body, especially the spine become exposed to added stress, this can lead to:
Back, hip, knee and foot pain
Poor posture and abnormal foot movement
Sports performance compromised
Greater risk of injury
An abnormal walk leads to imbalances throughout the knees, ankles, and feet, and can eventually cause pain throughout the body, and yes you guessed it the back.
---
Foot Levelers Kiosk
The Kiosk helps guide patients in selecting the best custom-made orthotics for their condition and lifestyle. It's…
Fast: Push the Start button and the scanner begins.
Easy to use: User-friendly easy touch screen.
Engaging: Videos explain the importance of healthy feet and the benefits of custom-made orthotics.
Cloud-based: Results can be securely accessed from anywhere.
Comprehensive: Easily retrieve previous scans to compare them to new scans and see the difference.
The Foot Levelers Kiosk helps you. It saves time so you can spend more time living your life.
---
Intake Form
This is the intake form that is used to set up a custom orthotics treatment plan.
---
Low Back Pain
When there are problems with the feet, it can cause problems through the legs and all the way to the spine. This can cause the ankle to pronate, meaning it rolls inward. This alters the way the bones of the foot line up which extends through the tibia, or shin bone.
---
Health Grades: http://www.healthgrades.com/review/3SDJ4
Facebook Clinical Page: https://www.facebook.com/dralexjimene…
Facebook Sports Page: https://www.facebook.com/pushasrx/
Facebook Injuries Page: https://www.facebook.com/elpasochirop…
Facebook Neuropathy Page: https://www.facebook.com/ElPasoNeurop…
Yelp: El Paso Rehabilitation Center: http://goo.gl/pwY2n2
Yelp: El Paso Clinical Center: Treatment: https://goo.gl/r2QPuZ
Clinical Testimonies: https://www.dralexjimenez.com/categor…
---

Information: Dr. Alex Jimenez – Chiropractor

Clinical Site: https://www.dralexjimenez.com
Injury Site: https://personalinjurydoctorgroup.com
Sports Injury Site: https://chiropracticscientist.com
Back Injury Site: https://www.elpasobackclinic.com
Pinterest: https://www.pinterest.com/dralexjimenez/
Twitter: https://twitter.com/dralexjimenez
Twitter: https://twitter.com/crossfitdoctor
---

Recommend: PUSH-as-Rx ®™

Rehabilitation Center: https://www.pushasrx.com
Facebook: https://www.facebook.com/PUSHftinessa…
PUSH-as-Rx: http://www.push4fitness.com/team/
The spine is the foundation for the body, supporting the spinal cord and the limbs. When there is a problem with any of the limbs it can affect the spine and vice versa. The intricate network of tendons, ligaments, and nerves work together within the incredible machine that is the human body.