Proper nutrition can be difficult for individuals with work, school, and busy schedules to prepare fresh, healthy meals. Healthy food is essential for a healthy nervous system and spine to promote a healthy musculoskeletal system, metabolism, bone strength, tissue growth, and repair. The body requires more nutritional value to heal itself to support damage or injury.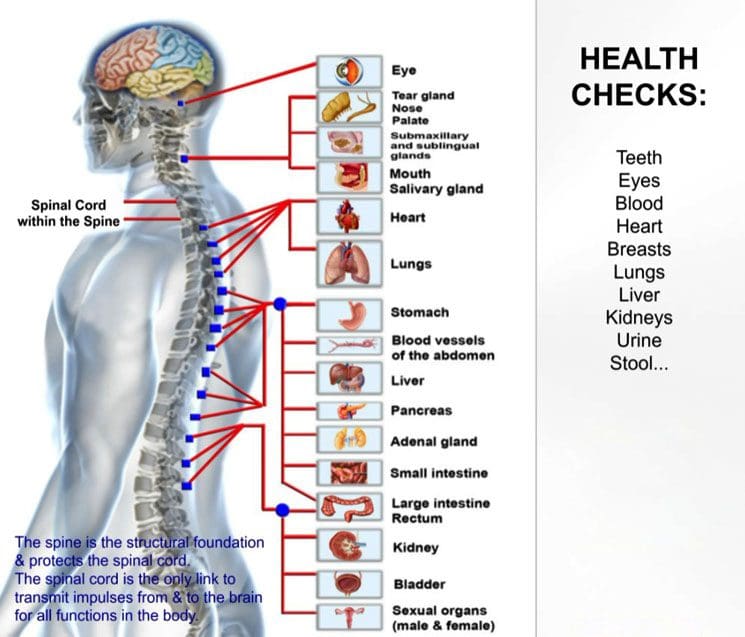 Nervous System and The Spine
The nervous system runs throughout the body like an interstate highway and impacts every bodily function. Disrupting signals can cause a backup, like a massive traffic jam. At that point, no matter how healthy the diet is, the body is unable to process all the food thoroughly to break down all the nutrients. Chiropractic adjustments ensure that blood circulation and nerve energy flow function optimally so that messages sent from the brain and body are transmitted without disruption.
Disrupted Nervous System
The nervous system influences every part of the body, and digestion is no exception. The nervous system tells the body what it needs to do with the food/fuel. When the nervous system is unbalanced and experiencing problems, the nutrients that the body needs don't get appropriately stored, broken down, or used correctly, leaving the body feeling not full and unsatisfied.
Nutrition Improves Musculoskeletal Health
It is essential to understand that nutrition and musculoskeletal health depend on a healthy nervous system and spine.
Food high in protein and calcium increases bone density.
Protein and calcium are vital as the body ages.
A healthy skeletal structure will ensure and maintain a healthy body.
Food is the primary source of nutrients for the body to rebuild and repair torn muscles.
The Relation Between Nutrition And Recovery
Nourishment plays a vital role in maintaining the body's health and helps in reducing the risk of illness or injuries. There are several links between nutrition and recovery that includes:
Injury Rehabilitation
A diet rich in antioxidants like:
Berries
Apricots
Grapes
Milk
Nuts
The body becomes stronger to combat inflammation.
Foods rich in lean protein like:
Yogurt
Tofu
Beef
Provide the body with essential building blocks that help repair cellular damage.
Joint Or Back Pain Alleviation
Overweight and obesity generate unnecessary load on the spine or joints, resulting in back pain.
Reducing weight through proper nutrition filled with proteins and magnesium instead of unhealthy fats and calories will help reduce the strain being put on the musculoskeletal system.
Increased Energy Levels
Food high in sugar or preservatives makes the body feel sluggish and tired.
As a result, the body is constantly exhausted, fatigued, sleepy, and irritable.
Proper nutrition increases energy levels.
Maintaining the nervous system and spine's overall health.
---
Body Composition
---
Malnutrition Risks
Malnutrition can be difficult to spot early, but there are various risk factors to recognize. These include:
Frailty is a strong predictor of malnutrition.
Decreased sense of taste or smell.
Constipation.
Dysphagia – Difficulty swallowing.
Tooth loss.
Parkinson's disease.
Depression doubles the risk of malnutrition, especially among men.
References
Bollwein, J et al. "Nutritional status according to the mini nutritional assessment (MNA®) and frailty in community-dwelling older persons: a close relationship." The journal of nutrition, health & aging vol. 17,4 (2013): 351-6. doi:10.1007/s12603-013-0034-7
Curtis, Elizabeth et al. "Determinants of Muscle and Bone Aging." Journal of cellular physiology vol. 230,11 (2015): 2618-25. doi:10.1002/jcp.25001
Gentile, Francesco et al. "Diet, Microbiota and Brain Health: Unraveling the Network Intersecting Metabolism and Neurodegeneration." International journal of molecular sciences vol. 21,20 7471. 10 Oct. 2020, doi:10.3390/ijms21207471
Oxland, Thomas R. "Fundamental biomechanics of the spine–What we have learned in the past 25 years and future directions." Journal of biomechanics vol. 49,6 (2016): 817-832. doi:10.1016/j.jbiomech.2015.10.035
Pérez Cruz, Elizabeth et al. "Asociación entre desnutrición y depresión en el adulto mayor" [Association between malnutrition and depression in elderly]. Nutricion hospitalaria vol. 29,4 901-6. 1 Apr. 2014, doi:10.3305/nh.2014.29.4.7228