In individuals with herniated discs, how does non-surgical decompression compare to traditional surgery repair the spine?
Introduction
When many individuals begin to add unnecessary pressure on their backs, it can lead to damaging results to their spine. The spine is the backbone of the body, allowing the upper and lower sections to be mobile and stabilizing the axial weight overload without the person feeling pain or discomfort. The spinal structure is surrounded by muscles, soft tissues, ligaments, nerve roots, and joints that support the spine. In between the spinal facet joints and structure are flat discs that absorb the shock and pressure from the axial overload. However, when unwanted stress starts to compress the disc, it can lead to the development of herniation. Depending on the location, it can cause pain-like symptoms like lower back and neck pain or sciatica. Other times, herniated discs can be due to natural degeneration, where the spinal disc height decreases, and it can crack under pressure, leading to disc dehydration, which, to this point, causes spinal issues to many individuals, thinking they are experiencing referred pain in different body locations. Coincidentally, many people can find the relief they seek through non-surgical treatments to restore the disc height and repair herniated discs. Today's article focuses on the casing effects of herniated discs and how spinal decompression, a form of non-surgical treatment, can help reduce pain-like symptoms associated with herniated discs. Additionally, we communicate with certified medical providers who incorporate our patients' information to reduce herniated disc pain, causing many musculoskeletal issues. We also inform them that non-surgical treatments can help mitigate the referred pain-like symptoms related to herniated discs and restore disc height in their spines. We encourage our patients to ask amazing educational questions for our associated medical providers about their referred pain correlating with herniated discs. Dr. Jimenez, D.C., incorporates this information as an educational service. Disclaimer
The Changing Effects Of Herniated Discs
Have you experienced unwanted pain in your upper and lower extremities after a long work day? What about experiencing pain within your spines that are causing symptoms of numbness or tingling sensations in your hands, feet, or legs? Or are you dealing with excruciating lower back pain that is affecting your ability to work? Many individuals don't realize that the pain-like symptoms they are experiencing are not low back, neck, or shoulder pain, but they correlate to herniated discs in their spines. Herniated discs are when the nucleus pulposus (inner disc portion) starts to protrude out of its original position from the intervertebral space. (Dydyk, Ngnitewe Massa, & Mesfin, 2023) Herniated discs are one of the common causes of lower back pain, and often, many individuals will remember what caused the herniation in their spine.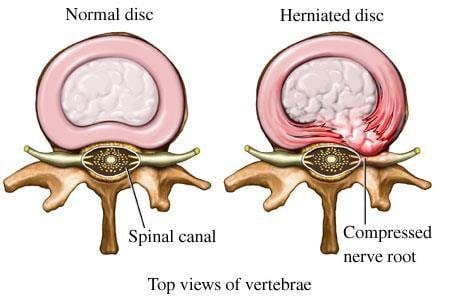 Some of the effects that lead to disc herniation are that many people will carry heavy objects constantly from one location to another, and the shifting weight can cause the disc to be continuously compressed and thus lead to herniation. Additionally, when the intervertebral disc starts showing signs of stiffness, it can result in abnormal spinal motion. (Haughton, Lim, & An, 1999) This causes morphologic changes within the intervertebral disc and causes it to be dehydrated. The chondroitin sulfation of the proteoglycan in the disc goes through changes in the disc itself, and when degeneration is associated with herniated discs, it can lead to musculoskeletal disorders. (Hutton et al., 1997)
---
The Root Cause Of Pain- Video
When degenerative changes start to affect the intervertebral discs, it can lead to intervertebral height loss, abnormal pain signaling, and nerve root entrapment associated with disc disruption. (Milette et al., 1999) This causes a cascading effect as the outer annulus of the spinal disc is cracked or ruptured, causing pain to the spine. When the outer annulus of the spinal disc starts to have nerve ingrowth in the affected discs, which then leads to individuals dealing with musculoskeletal disorders associated with pain. (Freemont et al., 1997) Many people will seek non-surgical therapies when finding treatment to alleviate the pain caused by herniated discs due to their cost-effectiveness and how it's safe for their spine. Chiropractic care, massage therapy, spinal decompression, and traction therapy are available treatments that can be used in a personalized, inclusive treatment care plan to mitigate any pain the person is dealing with. The video explains how these treatments can use functional wellness principles to identify where the pain is located and treat any health issues with any potential underlying causes.
---
Spinal Decompression Reducing Herniated Disc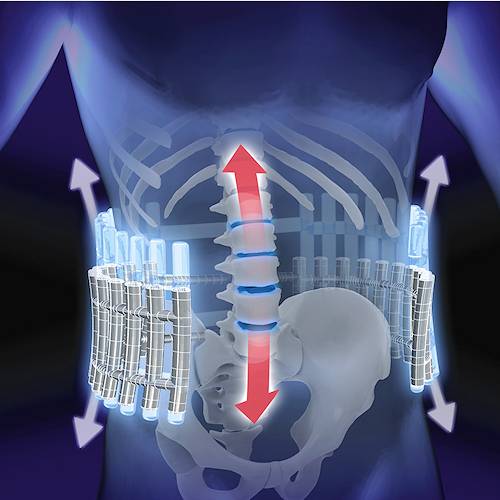 Regarding non-surgical treatments reducing herniated discs, spinal decompression can help mitigate the pain affecting the spine's mobility. Spinal decompression utilizes mechanical traction to gently stretch the spine and allow the herniated disc to return to its original position. Spinal decompression incorporates negative pressure, which helps the nutrients increase the disc's regenerative factors. (Choi et al., 2022) This allows the facet joints and aggravated nerves to have reduced pressure and increased disc space height. At the same time, spinal decompression can be combined with physical therapy to reduce the pain-like symptoms associated with herniated discs and provide beneficial results. (Amjad et al., 2022) Some of the beneficial factors related to spinal decompression include:
Pain improvement in the upper and lower extremities

Spinal range of motion

Muscle endurance restored

Joint ROM restored
When many individuals become more mindful of how different factors are causing spinal issues, they can make small routine changes in their daily lives, and that can reduce the chances of pain from returning. This allows them to enjoy life fully and continue their health and wellness journey.
---
References
Amjad, F., Mohseni-Bandpei, M. A., Gilani, S. A., Ahmad, A., & Hanif, A. (2022). Effects of non-surgical decompression therapy in addition to routine physical therapy on pain, range of motion, endurance, functional disability and quality of life versus routine physical therapy alone in patients with lumbar radiculopathy; a randomized controlled trial. BMC Musculoskelet Disord, 23(1), 255. doi.org/10.1186/s12891-022-05196-x
Choi, E., Gil, H. Y., Ju, J., Han, W. K., Nahm, F. S., & Lee, P.-B. (2022). Effect of Nonsurgical Spinal Decompression on Intensity of Pain and Herniated Disc Volume in Subacute Lumbar Herniated Disc. International Journal of Clinical Practice, 2022, 6343837. doi.org/10.1155/2022/6343837
Dydyk, A. M., Ngnitewe Massa, R., & Mesfin, F. B. (2023). Disc Herniation. In StatPearls. www.ncbi.nlm.nih.gov/pubmed/28722852
Freemont, A. J., Peacock, T. E., Goupille, P., Hoyland, J. A., O'Brien, J., & Jayson, M. I. (1997). Nerve ingrowth into diseased intervertebral disc in chronic back pain. Lancet, 350(9072), 178-181. doi.org/10.1016/s0140-6736(97)02135-1
Haughton, V. M., Lim, T. H., & An, H. (1999). Intervertebral disk appearance correlated with stiffness of lumbar spinal motion segments. AJNR Am J Neuroradiol, 20(6), 1161-1165. www.ncbi.nlm.nih.gov/pubmed/10445464
www.ajnr.org/content/ajnr/20/6/1161.full.pdf
Hutton, W. C., Elmer, W. A., Boden, S. D., Horton, W. C., & Carr, K. (1997). Analysis of chondroitin sulfate in lumbar intervertebral discs at two different stages of degeneration as assessed by discogram. Journal of Spinal Disorders, 10(1), 47-54. www.ncbi.nlm.nih.gov/pubmed/9041496
Milette, P. C., Fontaine, S., Lepanto, L., Cardinal, E., & Breton, G. (1999). Differentiating lumbar disc protrusions, disc bulges, and discs with normal contour but abnormal signal intensity. Magnetic resonance imaging with discographic correlations. Spine (Phila Pa 1976), 24(1), 44-53. doi.org/10.1097/00007632-199901010-00011
Disclaimer
Post Disclaimer
Professional Scope of Practice *
The information herein on "Non-Surgical Mechanical Reduction & Repair For Herniated Discs" is not intended to replace a one-on-one relationship with a qualified health care professional or licensed physician and is not medical advice. We encourage you to make healthcare decisions based on your research and partnership with a qualified healthcare professional.
Blog Information & Scope Discussions
Our information scope is limited to Chiropractic, musculoskeletal, physical medicines, wellness, contributing etiological viscerosomatic disturbances within clinical presentations, associated somatovisceral reflex clinical dynamics, subluxation complexes, sensitive health issues, and/or functional medicine articles, topics, and discussions.
We provide and present clinical collaboration with specialists from various disciplines. Each specialist is governed by their professional scope of practice and their jurisdiction of licensure. We use functional health & wellness protocols to treat and support care for the injuries or disorders of the musculoskeletal system.
Our videos, posts, topics, subjects, and insights cover clinical matters, issues, and topics that relate to and directly or indirectly support our clinical scope of practice.*
Our office has reasonably attempted to provide supportive citations and has identified the relevant research study or studies supporting our posts. We provide copies of supporting research studies available to regulatory boards and the public upon request.
We understand that we cover matters that require an additional explanation of how it may assist in a particular care plan or treatment protocol; therefore, to further discuss the subject matter above, please feel free to ask Dr. Alex Jimenez, DC, or contact us at 915-850-0900.
We are here to help you and your family.
Blessings
Dr. Alex Jimenez DC, MSACP, RN*, CCST, IFMCP*, CIFM*, ATN*
email: coach@elpasofunctionalmedicine.com
Licensed as a Doctor of Chiropractic (DC) in Texas & New Mexico*
Texas DC License # TX5807, New Mexico DC License # NM-DC2182
Licensed as a Registered Nurse (RN*) in Florida
Florida License RN License # RN9617241 (Control No. 3558029)
Presently Matriculated: ICHS: MSN* FNP (Family Nurse Practitioner Program)
Dr. Alex Jimenez DC, MSACP, RN* CIFM*, IFMCP*, ATN*, CCST
My Digital Business Card