Muscle cramp and muscle spasm: Three types of muscles make up the body.
Cardiac muscle makes up the heart.
Smooth muscle cells line the blood vessels, gastrointestinal tract, and organs.
Skeletal muscles attach to the bones and are used for voluntary movements.
A muscle spasm happens when skeletal muscle contracts and does not go back to its relaxed state. Spasms are forceful and involuntary. A muscle spasm that sustains/continues is a muscle cramp. The leg muscles, especially the quadriceps/thigh, hamstrings/back of the thigh, and gastrocnemius/calves, are prone to cramping, but any skeletal muscle can cramp. Charley horse is another name for a muscle cramp.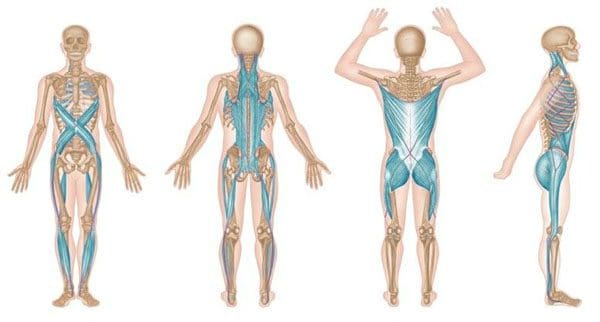 Causes
There can be a variety of causes for muscle cramps. This includes:
Physical exertion in hot weather
Overexertion
Dehydration
Electrolyte imbalance
Physical deconditioning
Certain medications and supplements could contribute to muscle cramping.
Muscle Symptoms and Anxiety
Generalized anxiety disorder or GAD can include symptoms like:
Muscle aches
Muscle tension
Muscle twitching
Symptoms that usually accompany anxiety:
Fatigue
Sweating
Nausea
Shortness of breath
Most times, muscle cramps are not a cause for alarm. However, there are times when cramps could be indicating a more serious health issue like:
Thyroid disorders
Problems or issues with the spine or spinal nerves.
Signs and Symptoms
They can range from mild discomfort to incapacitating throbbing pain.
The muscle that is cramping could look distorted or look like a knot.
Muscle twitching could present.
The area of the cramp could be firm/sensitive to the touch.
Some last just a few seconds.
Others can last 15 minutes or more.
Medication Causation
Medications can cause cramps through differing mechanisms. These include:
They can interfere with electrolyte levels, contribute to the breakdown of muscle tissue, and/or interfere with blood circulation. Any medication-related muscle cramping should be reported to a doctor.
Night Cramping
Night cramping, especially in the calves, is common and affects up to 60% of adults. Women are more prone to night-leg cramps than men. They are also common with age and a common contributor to insomnia. Muscle fatigue and nerve dysfunction are believed to be a factor. Management remedies include:
Stretching
Self-Massage
Topical muscle pain ointments/creams
Ice therapy
Remedies and Treatment
The majority of cramps resolve on their own within a few minutes without treatment.
It is recommended that as soon as a cramp begins, stop the activity.
Stretch and massage the area,
Hydrate with water and, if necessary healthy sports drink to replenish sodium, vitamins, electrolytes, and more.
Apply heat to help relax the muscle.
Apply an ice pack.
Nonsteroidal anti-inflammatory medications (NSAIDs) can help if the pain is substantial.
Consult a doctor if cramps are severe or are recurring often.
Prevention
Strategies for reducing the risk include:
To vary exercise routines
Maintain proper hydration
Maintain proper levels of electrolytes. Sodium and potassium are lost during physical activity, especially in the heat and with consistent sweating.
Regular Stretching
Warm-up with a quick jog or quick walk before stretching the body.
---
Body Composition
---
Insulin and the body
Insulin assists the transport and storage of energy glucose to cells, tissues, and organs. These include the body's glucose storage like the skeletal muscles and liver. Once the blood sugar returns to a base level as the glucose is absorbed, the pancreas begins producing glucagon instead of insulin. Glucagon tells the liver to release the stored sugar, which typically happens between meals. What happens to the body when eating too much sugar and carbohydrates than the glucose-storing organs can handle?
Individuals with Type 1 diabetes have a pancreas that does not produce insulin. Type 1 diabetics need to control their glucose levels with lifelong insulin therapy.
With Type 2 diabetes, the pancreas ends up producing insulin through frequent outbursts. When this starts to happen more than normal, the cells eventually lessen their insulin sensitivity. The body becomes numb to the signaling that there is excess blood sugar in the body. This is what happens in individuals with insulin resistance or Type 2 diabetes. This type of diabetes can be managed or prevented with diet adjustments.
References
AAOS: "Muscle Cramps." Jun. 2017.
American Academy of Orthopedic Surgeons: "Muscle Cramp."
American Academy Physician: "AAN Recommendations on Symptomatic Treatment for Muscle Cramps."
American Family Physician: "Nocturnal Leg Cramps."
American Osteopathic Association: "Muscle Cramp – A Common Pain."
Journal of the American Academy of Orthopedic Surgeons: "The Athlete With Muscular Cramps: Clinical Approach."
National Cancer Institute: "Muscle Types."
National Institute of Mental Health: "What Is Generalized Anxiety Disorder?"