Can various therapeutic options provide relief for individuals with upper crossed syndrome to restore muscle strength?
Introduction
Many individuals often suffer neck and shoulder pain from poor posture, improper heavy lifting, musculoskeletal conditions, auto accidents, whiplash, etc. The surrounding muscles that connect the neck and shoulders help protect the cervical and thoracic region of the spine and can succumb to injuries that can cause pain-like symptoms causing discomfort to the individual. Neck, shoulder, and back pain are the three most common issues many individuals have experienced. These musculoskeletal disorders can also correlate with pre-existing conditions; many people will feel pain and discomfort while trying to find the relief they seek. One of the most common issues people often experience is upper crossed syndrome, which can be associated with neck and shoulder pain. Today's article explains what upper cross syndrome is and how it affects the neck and shoulders while also diving into how different therapeutic options like spinal decompression and chiropractic care can reduce the effects of upper cross syndrome. We speak with certified medical providers who incorporate our patients' information to provide numerous treatment plans to mitigate upper-crossed syndrome in the neck and shoulders. We also inform our patients that there are many therapeutic options, like chiropractic care and spinal decompression, to minimize muscle pain in the neck and shoulders. We encourage our patients to ask intricated and educational questions to our associated medical providers about the pain-like symptoms they are experiencing correlating with upper-crossed syndrome. Dr. Alex Jimenez, D.C., utilizes this information as an academic service. Disclaimer
What Is Upper Crossed Syndrome?
Have you been dealing with muscle pain in your shoulders or neck after being on the computer for a while? Do you feel stiffness in your shoulders that rotating them causes temporary relief? Or does it hurt when you turn your head from side to side? Many of these pain-like scenarios are often associated with upper-cross syndrome. Many people don't often realize that upper crossed syndrome is a musculoskeletal condition that affects the neck, shoulder, and chest muscles and causes them to be weak and tight due to poor posture. The upper crossed syndrome can cause referred pain to the upper extremities, leading to cervicogenic headaches, limited range of motion, trigger points in the muscles, and muscle imbalance. (Moore, 2004) When many people are dealing with upper crossed syndrome due to poor posture, it can lead to many issues in the neck and shoulders.
How Does It Affect The Neck & Shoulders?
Now, why does upper crossed syndrome affect the neck and shoulders? Many people unintentionally hunched over when looking at their phones, being on the computer, or relaxing at home. This causes specific muscles in the neck and shoulder region, like the serratus and lower trapezius muscles, to become weak while the pectoral and neck muscles are tight. (Chu & Butler, 2021) This, in turn, causes the shoulders to be more rounded and hunched, causing the neck and head to crane forward. When people are dealing with upper crossed syndrome, many would often complain about pain-like symptoms like:
Headaches

Neck Strain

Muscle tightness

Upper back pain

Restricted range of motion

Numbness/Tingling sensations in the arms
The upper crossed syndrome can also occur gradually over time and cause nerve compression to the upper extremities. When the upper neck and shoulder muscles start to affect the surrounding nerve roots, which then leads to nerve dysfunction in the sensory and motor skills when a person picks up an object. (Lee & Lim, 2019) However, many individuals dealing with upper-crossed syndrome can seek treatment to relieve muscle pain in their neck and shoulders.
---
An Overview Of Upper Crossed Syndrome- Video
Since upper cross syndrome is a musculoskeletal condition that affects the neck and shoulders, it can result in muscle imbalance and pain in the individual. Many people, especially in the working field, develop this syndrome by being hunched over for an extended period. (Mujawar & Sagar, 2019) This causes the head to be more forward, the neck posture to be curved and hunched, and the shoulders to be rounded. The video above explains upper-crossing syndrome, its causes, and how it is treated. 
---
Spinal Decompression Reducing Upper Crossed Syndrome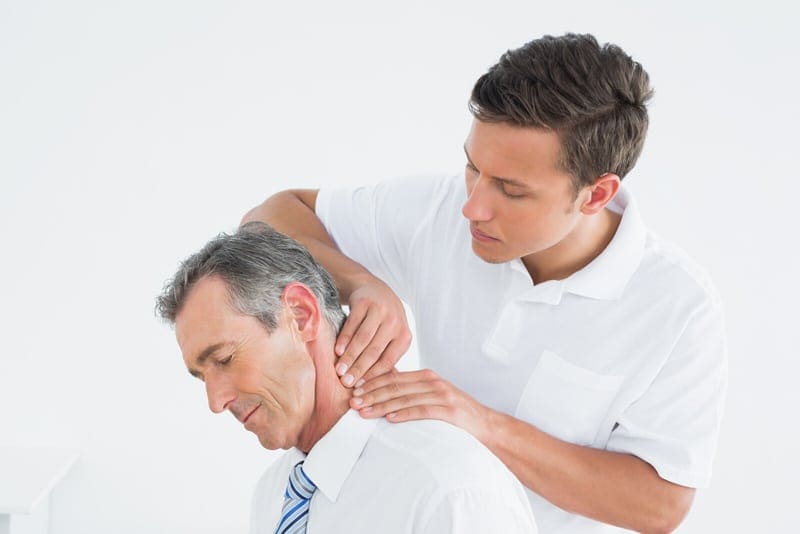 Numerous treatments can help restore muscle strength and reduce muscle pain in the neck and shoulders. Treatments like spinal decompression can help reduce upper crossed syndrome by slowly using gentle traction to the cervical spine region and gently stretching the neck muscles to provide relief. Spinal decompression is one of the non-surgical treatments that many individuals with headaches associated with upper crossed syndrome can find the comfort they seek through pain reduction and improve their quality of life. (Eskilsson et al., 2021) At the same time, spinal decompression can be part of a personalized treatment plan that many individuals can add to their daily routine to prevent the pain from returning. (Saunders, 1983)
Chiropractic Care Restoring Muscle Strength
Just like spinal decompression, chiropractic care is a non-surgical treatment that can be combined with various stretching techniques to restore the neck's range of motion and reduce pain associated with upper-crossed syndrome. (Mahmood et al., 2021) Chiropractic care incorporates manual and mechanical techniques like MET (muscle energy techniques) and spinal manipulation to realign the spine out of subluxation. When chiropractors integrate MET to manage upper crossed syndrome, many individuals find that their pain has decreased, their cervical range of motion is improved, and their neck disability is reduced. (Gillani et al., 2020) When many individuals start thinking about their health and wellness, they can make small changes to improve their posture and be more mindful of their bodies to reduce the chances of upper-cross syndrome returning.
---
References
Chu, E. C., & Butler, K. R. (2021). Resolution of Gastroesophageal Reflux Disease Following Correction for Upper Cross Syndrome-A Case Study and Brief Review. Clin Pract, 11(2), 322-326. doi.org/10.3390/clinpract11020045
Eskilsson, A., Ageberg, E., Ericson, H., Marklund, N., & Anderberg, L. (2021). Decompression of the greater occipital nerve improves outcome in patients with chronic headache and neck pain – a retrospective cohort study. Acta Neurochir (Wien), 163(9), 2425-2433. doi.org/10.1007/s00701-021-04913-0
Gillani, S. N., Ain, Q., Rehman, S. U., & Masood, T. (2020). Effects of eccentric muscle energy technique versus static stretching exercises in the management of cervical dysfunction in upper cross syndrome: a randomized control trial. J Pak Med Assoc, 70(3), 394-398. doi.org/10.5455/JPMA.300417
Lee, E. Y., & Lim, A. Y. T. (2019). Nerve Compression in the Upper Limb. Clin Plast Surg, 46(3), 285-293. doi.org/10.1016/j.cps.2019.03.001
Mahmood, T., Afzal, W., Ahmad, U., Arif, M. A., & Ahmad, A. (2021). Comparative effectiveness of routine physical therapy with and without instrument assisted soft tissue mobilization in patients with neck pain due to upper crossed syndrome. J Pak Med Assoc, 71(10), 2304-2308. doi.org/10.47391/JPMA.03-415
Moore, M. K. (2004). Upper crossed syndrome and its relationship to cervicogenic headache. J Manipulative Physiol Ther, 27(6), 414-420. doi.org/10.1016/j.jmpt.2004.05.007
Mujawar, J. C., & Sagar, J. H. (2019). Prevalence of Upper Cross Syndrome in Laundry Workers. Indian J Occup Environ Med, 23(1), 54-56. doi.org/10.4103/ijoem.IJOEM_169_18
Saunders, H. D. (1983). Use of spinal traction in the treatment of neck and back conditions. Clin Orthop Relat Res(179), 31-38. www.ncbi.nlm.nih.gov/pubmed/6617030
Disclaimer
Post Disclaimer
Professional Scope of Practice *
The information herein on "Upper Crossed Syndrome: The Best Therapies Explained" is not intended to replace a one-on-one relationship with a qualified health care professional or licensed physician and is not medical advice. We encourage you to make healthcare decisions based on your research and partnership with a qualified healthcare professional.
Blog Information & Scope Discussions
Our information scope is limited to Chiropractic, musculoskeletal, physical medicines, wellness, contributing etiological viscerosomatic disturbances within clinical presentations, associated somatovisceral reflex clinical dynamics, subluxation complexes, sensitive health issues, and/or functional medicine articles, topics, and discussions.
We provide and present clinical collaboration with specialists from various disciplines. Each specialist is governed by their professional scope of practice and their jurisdiction of licensure. We use functional health & wellness protocols to treat and support care for the injuries or disorders of the musculoskeletal system.
Our videos, posts, topics, subjects, and insights cover clinical matters, issues, and topics that relate to and directly or indirectly support our clinical scope of practice.*
Our office has reasonably attempted to provide supportive citations and has identified the relevant research study or studies supporting our posts. We provide copies of supporting research studies available to regulatory boards and the public upon request.
We understand that we cover matters that require an additional explanation of how it may assist in a particular care plan or treatment protocol; therefore, to further discuss the subject matter above, please feel free to ask Dr. Alex Jimenez, DC, or contact us at 915-850-0900.
We are here to help you and your family.
Blessings
Dr. Alex Jimenez DC, MSACP, RN*, CCST, IFMCP*, CIFM*, ATN*
email: coach@elpasofunctionalmedicine.com
Licensed as a Doctor of Chiropractic (DC) in Texas & New Mexico*
Texas DC License # TX5807, New Mexico DC License # NM-DC2182
Licensed as a Registered Nurse (RN*) in Florida
Florida License RN License # RN9617241 (Control No. 3558029)
Presently Matriculated: ICHS: MSN* FNP (Family Nurse Practitioner Program)
Dr. Alex Jimenez DC, MSACP, RN* CIFM*, IFMCP*, ATN*, CCST
My Digital Business Card