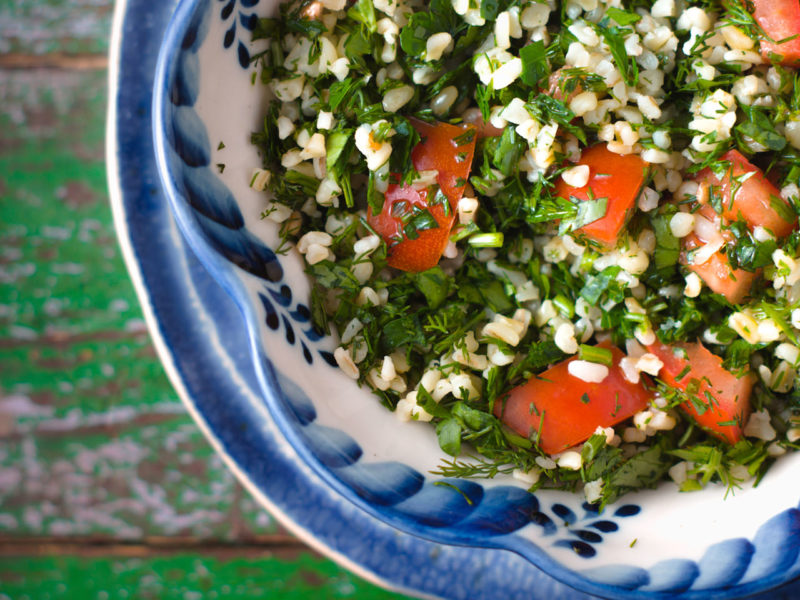 Ingredients
¾ cup Teff
⅓ cup plus 2 Tablespoons extra-virgin olive oil
Juice (3 Tablespoons) and zest of one lemon
2 garlic cloves, minced
½ teaspoon freshly ground black pepper plus more to taste
¼ teaspoon sea salt plus more to taste
1 cucumber, cut into ¼-inch pieces
1-pint cherry tomatoes, quartered (1 c chopped)
¾ cup finely chopped flat-leaf parsley
¾ cup finely chopped fresh mint
4 green onions, minced
12 olives
Instructions
In a pot, bring 2 ¼ cups of water to a boil, add the teff, cover and simmer for 15-20 minutes until the water is absorbed. Stir occasionally.
In a bowl, whisk together the olive oil, lemon juice and zest, garlic, salt, and pepper.
When the teff is ready, mix in ¾ of the dressing and set aside the rest. Spread the teff in an even layer on a baking sheet to help it to cool.
Once the teff is cool, use your hands to break it up into small pieces then mix in the rest of the ingredients except for the olives.
Divide the teff mixture evenly among serving plates or bowls, drizzle with the remaining dressing and garnish with olives.
Nutrition Facts
Teff Tabbouleh
Serves: 4 people
Amount Per Serving:

1/2 cup

Calories

421.62 kcal

% Daily Value*
Total Fat

27.28 g

42%
Saturated Fat

3.84 g

19.2%
Trans Fat

0.0 g

Cholesterol

0.0 mg

0
Sodium

213.88 mg

8.9%
Total Carbohydrate

41.19 g

13.7%
Dietary Fiber

7.87 g

31.5%
Sugars

5.77 g

Protein

7.93 g
Vitamin A

14.72 %

Vitamin C

64.18 %

Calcium

17.03 %

Iron

38.49 %
* Percent Daily Values are based on a 2,000 calorie diet. Your daily values may be higher or lower depending on your calorie needs.