Individuals don't like to read the warning signs of their spinal health, saying to themselves the pain will go away. Individuals will feel their back seize up or sting for a moment and then goes back to normal. The body is doing its job to warn you that something is not right. This is where choices come into play:
Ignore the warning because the tingling or pain went away.
Pay attention to the warning before more damage is done.
This is where waiting, hoping that it will resolve on its own, is not recommended. This is because something did happen but did not fully present, like a loose part that is still functioning. However, time, movement, or action, can throw the body off balance and create all kinds of health issues.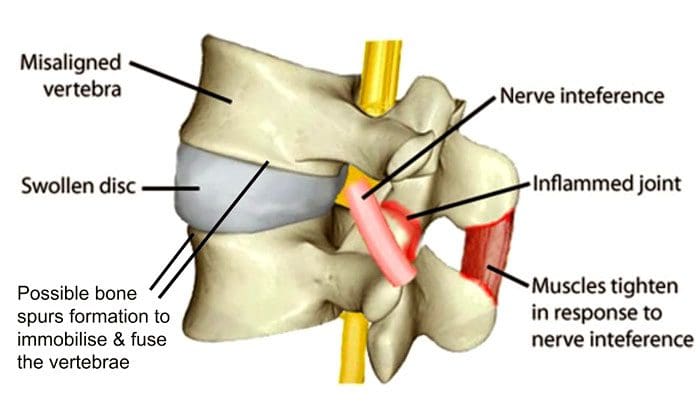 Paying attention to the Warning Signs
The body is always adapting to the internal and external environments. For example, external adaptation is sweating during a hot summer day. The body adapts to the heat by sweating to cool down and bring down the temperature. An example of internal adaptation is the spine has been slowly shifting out of alignment. The muscles that support the spine have been adapting to this shifting. However, it is not the ideal adaptation situation as some muscles over/under stretch while others under/over-contract to compensate, causing pain. The body gets stressed out physically, with possible damage occurring. This is where an individual knows something is not right and needs to listen to their body.
The Impact
A spine that is misaligned/subluxated does not move properly or function correctly. Improper movement damages the spinal:
The spinal cord and nerves transmit and receive all the vital information the body needs to function. These include:
Heart function
Intestinal function
Lung function
A misaligned spine can hurt or cause symptoms for a split second. The effects of an untreated misaligned spine can affect an individual for life. If you have experienced any of these or other warning signs, contact a chiropractor. Injury Medical Chiropractic and Functional Medicine Clinic will help assess your symptoms and develop a personalized treatment plan.
---
Body Composition
---
Work On Goals One at A Time
To reach goals faster, it's best to target one goal at a time. How to decide which goal to begin with:
Fat Loss First
This goal is best for individuals whose body compositions have a high body fat percentage and high overall weight.
Lean Body Mass First
Individuals may want to begin by increasing Lean Body Mass if they are skinny fat. Skinny fat means the individual is not overweight but has low amounts of  Lean Body Mass and high amounts of Fat Mass.
Resistance training to build muscle will likely bring down Fat Mass as well. Increasing Lean Body Mass will increase the calorie needed by the body to maintain itself. This increased calorie need can lead to the body acquiring energy by burning extra fat. The calories burned in resistance training also speed up fat loss. Everyone is different in how the body responds to programs targeting fat and those designed to build muscle. Consult with our health coach, nutritionist, and fitness chiropractic team with any questions you may have.
References
Bruehl, Stephen. "Complex regional pain syndrome." BMJ (Clinical research ed.) vol. 351 h2730. 29 Jul. 2015, doi:10.1136/bmj.h2730
Flynn, Diane M. "Chronic Musculoskeletal Pain: Nonpharmacologic, Noninvasive Treatments." American family physician vol. 102,8 (2020): 465-477.
Sanzarello, Ilaria et al. "Central sensitization in chronic low back pain: A narrative review." Journal of back and musculoskeletal rehabilitation vol. 29,4 (2016): 625-633. doi:10.3233/BMR-160685