Quiche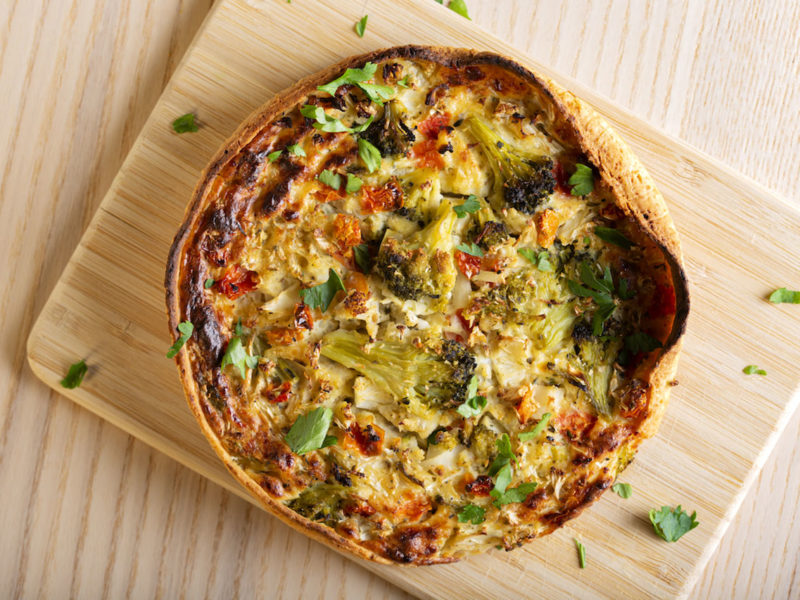 Ingredients
2 medium sweet potatoes, shredded
1 tablespoon plus 2 tablespoons ghee, divided
1 teaspoon salt
1 teaspoon pepper
1/4 cup coconut milk or alternative milk.
8 organic eggs
1 cup of broccoli rosettes
2 cups spinach, chopped
1/2 cup sun-dried tomatoes (dry), julienned or chopped
1 cup Shiitake mushrooms, sliced
Instructions
Preheat oven to 375°F.
Mix the sweet potatoes with 1 tablespoon of melted ghee, 1/2 teaspoon of salt and pepper.
Press the mixture onto the bottom of an 8' square baking dish.
Bake uncovered for 20 minutes.
While it's cooking, whisk the eggs, coconut milk, and remaining salt and pepper.
Add in the sliced leeks, spinach, mushroom, and sun-dried tomatoes.
Pour the mixture on top of the potatoes.
Take the remaining ghee and evenly crumble it over the top.
Return the baking dish to the oven and bake uncovered for an additional 25 minutes, or until the eggs have set.
Enjoy warm!
Nutrition Facts
Quiche
Serves: 3 servings
Amount Per Serving:

1 slice

Calories

411.08 kcal

% Daily Value*
Total Fat

24.94 g

38.4%
Saturated Fat

11.98 g

59.9%
Trans Fat

0.04 g

Cholesterol

461.36 mg

153.8%
Sodium

736.63 mg

30.7%
Total Carbohydrate

29.11 g

9.7%
Dietary Fiber

5.73 g

22.9%
Sugars

9.59 g

Protein

19.73 g
Vitamin A

113.58 %

Vitamin C

42.54 %

Calcium

16.27 %

Iron

23.95 %
* Percent Daily Values are based on a 2,000 calorie diet. Your daily values may be higher or lower depending on your calorie needs.