Overview of Small Fiber Neuropathy and Its Signs
Individuals diagnosed with peripheral neuropathy, or with small fiber neuropathy, can understanding symptoms and causes help with potential treatments?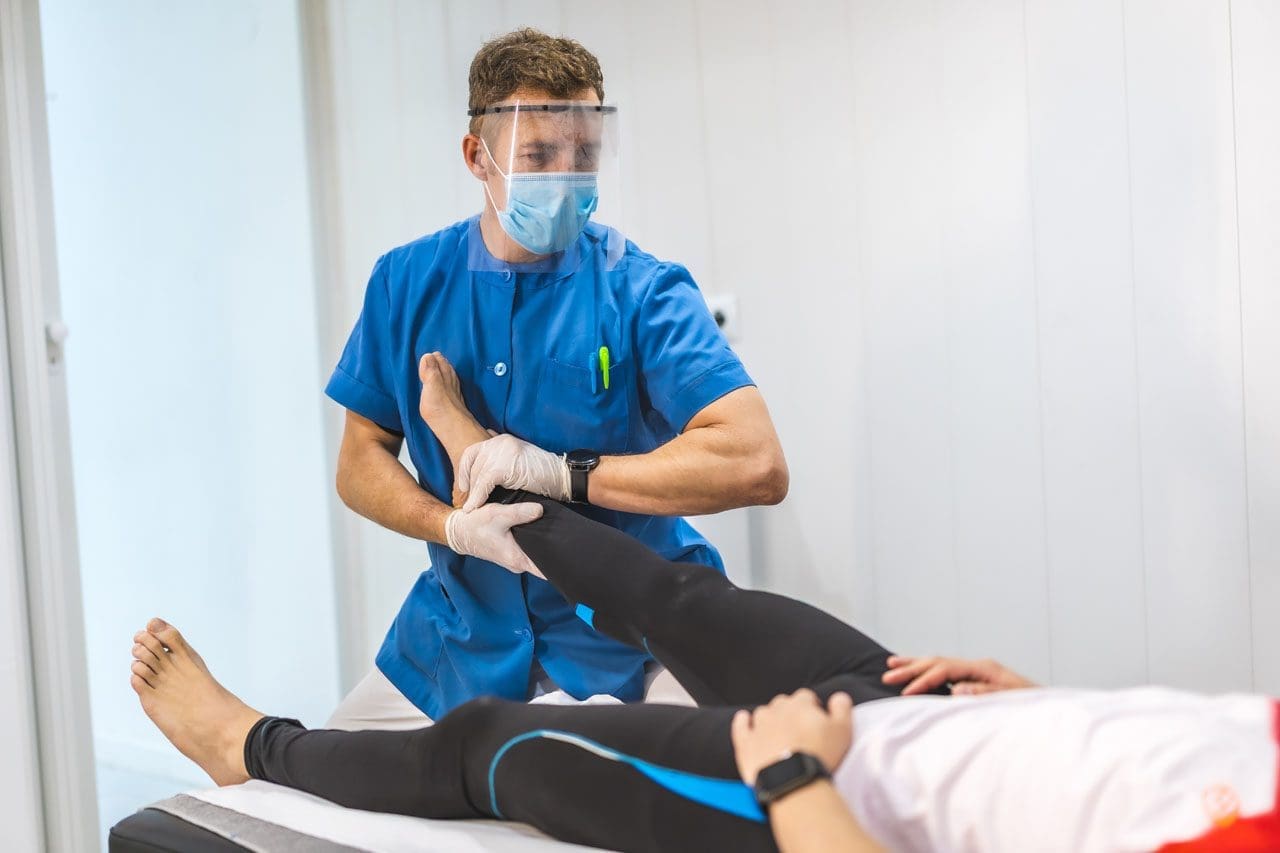 Small Fiber Neuropathy
Small fiber neuropathy is a specific classification of neuropathy, as there are different types, which are nerve injury, damage, disease, and/or dysfunction. Symptoms can result in pain, loss of sensation, and digestive and urinary symptoms. Most cases of neuropathy like peripheral neuropathy involve small and large fibers. Common causes include long-term diabetes, nutritional deficiencies, alcohol consumption, and chemotherapy.
Small fiber neuropathy is diagnosed after diagnostic testing showing it is clear that the small nerve fibers are involved.
The small nerve fibers detect sensation, temperature, and pain and help regulate involuntary functions.
Isolated small-fiber neuropathy is rare, but research is ongoing on the type of nerve damage and potential treatments. (Stephen A. Johnson, et al., 2021)
Small fiber neuropathy is not specifically dangerous but is a sign/symptom of an underlying cause/condition that is damaging the body's nerves.
Symptoms
Symptoms include: (Heidrun H. Krämer, et al., 2023)
Pain – symptoms can range from mild or moderate discomfort to severe distress and can happen at any time.
Loss of sensation.
Because the small nerve fibers help with digestion, blood pressure, and bladder control – symptoms of autonomic dysfunction can vary and can include:
Constipation, diarrhea, incontinence, urinary retention – the inability to completely drain the bladder.
If there is progressing nerve damage, the intensity of the pain can decrease, but the loss of normal sensation and autonomic symptoms can worsen. (Josef Finsterer, Fulvio A. Scorza. 2022)
Hypersensitivity to touch and pain sensations can cause pain without a trigger.
The loss of sensation can make individuals unable to accurately detect sensations of touch, temperature, and pain in affected areas, which can lead to various types of injuries.
Although more research is needed, certain disorders that were not considered neuropathies may have small fiber neuropathy components involved.
A study suggested that neurogenic rosacea, a skin condition, could have some elements of small fiber neuropathy. (Min Li, et al., 2023)
Small Nerve Fibers
There are several types of small nerve fibers; two in small fiber neuropathy include A-delta and C. (Josef Finsterer, Fulvio A. Scorza. 2022)
These small nerve fibers are distributed throughout the body including the tops of the fingers and toes, trunk, and internal organs.
These fibers are usually located in the superficial areas of the body, such as close to the skin's surface. (Mohammad A. Khoshnoodi, et al., 2016)
The small nerve fibers that get damaged are involved in transmitting pain and temperature sensations.
Most nerves have a special type of insulation called myelin that protects them and increases the speed of nerve impulses.
Small nerve fibers may have a thin sheath, making them more susceptible to injury and damage at earlier stages of conditions and diseases. (Heidrun H. Krämer, et al., 2023)
Individuals At Risk
Most types of peripheral neuropathy cause damage to the small and large peripheral nerve fibers. Because of this, most neuropathies are a mix of small-fiber and large-fiber neuropathy. Common risk factors for mixed fiber neuropathy include: (Stephen A. Johnson, et al., 2021)
Diabetes
Nutritional deficiencies
Overconsumption of alcohol
Autoimmune disorders
Medication toxicity
Isolated small-fiber neuropathy is rare, but there are conditions that are known to contribute to the cause and include: (Stephen A. Johnson, et al., 2021)
Sjogren Syndrome
This autoimmune disorder causes dry eyes and mouth, dental problems, and joint pain.
It can also cause nerve damage throughout the body.
Fabry Disease
This condition causes a buildup of certain fats/lipids in the body that can lead to neurological effects.
Amyloidosis
This is a rare disorder that causes a buildup of proteins in the body.
The proteins can damage tissues like the heart or nerves.
Lewy Body Disease
This is a neurological disorder that causes dementia and impaired movement and can lead to nerve damage.
Lupus
This is an autoimmune disease that affects joints, skin, and sometimes nerve tissue.
Viral Infection
These infections typically cause a cold or gastrointestinal/GI upsetness.
Less often they can cause other effects like small fiber neuropathy.
These conditions have been seen to cause isolated small-fiber neuropathy or begin as small-fiber neuropathy before progressing to the large nerve fibers. They can also begin as a mixed neuropathy, with small and large fibers.
Progression
Often the damage progresses at a relatively moderate rate, leading to added symptoms within months or years. The fiber nerves that are affected by the underlying condition usually progressively deteriorate, regardless of where they are located. (Mohammad A. Khoshnoodi, et al., 2016) Medications can help alleviate damage to the peripheral nerves. For individuals that are diagnosed in the early stage, it is possible to stop the progression, and potentially prevent involvement of the large fibers.
Treatments
Treatment toward preventing the progression requires controlling the underlying medical condition with treatment options depending on the cause. Treatments that can help prevent the progression include:
Blood sugar control for individuals with diabetes.
Nutritional supplementation for the treatment of vitamin deficiencies.
Quitting alcohol consumption.
Immune suppression for control of autoimmune diseases.
Plasmapheresis – blood is taken and the plasma is treated and returned or exchanged for the treatment of autoimmune diseases.
Symptom Treatment
Individuals can get treatment for the symptoms that will not reverse or cure the condition but can help with temporary relief. Symptomatic treatment can include: (Josef Finsterer, Fulvio A. Scorza. 2022)
Pain management can include medications and/or topical analgesics.
Physical therapy – stretching, massage, decompression, and adjustments to keep the body relaxed and flexible.
Rehabilitation to help improve coordination, which can be impaired by loss of sensation.
Medications to relieve GI symptoms.
Wearing specialized clothes such as neuropathy socks to help with foot pain symptoms.
Treatment and medical management of neuropathies usually involve a neurologist. A neurologist may prescribe medication to help alleviate pain symptoms and provide medical interventions like immunotherapy if there is concern that an autoimmune process could be the cause. Additionally, treatment could include the care of a physical medicine and rehabilitation physician or a physical therapy team to provide stretches and exercises to help strengthen the body and maintain mobility and flexibility.
---
Peripheral Neuropathy Myths & Facts
---
References
Johnson, S. A., Shouman, K., Shelly, S., Sandroni, P., Berini, S. E., Dyck, P. J. B., Hoffman, E. M., Mandrekar, J., Niu, Z., Lamb, C. J., Low, P. A., Singer, W., Mauermann, M. L., Mills, J., Dubey, D., Staff, N. P., & Klein, C. J. (2021). Small Fiber Neuropathy Incidence, Prevalence, Longitudinal Impairments, and Disability. Neurology, 97(22), e2236–e2247. doi.org/10.1212/WNL.0000000000012894
Finsterer, J., & Scorza, F. A. (2022). Small fiber neuropathy. Acta neurologica Scandinavica, 145(5), 493–503. doi.org/10.1111/ane.13591
Krämer, H. H., Bücker, P., Jeibmann, A., Richter, H., Rosenbohm, A., Jeske, J., Baka, P., Geber, C., Wassenberg, M., Fangerau, T., Karst, U., Schänzer, A., & van Thriel, C. (2023). Gadolinium contrast agents: dermal deposits and potential effects on epidermal small nerve fibers. Journal of neurology, 270(8), 3981–3991. doi.org/10.1007/s00415-023-11740-z
Li, M., Tao, M., Zhang, Y., Pan, R., Gu, D., & Xu, Y. (2023). Neurogenic rosacea could be a small fiber neuropathy. Frontiers in pain research (Lausanne, Switzerland), 4, 1122134. doi.org/10.3389/fpain.2023.1122134
Khoshnoodi, M. A., Truelove, S., Burakgazi, A., Hoke, A., Mammen, A. L., & Polydefkis, M. (2016). Longitudinal Assessment of Small Fiber Neuropathy: Evidence of a Non-Length-Dependent Distal Axonopathy. JAMA neurology, 73(6), 684–690. doi.org/10.1001/jamaneurol.2016.0057
Post Disclaimer
Professional Scope of Practice *
The information herein on "Overview of Small Fiber Neuropathy and Its Signs" is not intended to replace a one-on-one relationship with a qualified health care professional or licensed physician and is not medical advice. We encourage you to make healthcare decisions based on your research and partnership with a qualified healthcare professional.
Blog Information & Scope Discussions
Our information scope is limited to Chiropractic, musculoskeletal, physical medicines, wellness, contributing etiological viscerosomatic disturbances within clinical presentations, associated somatovisceral reflex clinical dynamics, subluxation complexes, sensitive health issues, and/or functional medicine articles, topics, and discussions.
We provide and present clinical collaboration with specialists from various disciplines. Each specialist is governed by their professional scope of practice and their jurisdiction of licensure. We use functional health & wellness protocols to treat and support care for the injuries or disorders of the musculoskeletal system.
Our videos, posts, topics, subjects, and insights cover clinical matters, issues, and topics that relate to and directly or indirectly support our clinical scope of practice.*
Our office has reasonably attempted to provide supportive citations and has identified the relevant research study or studies supporting our posts. We provide copies of supporting research studies available to regulatory boards and the public upon request.
We understand that we cover matters that require an additional explanation of how it may assist in a particular care plan or treatment protocol; therefore, to further discuss the subject matter above, please feel free to ask Dr. Alex Jimenez, DC, or contact us at 915-850-0900.
We are here to help you and your family.
Blessings
Dr. Alex Jimenez DC, MSACP, RN*, CCST, IFMCP*, CIFM*, ATN*
email: coach@elpasofunctionalmedicine.com
Licensed as a Doctor of Chiropractic (DC) in Texas & New Mexico*
Texas DC License # TX5807, New Mexico DC License # NM-DC2182
Licensed as a Registered Nurse (RN*) in Florida
Florida License RN License # RN9617241 (Control No. 3558029)
Presently Matriculated: ICHS: MSN* FNP (Family Nurse Practitioner Program)
Dr. Alex Jimenez DC, MSACP, RN* CIFM*, IFMCP*, ATN*, CCST
My Digital Business Card