Introduction
The heart's job in the cardiovascular system is to make sure that blood is pumping through the veins, arteries, and blood vessels to each muscle tissue, organ, and making sure that everything is working properly. When a person is dealing with high blood pressure, it can cause harm to the body as there are many factors that can affect it. If it is not treated, the body can develop chronic illnesses over time and can harm each of the organ systems including the cardiovascular system. In this 2 part series, we will be taking a look at hypertension being a marker for vascular dysfunction and how the interaction of microvascular disease and vascular remodeling affect the body. Part 2 will look at new concept treatments to treat hypertension from rising into the body. By referring patients to qualified and skilled providers who specialized in cardiovascular services. To that end, and when appropriate, we advise our patients to refer to our associated medical providers based on their examination. We find that education is the key to asking valuable questions to our providers. Dr. Alex Jimenez DC provides this information as an educational service only. Disclaimer
Can my insurance cover it? Yes, in case you are uncertain here is the link to all the insurance providers we cover. If you have any questions, please call Dr. Jimenez at 915-850-0900.
What Is Hypertension?
The blood vessels in the body have a finite number of responses to an infinite number of insults that can affect a person. The three finite responses that can cause the body to be dysfunctional are inflammation, oxidative stress, and vascular immune dysfunction. Research studies show that high blood pressure or hypertension is where there is a long-term force of the blood against the artery walls that are high enough to cause heart problems like heart disease. Hypertension is not a disease but is the "correct" chronic dysregulated vascular response with an exaggerated outcome from infinite insults to the blood vessels. There are infinite insults that are biomechanical like blood pressure and hemodynamic
alterations and biohumoral, which are biochemical, metabolic, and nutritional.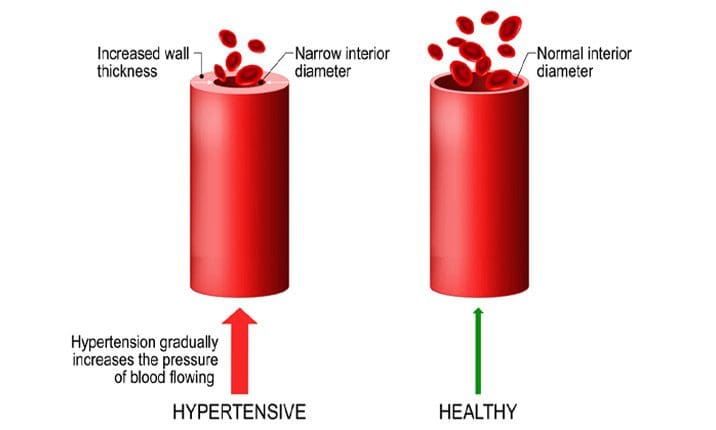 This results in the subsequent environmental-gene expression patterns in which the vascular system is the innocent bystander, thus resulting in altered vascular biology, vasoconstriction, and hypertension. With these modulations of environmental insults and downstream disturbances of gene expression patterns is the key to the prevention and treatment of hypertension and cardiovascular disease.
Hypertension As A Marker For Vascular Dysfunction
Studies have found that hypertension is the leading risk factor for cardiovascular disease and that it originates from a combination of factors that can cause the blood pressure to rise. An elevated blood pressure is one of many responses of the blood vessel to endothelial dysfunction and vascular smooth muscle dysfunction. ( impaired microvascular function and structure ). The endothelial dysfunction and microvascular smooth muscle dysfunction precede the development of hypertension by decades if it is not treated.
Endothelial Dysfunction Predicts CVD & Hypertension
Endothelial dysfunction, as studies show, is an established response to cardiovascular risk factors and can cause the development of atherosclerosis. Not only that, but endothelial dysfunction is a very accurate predictor of future cardiovascular events (CVD) and target organ damage (TOD) such as CHD, MI, CVA, CRF, and CHF. All is not lost, as cardiovascular risk factors can be treated and endothelial dysfunction can be reversed with treatments like regenerative therapy.
---
HCTP Therapy
As new treatments for chronic illnesses start to prove exceptional results, regenerative medicine has been rising up in treating individuals at the cellular level. Most individuals have heard of the term "stem cells"* but the correct term is human cellular tissue products or HCTP as most affiliated clinics and distribution organizations (both nationally and internationally) uses HCTP as regenerative therapy to help repair damaged cells, organs, and tissues back to their original state. Nationally here in the US, HCTP treatments are used for bone marrow transplants, however; international clinics in Colombia, use HCTP treatments to help repair diseased cells and damaged tissues in the body.
---
Microvascular Disease & Vascular Remodeling
Microvascular disease involves small resistance arteries, arterioles, capillaries, and post-capillary venules and about 100-300 um size arterioles are involved due to hypertension, DM, and obesity. Studies have found that microvascular disease is referring to the subset of disorders that are affecting the structure and function of the coronary microcirculation in the heart. In hypertension and many other cardiovascular risk factors like obesity and diabetes mellitus, there is an increase in MLR: media/lumen ratio and in essential or primary hypertension it is eutrophic remodeling, meaning that there is a rearrangement of normal material around a narrowed lumen and in DM, MS, obesity, and secondary forms of hypertension, it is known as hypertrophic remodeling: VSMC hypertrophy or hyperplasia.

Studies have shown that vascular remodeling is when there are alternations in the resistance vessel structures that are contributing to elevated systemic vascular resistance in hypertension. Vascular remodeling and rarefaction of arterioles can occur at the same time and lead to reduced tissue perfusion and oxygenation. Other factors that vascular remodeling does to the vessels in the heart include:
Reduced coronary flow reserve and dilation
An increase in the MLR in arterioles prior to the onset of hypertension. Once hypertension occurs then the MLR and BP parallel one another.
Due to integrins, ROS, inflammation, and vascular immune dysfunction.
An increased MLR of over 0.098 increased CV events in hypertension, especially if hypertrophic remodeling.
Correlation with retinal and subcutaneous arteries
The Interactions Between Microvascular Disease & Vascular Remodeling
When there are small resistance and pre-capillary arteries that are less than 100 um in size, maintain wall tensile stress by eutrophic remodeling inward without growth processes and this is due to the greatest myogenic response and constriction that decreases the lumen size. The larger arterioles that are 100 to 300 uM in size has a lower myogenic constrictive response which leads to the vascular media wall
hypertrophy with reduced lumen size and increased media to lumen ratio (MLR).

Microvascular adaptive mechanisms help protect fragile capillaries from excess pressure but necessarily reduce blood flow with a mismatch in local tissue demands and induce ischemia. And theses microvascular changes occur with  HLP, DM, and CRI in the body, while the endothelial dysfunction that leads to microvascular disease is secondary to inflammation, oxidative stress, and immune
vascular dysfunction. This will lead to an increase in aortic stiffness, thus increasing the pressure pulsatility in the vessels. Macrovascular changes can include large arterial stiffness with loss of arterial compliance, while also changing the abnormal vasomotor tone and the functional and structural network rarefaction decreased vasodilatory reserve and altered wall to lumen ratio. This means that both macrovascular and microvascular changes are independent predictors of cardiovascular events in hypertensive patients.
Conclusion
All in all, the heart's job is to make sure that blood is pumping through the blood vessels, arteries, and veins throughout the body. When there are unwanted pathogens that start affecting the heart, it can cause many problems for the body and if it is not treated can be dangerous for the person. By lowering high blood pressure in the body with nutritious food or through therapeutic treatments, the body can begin to reverse the effects of cardiovascular disease risk factors from rising. By lowering the effects of cardiovascular disease factors, the body can function properly and the individual can start their wellness journey.
References
Carey, Robert M, et al. "Prevention and Control of Hypertension: JACC Health Promotion Series." Journal of the American College of Cardiology, U.S. National Library of Medicine, 11 Sept. 2018, www.ncbi.nlm.nih.gov/pmc/articles/PMC6481176/.
Hadi, Hadi A R, et al. "Endothelial Dysfunction: Cardiovascular Risk Factors, Therapy, and Outcome." Vascular Health and Risk Management, Dove Medical Press, 2005, www.ncbi.nlm.nih.gov/pmc/articles/PMC1993955/.
Renna, Nicolás F, et al. "Pathophysiology of Vascular Remodeling in Hypertension." International Journal of Hypertension, Hindawi Publishing Corporation, 2013, www.ncbi.nlm.nih.gov/pmc/articles/PMC3736482/.
Staff, Mayo Clinic. "High Blood Pressure (Hypertension)." Mayo Clinic, Mayo Foundation for Medical Education and Research, 1 July 2021, www.mayoclinic.org/diseases-conditions/high-blood-pressure/symptoms-causes/syc-20373410.
Taqueti, Viviany R, and Marcelo F Di Carli. "Coronary Microvascular Disease Pathogenic Mechanisms and Therapeutic Options: JACC State-of-the-Art Review." Journal of the American College of Cardiology, U.S. National Library of Medicine, 27 Nov. 2018, www.ncbi.nlm.nih.gov/pmc/articles/PMC6296779/.
Disclaimer
Post Disclaimer
Professional Scope of Practice *
The information herein on "New Concept Treatments For Hypertension | Part 1" is not intended to replace a one-on-one relationship with a qualified health care professional or licensed physician and is not medical advice. We encourage you to make healthcare decisions based on your research and partnership with a qualified healthcare professional.
Blog Information & Scope Discussions
Our information scope is limited to Chiropractic, musculoskeletal, physical medicines, wellness, contributing etiological viscerosomatic disturbances within clinical presentations, associated somatovisceral reflex clinical dynamics, subluxation complexes, sensitive health issues, and/or functional medicine articles, topics, and discussions.
We provide and present clinical collaboration with specialists from various disciplines. Each specialist is governed by their professional scope of practice and their jurisdiction of licensure. We use functional health & wellness protocols to treat and support care for the injuries or disorders of the musculoskeletal system.
Our videos, posts, topics, subjects, and insights cover clinical matters, issues, and topics that relate to and directly or indirectly support our clinical scope of practice.*
Our office has reasonably attempted to provide supportive citations and has identified the relevant research study or studies supporting our posts. We provide copies of supporting research studies available to regulatory boards and the public upon request.
We understand that we cover matters that require an additional explanation of how it may assist in a particular care plan or treatment protocol; therefore, to further discuss the subject matter above, please feel free to ask Dr. Alex Jimenez, DC, or contact us at 915-850-0900.
We are here to help you and your family.
Blessings
Dr. Alex Jimenez DC, MSACP, RN*, CCST, IFMCP*, CIFM*, ATN*
email: coach@elpasofunctionalmedicine.com
Licensed as a Doctor of Chiropractic (DC) in Texas & New Mexico*
Texas DC License # TX5807, New Mexico DC License # NM-DC2182
Licensed as a Registered Nurse (RN*) in Florida
Florida License RN License # RN9617241 (Control No. 3558029)
Presently Matriculated: ICHS: MSN* FNP (Family Nurse Practitioner Program)
Dr. Alex Jimenez DC, MSACP, RN* CIFM*, IFMCP*, ATN*, CCST
My Digital Business Card