Lumbar stenosis surgery for sciatica
, like any type of surgical procedure does not always yield the most successful results. This is why it's important to carefully and methodically assess all of the personal risk factors. Sciatica causes severe pain and surgery could be an option and hopefully of last resort. However, it' is important to
first attempt non-surgical
/
non-pharmacological
treatment/s for six to twelve weeks before surgery to relieve symptoms and root cause. A full course of conservative treatment could include:
Physical therapy
Aerobic exercise
Pain meds
Epidural steroid injection
Sciatica and Stenosis
Sciatica can be caused
by stenosis. This is when the spinal canal narrows, constricting, and pinching the nerves specifically the sciatic. Around
ninety percent of cases stem from a herniated disc
compressing the nerve roots
. The damaged disc extends out and pinches the roots of the sciatic nerve. This pinching causes: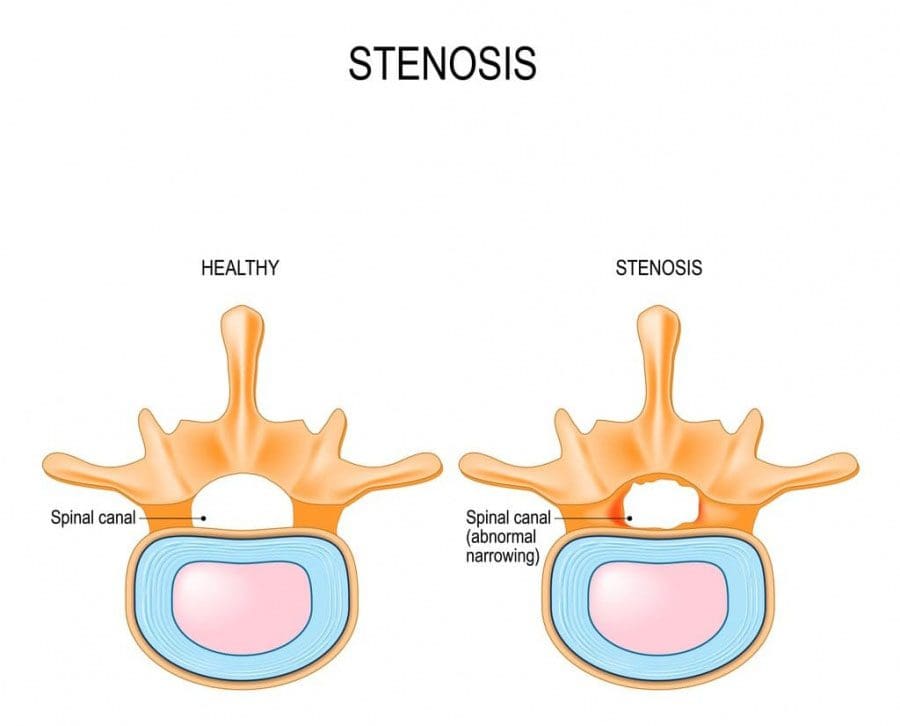 Pain
Numbness
Tingling
Muscle weakness
If it stays like this for a long time
an individual can experience incontinence, along with
permanent nerve and muscle damage
.
Lumbar Stenosis Surgery Options
Lumbar stenosis surgery depends on the cause of sciatica: A single herniated disc could be pressing the nerve, which would only require the removal of just that portion of the disc that's causing the compression. This procedure is known as a discectomy or microdiscectomy.
If the stenosis is caused by a bone problem like an arthritic bone spur, then space has to be made in the canal. This means a portion of the lamina or the back of the spinal column. This is called a hemilaminectomy. Sometimes the whole lamina has to be removed. This is known as a laminectomy.
If there is the instability of the spinal column, some of the lumbar vertebrae will be fused together to prevent further instability and added nerve compression.
A non-operative treatment course lasting a few weeks to months could reduce swelling in the nerve and improve sciatica symptoms. What happens is sometimes the disc gets reabsorbed over time and does not irritate the sciatic nerve.
Surgical Success
If the non-surgical options yielded minimal positive results or completely failed and surgery is the last resort talk with your surgeon to discuss the risks and benefits. The discussion will focus on factors like:
Age
Health status – levels of wellness and illness
Underlying conditions
Bodyweight
Smoker
Type of work
Individuals sixty-five and older, multiple health problems, being overweight or a smoker will place an individual at a higher risk of post complications from surgery. Studies found individuals who underwent surgery for sciatica from lumbar stenosis, identified added risk factors that could affect the outcome including:
Depression: this was because there were patients that continued to have sciatica symptoms after surgery. This means they are more likely to take antidepressants or anticonvulsants.
Quality of life from health perspective was low.
Previous spine surgery
Knowing about these factors and the possible success of sciatica surgery is something to keep in mind. The best way to understand what and how the surgery will be beneficial is to understand the risks and to remember that the risks are not the same for everybody.
Optimization
Surgical success depends on making sure patients are optimized before surgery. Increasing the chances of successful surgery after conservative treatment/s a surgeon will ask the patient to take these steps:
Weight loss is difficult, but it has been shown to improve surgical outcomes.
Light aerobic exercise, such as stationary or recumbent cycling can help keep the body's blood flowing properly.
Exercising with pain is difficult but it will increase the cardiovascular system along with keeping the heart and lungs healthy enough to undergo surgical stress.
If the exercising causes too much pain ask the doctor about anti-inflammatory, muscle relaxants, or steroid medication along with the non-surgical treatment that can provide relief allowing exercise to resume.
Quit smoking
Smoking increases the rate of spinal degeneration and impairs the body's ability to heal properly and optimally after surgery. If the surgery is elective, meaning it is not a medical emergency, then it is strongly encouraged to quit smoking before surgery. This will increase the chances of eliminating the habit. Don't be afraid to get support.
cancer.org/smokeout
.
Pro-activeness
If taking antidepressant/s for depression, do not quit taking the medication thinking it will improve sciatica surgery success. Mental health is extremely important. The same goes for anticonvulsant meds as well. Stopping anticonvulsant medication for spinal surgery will more than likely cause extended damage or pre/post-surgical complications. Pre-existing conditions like depression means bringing the mental health provider and other specialists into the pre-surgical discussion.
---
Sciatica, Pain, Symptoms, and Causes
---
Dr. Alex Jimenez's Blog Post Disclaimer
The scope of our information is limited to chiropractic, musculoskeletal, physical medicines, wellness, and sensitive health issues and/or functional medicine articles, topics, and discussions. We use functional health & wellness protocols to treat and support care for injuries or disorders of the musculoskeletal system. Our posts, topics, subjects, and insights cover clinical matters, issues, and topics that relate and support directly or indirectly our clinical scope of practice.* Our office has made a reasonable attempt to provide supportive citations and has identified the relevant research study or studies supporting our posts. We also make copies of supporting research studies available to the board and or the public upon request. We understand that we cover matters that require an additional explanation as to how it may assist in a particular care plan or treatment protocol; therefore, to further discuss the subject matter above, please feel free to ask Dr. Alex Jimenez or contact us at 915-850-0900. The provider(s) Licensed in Texas& New Mexico*