Can spinal decompression treatments be incorporated for individuals with lumbosacral pain and improve posture?
Introduction
Many individuals only realize they have poor posture once they perform a movement that causes pain in the lumbosacral region of their body. Have you or your loved ones experienced muscle aches or strains after relaxing in a weird position? Or do you begin to notice that you are hunched over when walking from one location to another? Many of these scenarios correspond to how we present ourselves with our posture. Our posture helps support the upper body's weight while stabilizing the lower body through the spine and ensuring that our body is in an upright position when we are in motion. However, as we age, so do our bodies and spine, which then causes us to be in a hunched position, causing our posture to degenerate. This causes lumbosacral pain to develop along the body's lower extremities, leading to overlapping risk profiles that cause mobility issues, poor posture, and disability if not treated right away. When this happens, the surrounding muscles, ligaments, and tissues around the lumbar spine will begin to develop pain-like symptoms and can make a person's life miserable. Luckily there are various techniques and treatments to improve poor posture and reduce lumbosacral pain affecting many individuals. Today's article looks at how lumbosacral pain affects a person's posture and how spinal decompression and MET therapy can reduce lumbosacral pain and restore good posture. Additionally, we work hand-in-hand with certified medical providers who incorporate our patient's information to treat and minimize lumbosacral pain associated with poor posture. We also inform them that spinal decompression combined with MET therapy can help with lumbosacral pain while improving good posture back to the body. We encourage our patients to ask profound questions while seeking education from our associated medical providers about their pain-like issues. Dr. Alex Jimenez, D.C., incorporates this information as an educational service. Disclaimer
Lumbosacral Pain Affects Posture
Have you noticed you are constantly slouching or being in a hunched position, only to feel muscle aches and strains in your lumbar-sacral region? Do you feel symptoms of tingling and numbness in your hips and buttock region after sitting down excessively? Or do you feel referred pain in one location and have to shift your weight to compensate for the pain? These pain-like symptoms and scenarios correspond to lumbosacral pain affecting your posture. The lumbosacral spine region has a natural curve that functions as a shock absorber to mitigate the body's mechanical weight and stress when in motion. (Adams & Hutton, 1985) At the same time, it is susceptible to being constantly injured as the spinal disc is being compressed and can be herniated or damaged over time, manifesting into lumbosacral pain. So how does lumbosacral pain associate with poor posture? When individuals are dealing with low back problems associated with lumbosacral pain, the spinal disc in the lumbosacral region starts to have balancing issues when in motion. (Huang, Jaw, & Young, 2022) When people are dealing with difficulties balancing their gait cycle, it can cause their walking performance and postural control to be dysfunctional and cause the body to be misaligned, thus causing musculoskeletal issues to arise and affecting the lower body and its extremities. The surrounding muscles surrounding the lumbosacral region will begin to experience stiffness in the trunk region, which can cause musculoskeletal changes to the surrounding muscles when individuals start to be in an upright position. (Creze et al., 2019) When poor posture affects the trunk muscles, the surrounding accessory muscles start acting to compensate for the pain. To that point, lumbosacral pain associated with poor posture could lead to abdominal, low back, hip, and pelvic pain. However, many individuals can find various therapies and relieving techniques to improve posture, strengthen the surrounding muscles, and reduce pain-like symptoms.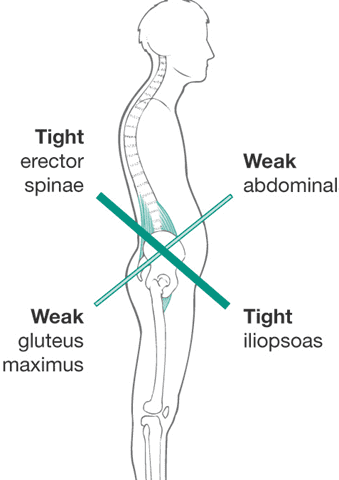 ---
Building A Stronger Body- Video
Many individuals can seek out various non-invasive therapies to alleviate the issue when it comes to improving posture and reducing lumbosacral pain. These therapies are cost-effective and personalized to the person's pain. Treatments like chiropractic care and decompression can help restore good posture while realigning the body out of subluxation and help stretch the affected muscles. Coincidentally, non-surgical therapies can be combined with other treatments like physical therapy to strengthen the trunk muscles surrounding the lumbosacral region, thus reducing the load on the lumbosacral spine. (Callaghan, Gunning, & McGill, 1998) When people focus on their health and well-being, non-surgical therapies can provide a positive and safe experience with a team that can help reduce the pain the person has been dealing with their entire lives. The video above explains how these treatments work together to help you build a stronger body while revitalizing your energy and enhancing your health and wellness.
---
Spinal Decompression Reducing Lumbosacral Pain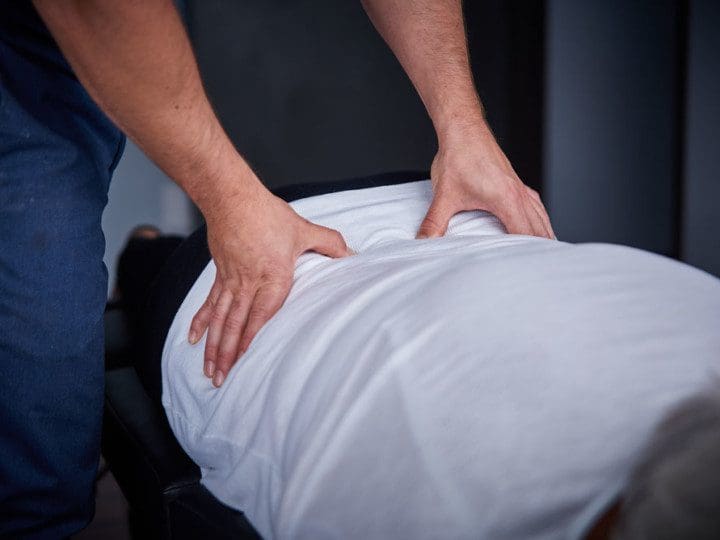 When it comes to reducing lumbosacral pain associated with poor posture, many individuals can incorporate non-surgical treatments like spinal decompression and combine them with a personalized treatment plan to reduce the pain-like symptoms. What spinal decompression does to lumbosacral pain is that it helps mitigate intra-disc pressure while increasing disc space within the lumbosacral spinal region. (Amjad et al., 2022) Spinal decompression can help improve leg mobility and stretch out the affected muscles to kick-start the body's natural healing process. Spinal decompression can even combine with physical therapy to help strengthen the lumbosacral region's abdominal muscles and enable many individuals with poor posture to be mindful of how they present themselves.(Mielenz et al., 1997)
MET Therapy & Spinal Decompression Restoring Posture
When pain specialists like chiropractors and massage therapists incorporate spinal decompression treatment to reduce lumbosacral pain, they also utilize various techniques to strengthen the lumbosacral muscles to restore proper posture to the body. Many pain specialists use MET (muscle energy techniques) therapy to maintain while stretching the muscles and fascia in the affected areas. MET therapy combined with spinal decompression can help improve muscle shortness in the lumbar fascial tissue, improve posture, and even increase the lumbar and pelvic range of motion. (Tamartash & Bahrpeyma, 2022) These two non-surgical treatments can help many people by addressing their posture and movement dysfunction while strengthening their core stabilized muscles to reduce pain. (Norris & Matthews, 2008) Many individuals who want to regain their health and wellness can make small changes in their routine to improve their posture and be more mindful of their bodies to reduce the chances of lumbosacral pain returning.
---
References
Adams, M. A., & Hutton, W. C. (1985). The effect of posture on the lumbar spine. J Bone Joint Surg Br, 67(4), 625-629. doi.org/10.1302/0301-620X.67B4.4030863
Amjad, F., Mohseni-Bandpei, M. A., Gilani, S. A., Ahmad, A., & Hanif, A. (2022). Effects of non-surgical decompression therapy in addition to routine physical therapy on pain, range of motion, endurance, functional disability and quality of life versus routine physical therapy alone in patients with lumbar radiculopathy; a randomized controlled trial. BMC Musculoskelet Disord, 23(1), 255. doi.org/10.1186/s12891-022-05196-x
Callaghan, J. P., Gunning, J. L., & McGill, S. M. (1998). The relationship between lumbar spine load and muscle activity during extensor exercises. Phys Ther, 78(1), 8-18. doi.org/10.1093/ptj/78.1.8
Creze, M., Bedretdinova, D., Soubeyrand, M., Rocher, L., Gennisson, J. L., Gagey, O., Maitre, X., & Bellin, M. F. (2019). Posture-related stiffness mapping of paraspinal muscles. J Anat, 234(6), 787-799. doi.org/10.1111/joa.12978
Huang, C. C., Jaw, F. S., & Young, Y. H. (2022). Radiological and functional assessment in patients with lumbar spinal stenosis. BMC Musculoskelet Disord, 23(1), 137. doi.org/10.1186/s12891-022-05053-x
Mielenz, T. J., Carey, T. S., Dyrek, D. A., Harris, B. A., Garrett, J. M., & Darter, J. D. (1997). Physical therapy utilization by patients with acute low back pain. Phys Ther, 77(10), 1040-1051. doi.org/10.1093/ptj/77.10.1040
Norris, C., & Matthews, M. (2008). The role of an integrated back stability program in patients with chronic low back pain. Complement Ther Clin Pract, 14(4), 255-263. doi.org/10.1016/j.ctcp.2008.06.001
Tamartash, H., & Bahrpeyma, F. (2022). Evaluation of Lumbar Myofascial Release Effects on Lumbar Flexion Angle and Pelvic Inclination Angle in Patients with Non-Specific Low Back Pain. Int J Ther Massage Bodywork, 15(1), 15-22. doi.org/10.3822/ijtmb.v15i1.709
Disclaimer
Post Disclaimer
Professional Scope of Practice *
The information herein on "Incorporating Spinal Decompression Treatments For Lumbosacral Pain" is not intended to replace a one-on-one relationship with a qualified health care professional or licensed physician and is not medical advice. We encourage you to make healthcare decisions based on your research and partnership with a qualified healthcare professional.
Blog Information & Scope Discussions
Our information scope is limited to Chiropractic, musculoskeletal, physical medicines, wellness, contributing etiological viscerosomatic disturbances within clinical presentations, associated somatovisceral reflex clinical dynamics, subluxation complexes, sensitive health issues, and/or functional medicine articles, topics, and discussions.
We provide and present clinical collaboration with specialists from various disciplines. Each specialist is governed by their professional scope of practice and their jurisdiction of licensure. We use functional health & wellness protocols to treat and support care for the injuries or disorders of the musculoskeletal system.
Our videos, posts, topics, subjects, and insights cover clinical matters, issues, and topics that relate to and directly or indirectly support our clinical scope of practice.*
Our office has reasonably attempted to provide supportive citations and has identified the relevant research study or studies supporting our posts. We provide copies of supporting research studies available to regulatory boards and the public upon request.
We understand that we cover matters that require an additional explanation of how it may assist in a particular care plan or treatment protocol; therefore, to further discuss the subject matter above, please feel free to ask Dr. Alex Jimenez, DC, or contact us at 915-850-0900.
We are here to help you and your family.
Blessings
Dr. Alex Jimenez DC, MSACP, RN*, CCST, IFMCP*, CIFM*, ATN*
email: coach@elpasofunctionalmedicine.com
Licensed as a Doctor of Chiropractic (DC) in Texas & New Mexico*
Texas DC License # TX5807, New Mexico DC License # NM-DC2182
Licensed as a Registered Nurse (RN*) in Florida
Florida License RN License # RN9617241 (Control No. 3558029)
Presently Matriculated: ICHS: MSN* FNP (Family Nurse Practitioner Program)
Dr. Alex Jimenez DC, MSACP, RN* CIFM*, IFMCP*, ATN*, CCST
My Digital Business Card