In individuals with lumbar back pain, can pain specialists utilize distraction techniques to reduce muscle spasms?
Introduction
Many individuals dealing with specific or nonspecific back pain can agree that it can dampen their moods as they try to find the relief they seek to get back to their routine. More often than not, back pain is a common multifactorial musculoskeletal disorder that can affect the entire body, and it all starts with how people do simple movements incorrectly, causing compression to the spine. Since the spine is the main backbone of the body, it is responsible for training, stability, and flexibility. The surrounding muscles that encompass the spine act like a barrier to protect the skeletal joints and the spinal cord from injuries that are either traumatic or normal wear and tear. Lumbar back pain is also an economic burden that can cause unnecessary stress to the body, which leads to muscle spasms and causes even more stress to the individual. With lumbar back pain being a common nuisance to everyone worldwide, many will opt for treatment to reduce the pain and continue their daily activities. In today's article, we will explore the issues of lumbar back pain and how treatments with distraction techniques alleviate the effects of lumbar back pain and reduce muscle spasms. We speak with certified medical providers who incorporate our patients' information to provide numerous treatment plans to mitigate lumbar back pain associated with environmental factors. We also inform our patients that there are non-surgical options to reduce the pain-like symptoms related to lumbar back pain and reduce the effects of muscle spasms. We encourage our patients to ask astounding educational questions to our associated medical providers about the pain-like symptoms they are experiencing correlating with the lumbar spine. Dr. Alex Jimenez, D.C., utilizes this information as an academic service. Disclaimer
The Issues Of Lumbar Back Pain
Do you often feel pain radiating from your lower back to your legs after work? Did you lift something heavy that caused your back muscles to strain and be in pain? Or do you and your loved ones feel muscle spasms in your lower back after stretching in the morning? When many individuals are dealing with these musculoskeletal issues, it often correlates with lumbar back pain. As stated earlier, the spine is the body's backbone, and its main job is to support the body's weight, provide stability to the upper and lower quadrants, and allow the host to move without pain or discomfort. When normal or traumatic factors start to affect many individuals over time, it can lead to the development of lumbar back pain, and it can become an issue for many young and older adults. Since lumbar back pain can be mechanical or nonspecific, it can arise intrinsically from the spine and the spinal components through repetitive muscle trauma that can be overused while being one of the common causes many people experience pain in their lumbar spine. (Will et al., 2018) When many individuals are dealing with lumbar back pain, it can become a reoccurring issue, and many go to medical clinics to get treatment for their lumbar back pain.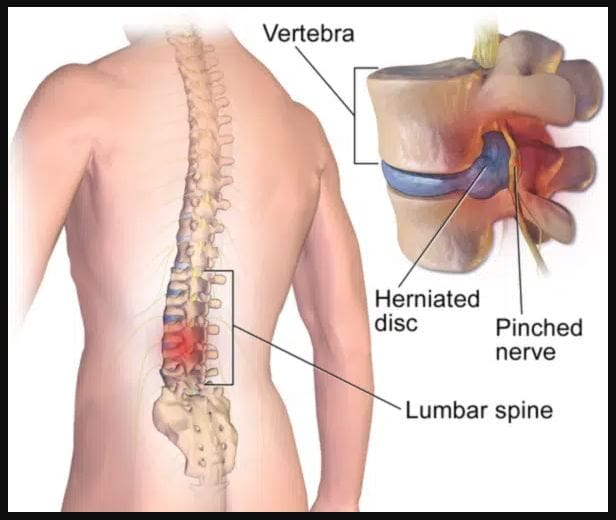 Another issue that lumbar back pain causes is affecting the spinal structure and the surrounding muscles, tissues, and ligaments that protect the spine. Since the body is remarkable for sensing when pain affects the spine, the vital structures are affected and start to respond by adopting other measures to maintain the spine's stability. (Hauser et al., 2022) This means that when the body starts to develop muscle spasms in the spine, the stretched ligaments react rapidly to prevent the spine from destabilizing. This leads to individuals feeling aches and pain in their lower back, which then causes them to miss out on their activities.
---
The Road To Recovery: Chiropractic Care- Video
When it comes to lumbar back pain, many everyday factors can contribute to its development and cause issues for many individuals. Many individuals with lumbar back pain often experience referred pain in their lower extremity regions as the lumbar portions of the spine have compressed spinal discs, which can also correlate with nerve entrapment. To this point, many will seek out various treatments to reduce low back pain and its associated symptoms. When patients have prolonged symptoms correlating with lumbar pain, conservative management that is either non-surgical or surgical can help treat the pain-like symptoms related to lumbar back pain. (Mohd Isa et al., 2022) Lumbar back pain treatments can be customizable and cost-effective to the person's pain severity. Non-surgical treatments can help lumbar back pain issues and reduce referred pain symptoms from different body locations in the upper or lower body quadrants. When people go to get their lumbar back pain treated, pain specialists like chiropractors, massage therapists, and physical therapists utilize various techniques and treatments to reduce pain affecting the surrounding ligaments, tissues, and muscles through stretches and traction. The video above explains how these treatments can help reduce pain caused by environmental factors and also help speed up recovery.
---
Distraction Techniques To Reduce Lumbar Back Pain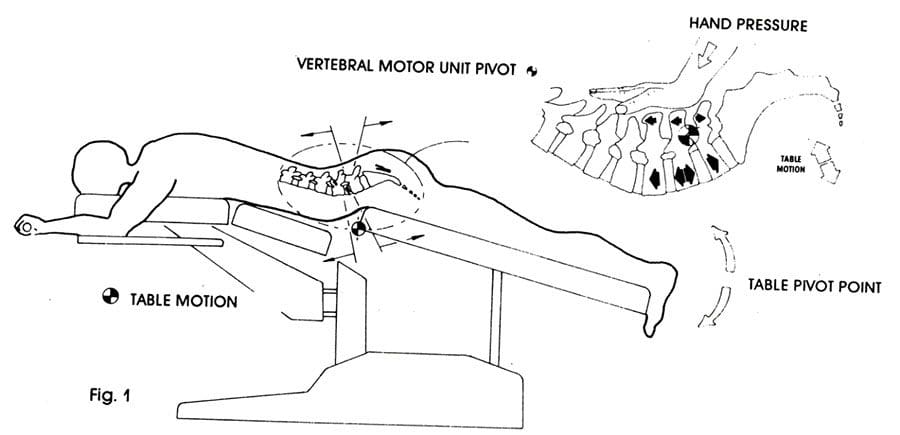 When many individuals get treated for lumbar back pain, many opt for non-surgical treatments due to being more affordable than surgical treatments. Pain specialists like chiropractors or massage therapists use distraction techniques to reduce the pain. These pain specialists also incorporate manual and mechanical therapy to be body-oriented to mobilize, manipulate, and stretch out the soft tissues and strengthen them. (Kuligowski et al., 2021) This, in turn, can help reduce lumbar back pain while allowing the individual to be more mindful about their actions to reduce the chances of back pain from returning. At the same time, the effectiveness of treating lumbar back pain through traction can effectively reduce nerve root compression and unresponsive movement symptoms. (Vanti et al., 2021) Traction therapy is a non-surgical treatment that gently stretches the spine to alleviate pain and help kick-start the natural healing process.
Distraction Techniques Reducing Muscle Spasms
Pain specialists incorporate distraction techniques to reduce lumbar back pain and muscle spasms in the lumbar region. As stated earlier, distraction techniques associated with non-surgical treatments can be an excellent way to minimize lumbar back pain. Distraction manipulation can help elevate the affected intervertebral disc by reducing the pressure off the disc and increasing its height in the spine. (Choi et al., 2015) Many individuals feel better when they incorporate distraction therapy to reduce lumbar pain. At the same time, distraction therapy can also be incorporated into a personalized plan to reduce muscle spasms and strengthen weak muscles that surround the lumbar region. The effects of lumbar traction combined with distraction therapy can improve pain and reduce functional disability within the lumbar spine. (Masood et al., 2022) When many people start to think more about their health and wellness, they can make small changes in their routine to prevent low back pain from progressing into something chronic and strengthen their weak muscles to control the pain-like symptoms from returning.
---
References
Choi, J., Lee, S., & Jeon, C. (2015). Effects of flexion-distraction manipulation therapy on pain and disability in patients with lumbar spinal stenosis. Journal of Physical Therapy Science, 27(6), 1937-1939. doi.org/10.1589/jpts.27.1937
Hauser, R. A., Matias, D., Woznica, D., Rawlings, B., & Woldin, B. A. (2022). Lumbar instability as an etiology of low back pain and its treatment by prolotherapy: A review. J Back Musculoskelet Rehabil, 35(4), 701-712. doi.org/10.3233/BMR-210097
Kuligowski, T., Skrzek, A., & Cieslik, B. (2021). Manual Therapy in Cervical and Lumbar Radiculopathy: A Systematic Review of the Literature. Int J Environ Res Public Health, 18(11). doi.org/10.3390/ijerph18116176
Masood, Z., Khan, A. A., Ayyub, A., & Shakeel, R. (2022). Effect of lumbar traction on discogenic low back pain using variable forces. J Pak Med Assoc, 72(3), 483-486. doi.org/10.47391/JPMA.453
Mohd Isa, I. L., Teoh, S. L., Mohd Nor, N. H., & Mokhtar, S. A. (2022). Discogenic Low Back Pain: Anatomy, Pathophysiology and Treatments of Intervertebral Disc Degeneration. Int J Mol Sci, 24(1). doi.org/10.3390/ijms24010208
Vanti, C., Turone, L., Panizzolo, A., Guccione, A. A., Bertozzi, L., & Pillastrini, P. (2021). Vertical traction for lumbar radiculopathy: a systematic review. Arch Physiother, 11(1), 7. doi.org/10.1186/s40945-021-00102-5
Will, J. S., Bury, D. C., & Miller, J. A. (2018). Mechanical Low Back Pain. American Family Physician, 98(7), 421-428. www.ncbi.nlm.nih.gov/pubmed/30252425
www.aafp.org/pubs/afp/issues/2018/1001/p421.pdf
Disclaimer
Post Disclaimer
Professional Scope of Practice *
The information herein on "Quick & Easy Lumbar Back Pain Solutions with Distraction Techniques" is not intended to replace a one-on-one relationship with a qualified health care professional or licensed physician and is not medical advice. We encourage you to make healthcare decisions based on your research and partnership with a qualified healthcare professional.
Blog Information & Scope Discussions
Our information scope is limited to Chiropractic, musculoskeletal, physical medicines, wellness, contributing etiological viscerosomatic disturbances within clinical presentations, associated somatovisceral reflex clinical dynamics, subluxation complexes, sensitive health issues, and/or functional medicine articles, topics, and discussions.
We provide and present clinical collaboration with specialists from various disciplines. Each specialist is governed by their professional scope of practice and their jurisdiction of licensure. We use functional health & wellness protocols to treat and support care for the injuries or disorders of the musculoskeletal system.
Our videos, posts, topics, subjects, and insights cover clinical matters, issues, and topics that relate to and directly or indirectly support our clinical scope of practice.*
Our office has reasonably attempted to provide supportive citations and has identified the relevant research study or studies supporting our posts. We provide copies of supporting research studies available to regulatory boards and the public upon request.
We understand that we cover matters that require an additional explanation of how it may assist in a particular care plan or treatment protocol; therefore, to further discuss the subject matter above, please feel free to ask Dr. Alex Jimenez, DC, or contact us at 915-850-0900.
We are here to help you and your family.
Blessings
Dr. Alex Jimenez DC, MSACP, RN*, CCST, IFMCP*, CIFM*, ATN*
email: coach@elpasofunctionalmedicine.com
Licensed as a Doctor of Chiropractic (DC) in Texas & New Mexico*
Texas DC License # TX5807, New Mexico DC License # NM-DC2182
Licensed as a Registered Nurse (RN*) in Florida
Florida License RN License # RN9617241 (Control No. 3558029)
Presently Matriculated: ICHS: MSN* FNP (Family Nurse Practitioner Program)
Dr. Alex Jimenez DC, MSACP, RN* CIFM*, IFMCP*, ATN*, CCST
My Digital Business Card