Bursitis types: This is a condition that affects the bursae, which are the small, fluid-filled sacs that provide cushion for the:
Muscles
Tendons
Bones near joints
The bursae make it easier for tissues to slide over each other. The body has around one hundred and sixty bursae. However, only a few become clinically affected. These include the:
Wrist
Elbow
Shoulder
Hips
Knees
The base of the big toe and heel
The condition typically presents near joints constantly being used repetitively, like a job, sports, house/yard chores, etc. What happens is one or more of the bursae sacs become inflamed, resulting in pain.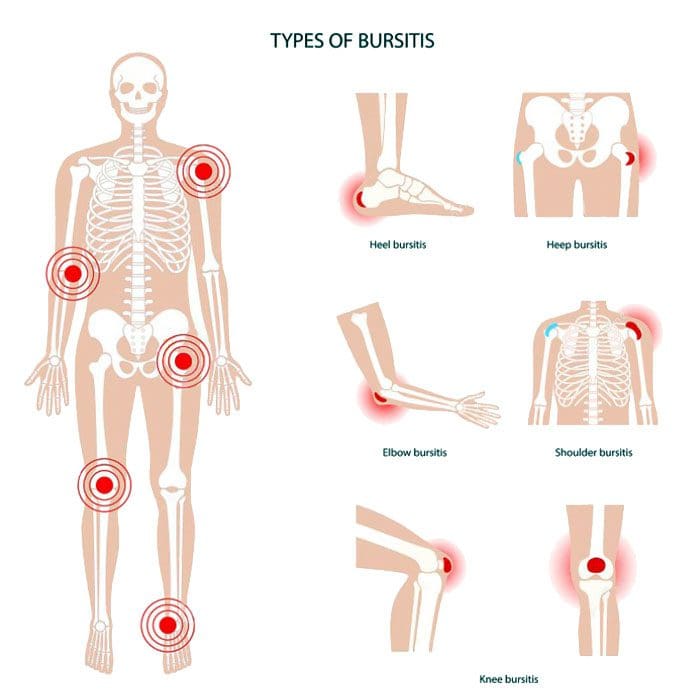 Causes
Inflamed or irritated bursae typically cause it from overuse or intense/vigorous activity.
It can also be caused by bacterial infection.
Arthritis and gout can also cause bursitis.
Another cause is age.
As tendons age, they can tear easily, lose their elasticity, and can't take too much stress.
Intense physical activities can lead to bursitis. These include:
Gardening
Typing
Working with a computer mouse
Throwing
Golf
Tennis
Manual tasks
Carpentry
These types of activities can lead to incorrect posture, overuse, and injury/damage.
Symptoms
The main symptom is pain in and around the affected area that worsens with movement. Depending on the severity of the strain and the length of time it has been going on, the pain can be intense with active and passive movements. Other symptoms include:
Tenderness
Stiffness
For some individuals, it can present as acute, with the intensity increasing.

This happens when movement aggravates the condition.
Bursitis Types
Four major types include:
Prepatellar
Trochanteric
Olecranon
Retrocalcaneal
Prepatellar Bursitis
Prepatellar is an inflammation of the sac situated between the skin and the patella/kneecap. The most common causes are trauma from a fall and direct pressure/friction from repetitive kneeling. This is one of the bursitis types that can get infected. Overproduction of liquid places pressure on the other areas of the knee, causing swelling. Most individuals report swelling and knee pain just over the front of the knee.
Trochanteric Bursitis
This bursitis type goes over the lateral area of the hip. There is a distinctive tenderness and aching pain. This type is more common for individuals with arthritis conditions and fibromyalgia. This condition is also seen after surgery, mainly osteotomies. The bursa can become inflamed in case of injury or overuse. It tends to affect middle-aged or older folks. Common causes include:
Muscle tears
Hip injuries
Tight hip or leg muscles
Disc disease of the low back
Leg-length inequality
Improper walking technique from a minor injury or strain
Overuse of the gluteal muscles
Flat feet
Improper footwear
Olecranon Bursitis
Olecranon is a common bursitis type. It is diagnosed by the appearance of swelling over the elbow. The swelling happens just behind the olecranon process of the ulna. The bursa can become infected. This bursitis does cause blood to rupture out, and fluid could be present. Individuals are advised to avoid leaning or resting on the elbows.
Retrocalcaneal Bursitis
This is characterized by pain in the Achilles tendon. Chronic inflammation of the bursa is brought on by friction, supination, and overpronation.  The flexibility of the calf muscles can be significantly reduced. Severe pain and swelling of the posterior soft tissue in front of the Achilles tendon are common symptoms. This bursitis type is often accompanied by mid-portion insertional tendinosis.
Risk Of Getting Bursitis
Anybody at any age can develop bursitis, but older individuals, specifically those in their forties and beyond, are more susceptible. This comes from all the wear and tear of the muscles and bones.
Risk Factors
Overpronation of the foot
Leg length deviation
Osteoarthritis
Obesity
Tight hamstring muscles
Incorrect physical training
Not stretching properly
---
Body Composition
---
When Inflammation Becomes Permanent
When white blood cells cause inflammation, it's signaling that the body's immune system works properly. The process works like this:
Inflammation activates
White blood cells attack the foreign invader
The invader is neutralized
The inflammation deactivates
This is how the body's defense system naturally works. But, white blood cells are not the only type of cell that emit cytokines. Adipocytes or fat cells are another type of cell that can emit cytokines and cause inflammation. Scientists have learned that fat is an active endocrine organ that secretes various proteins and chemicals, including inflammatory cytokines. The body stores excess calories as fat to be used later for energy. When the body keeps adding more adipose tissue, cytokines are released by the fat cells, triggering inflammation. Obesity is characterized as a state of low-grade, chronic inflammation. Increased fat cells place the body in a constant state of stress activating immune responses. This means the body is in a constant state of inflammation with the immune system switch permanently on.
References
Aaron, Daniel L et al. "Four common types of bursitis: diagnosis and management." The Journal of the American Academy of Orthopaedic Surgeons vol. 19,6 (2011): 359-67. doi:10.5435/00124635-201106000-00006
Coelho, Marisa et al. "Biochemistry of adipose tissue: an endocrine organ." Archives of medical science: AMS vol. 9,2 (2013): 191-200. doi:10.5114/aoms.2013.33181
Khodaee, Morteza. "Common Superficial Bursitis." American family physician vol. 95,4 (2017): 224-231.