Bicep Curls: EP Wellness and Functional Medicine Clinic
The biceps curl is an exercise to build strength in the upper arm. Curls are a common exercise used in upper-body strength training. Specifically, the curl works the muscles in the front of the upper arm. It's recommended for achieving strength and definition and provides core and stability challenges. Injury Medical Chiropractic and Functional Medicine Clinic can educate individuals on fitness, strength training, nutrition, and injury prevention.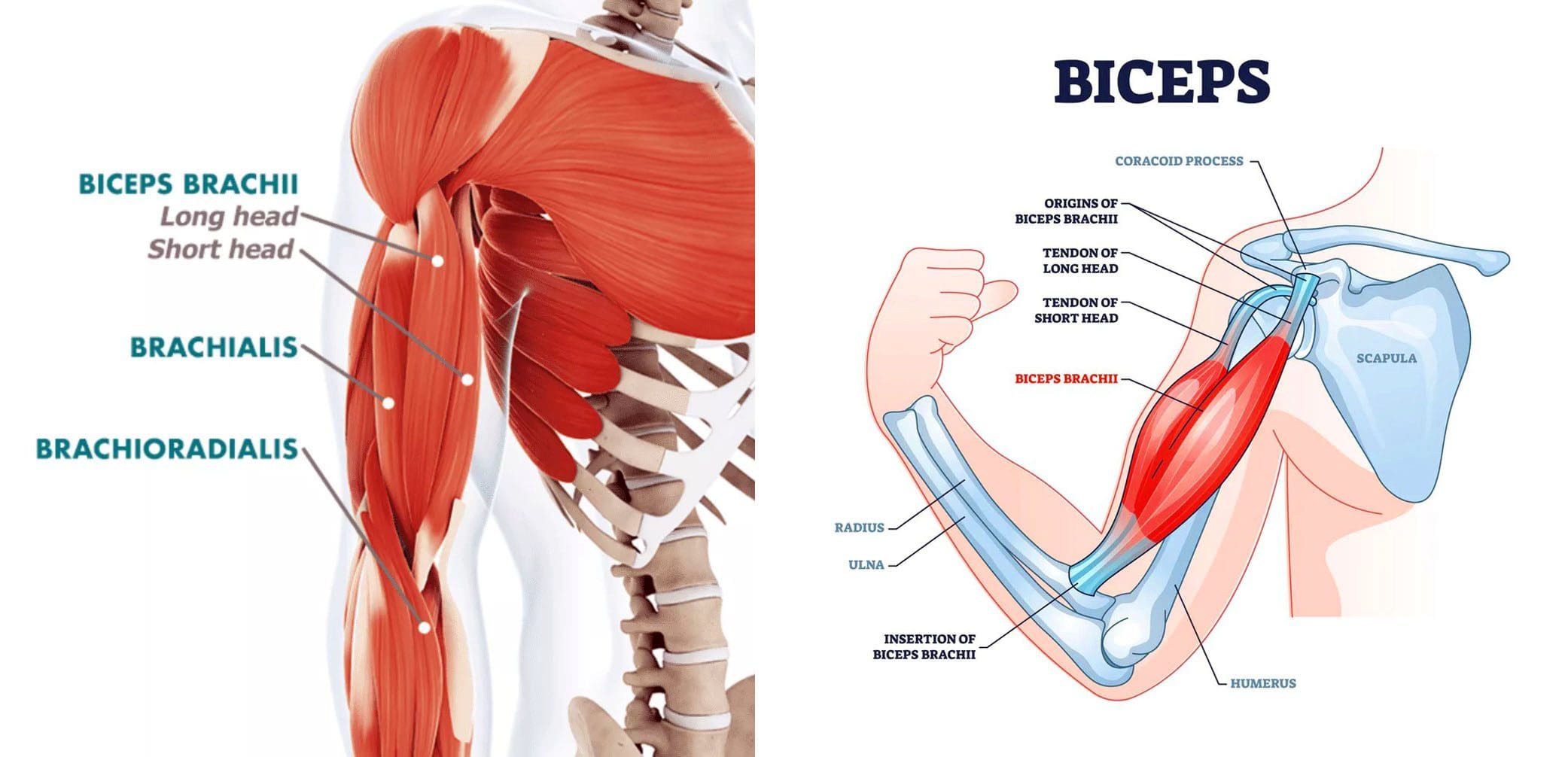 Bicep Curls
Located at the upper arm, the biceps comprise a short and long head that operates as a single muscle.
The bicep heads begin at different places around the shoulder/scapula region,
They have a common insertion point on the elbow tendon.
Together allow the bending of the arm at the elbow joint to curl and pull weight.
Curls work the muscles at the front of the upper arm and the lower arm. The brachialis and brachioradialis.
Dumbbells
Different equipment and grips can be used, including dumbbell weights, kettlebells, barbells, resistance bands, or cable machines. Select equipment with enough weight that can be lifted ten times using proper form, ensuring the last three repetitions are challenging to the point of being unable to raise another. From there, use this same weight to perform eight repetitions or slightly lower the weight and perform ten repetitions.
Begin by standing with the feet about hip-width apart.
Keep the abdominal/core muscles engaged.
Hold one dumbbell in each hand.
Relax the arms down at the sides with palms facing forward.
Keep the upper arms stable and shoulders relaxed.
Bend at the elbow and lift the weights so the dumbbells approach the shoulders.
Raise the dumbbells to eye or forehead level for a full range of motion.
Tension will be felt in the muscles in the front of the upper arm.
Keep movements smooth and controlled.
The elbows should stay tucked in close to the body.
Be careful to keep the wrist straight and rigid.
Flexing the wrist while bending the elbow won't target the biceps effectively and can result in a wrist or elbow injury.
Exhale while lifting.
Lower the weights to the starting position.
For most, one set of 12 to 15 repetitions is adequate.
Train to failure performing the desired reps, staying within 3 to 5 repetitions of total failure.
When able, slightly increase weight and/or reps over time to increase muscle and strength.
Both biceps can be worked out by alternating arms.
It can be done standing or sitting.
Avoid Errors
Get the most out of the workout by avoiding these errors.
Rushing Through
Focus on proper form and avoid rushing through the workout.
Lift the weights with a smooth motion.
Take as much time to lower the weight as when lifting it.
Lowering the weight slowly can help build more muscle, making the most of the workout.
Improper Elbow Position
The position of the elbows should remain close to the side of the body.
Only the lower arm should move until the end of the movement when the elbows rise. This is a complete range of motion.
If the elbows move away from the torso or swing behind the body, there is probably too much weight.
Avoid Swinging the Weights
Focus on maintaining a tall, upright spine and a tight core.
The shoulders or torso should not swing the weights up when doing the curl.
It can feel like swinging, twisting, or heaving movements.
Don't let the hips hinge, or the lower body assist the movement.
Keep the elbows at the sides until they naturally rise at the end of the motion.
Keep the shoulders relaxed
Make sure the shoulders don't move forward to initiate the movement.
Use lighter weights or reduce the number of repetitions if this happens.
Safety
This exercise is generally recommended for most individuals. However, getting clearance from a primary caregiver before beginning any exercise routine is recommended.
Individuals with an arm injury or who experience pain during the motion should not perform the exercise without a doctor's approval.
Don't try to lift weights that are too heavy.
After a few lifts, expect to feel fatigued and a burning sensation in the biceps and forearm muscles.
This is the desired effect to get the muscles strong and growing.
Do not force extra repetitions once proper form cannot be achieved.
Take a thorough rest before the next set.
Stop if pain begins to present.
Benefits
These muscles are in constant use when picking things up.
Consistently performing the biceps curl will help build strength in the upper arm.
Individuals learn to use their arm muscles correctly and with the core muscles.
---
Unlocking Athletic Potential with Chiropractic
---
References
Coratella, Giuseppe, et al. "Biceps Brachii and Brachioradialis Excitation in Biceps Curl Exercise: Different Handgrips, Different Synergy." Sports (Basel, Switzerland) vol. 11,3 64. 9 Mar. 2023, doi:10.3390/sports11030064
Coratella, Giuseppe, et al. "Bilateral Biceps Curl Shows Distinct Biceps Brachii and Anterior Deltoid Excitation Comparing Straight vs. EZ Barbell Coupled with Arms Flexion/No-Flexion." Journal of functional morphology and Kinesiology vol. 8,1 13. 19 Jan. 2023, doi:10.3390/jfmk8010013
Marchetti, Paulo H et al. "Seated row and biceps curl exercises present similar acute responses on muscle thickness, arm circumference, and peak force for elbow flexors after a resistance training session in recreationally-trained subjects." The Journal of sports medicine and physical fitness vol. 60,11 (2020): 1415-1422. doi:10.23736/S0022-4707.20.10996-4
Sato, Shigeru, et al. "Elbow Joint Angles in Elbow Flexor Unilateral Resistance Exercise Training Determine Its Effects on Muscle Strength and Thickness of Trained and Non-trained Arms." Frontiers in physiology vol. 12 734509. 16 Sep. 2021, doi:10.3389/fphys.2021.734509
Schoenfeld, Brad Jon, et al. "Differential effects of attentional focus strategies during long-term resistance training." European Journal of sports science vol. 18,5 (2018): 705-712. doi:10.1080/17461391.2018.1447020
Post Disclaimer
Professional Scope of Practice *
The information herein on "Bicep Curls: EP Wellness and Functional Medicine Clinic" is not intended to replace a one-on-one relationship with a qualified health care professional, or licensed physician, and is not medical advice. We encourage you to make your own healthcare decisions based on your research and partnership with a qualified healthcare professional.
Blog Information & Scope Discussions
Our information scope is limited to Chiropractic, musculoskeletal, physical medicines, wellness, contributing etiological viscerosomatic disturbances within clinical presentations, associated somatovisceral reflex clinical dynamics, subluxation complexes, sensitive health issues, and/or functional medicine articles, topics, and discussions.
We provide and present clinical collaboration with specialists from a wide array of disciplines. Each specialist is governed by their professional scope of practice and their jurisdiction of licensure. We use functional health & wellness protocols to treat and support care for the injuries or disorders of the musculoskeletal system.
Our videos, posts, topics, subjects, and insights cover clinical matters, issues, and topics that relate to and support, directly or indirectly, our clinical scope of practice.*
Our office has made a reasonable attempt to provide supportive citations and has identified the relevant research study or studies supporting our posts. We provide copies of supporting research studies available to regulatory boards and the public upon request.
We understand that we cover matters that require an additional explanation of how it may assist in a particular care plan or treatment protocol; therefore, to further discuss the subject matter above, please feel free to ask Dr. Alex Jimenez DC or contact us at 915-850-0900.
We are here to help you and your family.
Blessings
Dr. Alex Jimenez DC, MSACP, CCST, IFMCP*, CIFM*, ATN*
email: coach@elpasofunctionalmedicine.com
Licensed in: Texas & New Mexico*
Dr. Alex Jimenez DC, MSACP, CIFM*, IFMCP*, ATN*, CCST
My Digital Business Card