El Paso, TX. Chiropractor, Dr. Alexander Jimenez discusses the anatomy of nerve fibers, receptors, spinal tracts and brain pathways. Regions of the Central Nervous System (CNS) coordinate various somatic processes using sensory inputs and motor outputs of peripheral nerves. Important areas of the CNS that play a role in somatic processes are separated in the spinal cord brain stem. Sensory pathways that carry peripheral sensations to the brain are referred to an ascending pathway, or tract. Various sensory modalities follow specific pathways through the CNS. Somatosensory stimuli activate receptors in the skin, muscles, tendons, and joints throughout the entire body. The somatosensory pathways are divided into two separate systems based on the location of the receptor neurons. Somatosensory stimuli from below the neck run along the sensory pathways of the spinal cord, and the somatosensory stimuli from the head and neck travel through cranial nerves.
ANATOMY OF RECEPTORS, NERVE FIBERS, SPINAL CORD TRACTS AND BRAINSTEM PATHWAYS
RECEPTORS AND RECEPTOR BASED THERAPY
NEURONS NEED THREE THINGS TO SURVIVE!
FUNCTIONAL NEUROLOGY KEY CONCEPTS
The cell needs three things to survive.
Oxygen, glucose and stimulation.
Stimulation = Chiropractic, exercise, etc.
Stimulation leads to neuronal growth
Neuronal growth leads to plasticity
Subluxations alter the frequency of firing of neurons
Activation of one side will stimulate ipsilateral cerebellum and contralateral cortex (usually)
Proper stimulation CAN reduce pain.
CHIROPRACTIC IS RECEPTOR-BASED THERAPY
INTRODUCTION
The ongoing activity and output of the CNS are greatly influenced, and sometimes more or less determined, by incoming sensory information.
The basis of this incoming sensory information is an array of sensory receptors, cells that detect various stimuli and produce receptor potentials in response, often with astonishing effectiveness.
The health of the neuron, however, plays a huge role in how neurons can produce receptor potentials, the endurance of the neuron and the ability to create plasticity.
"Neurons that fire together, wire together." Hebbian Theory
TYPES OF RECEPTORS
Chemoreceptors
Smell, taste, interoceptors
Thermoreceptors
Temperature
Mechanoreceptors
Cutaneous receptors for touch, auditory, vestibular, proprioceptors
Nociceptors
Pain
PARTS OF RECEPTORS
Although their morphologies vary widely, all receptors have three general parts:
1. Receptive Area
2. Area Rich In Mitochondria
Health of the neurons within the receptors will determine its response to stimulation
3. Synaptic Area To Pass Messages To The CNS
RECEPTIVE FIELDS
These are particular areas in the periphery where application of an adequate stimulus causes the receptors to respond.
Neurons in successive levels of sensory pathways (second- order neurons, thalamic and cortical neurons-also have receptive fields, although they may be considerably more elaborate than those of the receptors.
TRANSDUCTION
Sensory receptors use ionotropic and metabotropic mechanisms to produce receptor potentials
Sensory receptors transduce some physical stimulus into an electrical signal – a receptor potential – that the nervous system can understand.
Sensory receptors are similar to postsynaptic membranes as their adequate stimuli are analogous to neurotransmitters.
THE DIAMETER OF A NERVE FIBER IS CORRELATED WITH ITS FUNCTION
BIGGER = FASTER
Larger fibers conduct action potentials faster than do smaller fibers.
Aα fibers are the largest and most rapidly conducting myelinated fibers.
The slowest conducting fibers of the body are the C fibers


RECEPTORS IN MUSCLES AND JOINTS DETECT MUSCLE STATUS AND LIMB POSITION
MUSCLE SPINDLES
Muscle spindles (Fig. 9-14) are long, thin stretch receptors scattered throughout virtually every striated muscle in the body.
These muscle spindles sense muscle length and proprioception ("one's own" perception).
They are quite simple in principle, consisting of a few small muscle fibers with a capsule surrounding the middle third of the fibers.
These fibers are called intrafusal muscle fibers (fusus is Latin for "spindle," so intrafusal means "inside the spindle"), incontrast to the ordinary extrafusal muscle fibers ("outside the spindle").
The ends of the intrafusal fibers are attached to extrafusal fibers, so whenever the muscle is stretched, the intrafusal fibers are also stretched.
The central region of each intrafusal fiber has few myofilaments and is noncontractile, but it does have one or more sensory endings applied to it.
When the muscle is stretched, the central part of the intrafusal fiber is stretched, mechanically sensitive channels are distorted, the resulting receptor potential spreads to a nearby trigger zone, and a train of impulses ensues at each sensory ending.
GOLGI TENDON ORGANS
Golgi tendon organs are spindle-shaped receptors found at the junctions between muscles and tendons. They are similar to Ruffini endings in their basic organization, consisting of interwoven collagen bundles surrounded by a thin capsule (Fig. 9-16).
Large sensory fibers enter the capsule and branch into fine processes that are inserted among the collagen bundles. Tension on the capsule along its long axis squeezes these fine processes, and the resulting distortion stimulates them.
If tension is generated in a tendon by making its attached muscle contract, tendon organs are found to be much more sensitive and can actually respond to the contraction of just a few muscle fibers.
Thus Golgi tendon organs very specifically monitor the tension generated by muscle contraction and come into play whe
n fine adjustments in muscle tension need to be made (e.g., when handling a raw egg).
Thus the mode of action of Golgi tendon organs is quite different from that of muscle spindles (Fig. 9-17). If a muscle contracts isometrically, tension is generated across its tendons, and the tendon organs signal this; however, the muscle spindles signal nothing because muscle length has not changed (assuming that the activity of the gamma motor neurons remains unchanged).
In contrast, a relaxed muscle can be stretched easily, and the muscle spindles fire; the tendon organs, however, experience little tension and remain silent. A muscle, by virtue of these two types of receptors, can have its length and tension monitored simultaneously.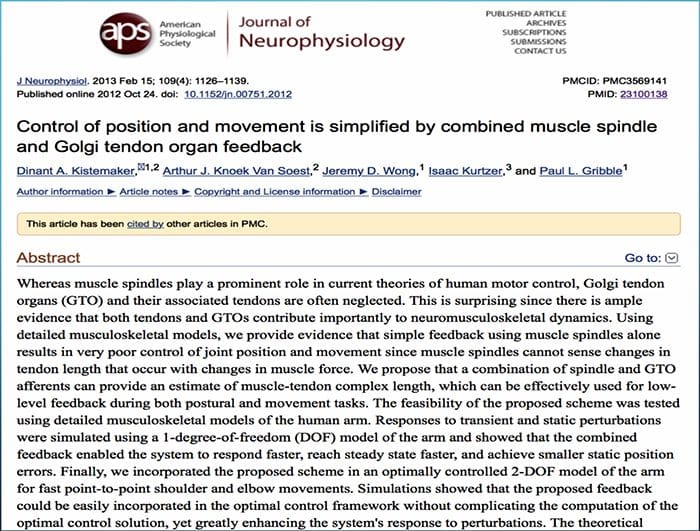 https://www.ncbi.nlm.nih.gov/pmc/articles/PMC4668288/
https://www.ncbi.nlm.nih.gov/pubmed/23709641
By RYAN CEDERMARK, DC DACNB RN BSN MSN