Low FODMAPs Tex-Mex Chicken Fajitas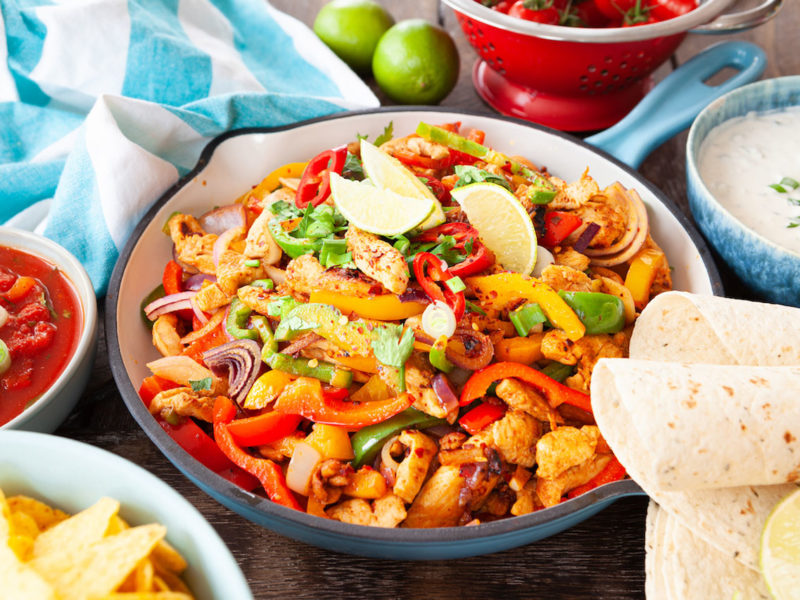 Notes
The most common consultation at my practice is IBS or bloating issues, commonly reported by my lovely female patients. The nutritional assessment and dietary questionnaire show signs and symptoms that are treated with a low FODMAP diet.

Low FODMAP stands for low fermentable oligosaccharides, disaccharides, monosaccharides, and polyols. Also, this diet is an elimination type diet, and its main objective is to reduce the dietary intake of fermentable foods, resulting in less bloating.

Common avoided foods:

Diary and derivates.

Garlic, onions.
Some fruits: those that contain pits or seeds. Maple syrup, agave syrup. Legumes: beans and lentils. Sugar alcohols. Some of my favorite flavorful recommendations are made by these companies: Rachel Paul's FODY

Ingredients
2 tbsp lime juice
2 tbsp garlic or shallot-infused oil
1 pc green bell pepper
1 pc orange/yellow/red bell pepper
2 tbsp low FODMAP taco seasoning (store-bought or homemade)
1 lb. sliced chicken breast
Homemade taco seasoning:
2 tsp cumin
1 tsp salt
1/2 tsp cayenne pepper
1 tsp oregano
2 tsp paprika
2 tbs ground ancho chili pepper
1/2 tsp turmeric
Instructions
Preheat your oven at 425 F.
Add the lime juice, infused oil, and taco mix to a large bowl.
Introduce bell peppers and chicken to the taco seasoning mixture, and coat them evenly.
In a coated baking pan, previously sprayed with nonstick cooking spray, evenly spread your chicken and bell peppers.
Bake for 8 minutes, then stir the chicken and bake for additional 8 minutes.
Plating:
You can go gluten-free by using corn tortillas to make tacos. As a nutritionist, I usually use 2 portions of cereals or derivates, which are two tortillas.
Another good gluten-free option is rice! Cook your favorite brown rice and measure 1/2 cup to incorporate 2 portions of cereals.
Nutrition Facts
Low FODMAPs Tex-Mex Chicken Fajitas
Serves: 4 portions
Amount Per Serving:

1 portion

Calories

299.26 kcal

% Daily Value*
Total Fat

18.1 g

27.8%
Saturated Fat

3.62 g

18.1%
Trans Fat

0.15 g

Cholesterol

72.57 mg

24.2%
Sodium

462.61 mg

19.3%
Total Carbohydrate

8.32 g

2.8%
Dietary Fiber

2.55 g

10.2%
Sugars

2.98 g

Protein

24.94 g
Vitamin A

12.83 %

Vitamin C

78.54 %

Calcium

3.66 %

Iron

14.92 %
* Percent Daily Values are based on a 2,000 calorie diet. Your daily values may be higher or lower depending on your calorie needs.