Head Trauma: Skull Fractures
SKULL FX: COMMON IN THE SETTINGS OF HEAD INJURIES. SKULL FX OFTEN POINT TO OTHER COMPLICATING FACTORS: INTRA-CRANIALHEMORRHAGING, CLOSED TRAUMATIC BRAIN INJURY AND OTHER SERIOUS COMPLICATIONS
SKULL X-RAYS ARE VIRTUALLY OBSOLETE IN EVALUATING HEAD INJURY. CT SCANNING W/O CONTRAST IS THE MOST IMPORTANT INITIAL STEP IN EVALUATION OF ACUTE HEAD TRAUMA. MRI HASA POOR ABILITY TO REVEAL SKULL FRACTURES, AND NOT TYPICALLY USED FOR AN INITIAL DX OF ACUTE HEAD TRAUMA.
SKULL FX ARE IDENTIFIED AS FXS OF SKULL VAULT, SKULL BASE AND FACIAL SKELETON EACH ASSOCIATED WITH SPECIFIC FEATURES AND HELP TO PREDICT COMPLICATIONS.
LINEAR SKULL FX: SKULL VAULT. M/C FX. CT SCANNING IS THE KEY TO EVALUATE ARTERIALEXTRADURAL HEMORRHAGING
X-RAY DDX: SUTURES VS. LINEAR SKULL FX. FX IS THINNER, "BLACKER" I.E. MORE LUCENT, CROSSESSUTURES, AND VASCULAR GROOVES, LACKSSERRATIONS
RX: IF NO INTRACRANIAL BLEEDS THAT NO TREATMENT. NEUROSURGICAL CARE IF BLEEDSDETECTED BY CT SCANNING
DEPRESSED SKULL FX: 75% IN THE VAULT. CAN BE DEADLY. CONSIDERED AN OPEN FX. MOST CASES NEED NEUROSURGICALEXPLORATION ESPECIALLY IFFRAGMENTS DEPRESSED >1-CM.COMPLICATIONS: VASCULAR INJURY/HEMATOMAS, PNEUMOCEPHALUS, MENINGITIS, TBI, CSF LEAK, BRAIN HERNIATION ETC.
IMAGING: CT SCANNING W/O CONTRAST
BASILAR SKULL FX: CAN BE DEADLY. OFTEN ALONG OTHER MAJOR HEAD TRAUMA OF THE VAULT AND FACIALSKELETON, OFTEN WITH TBI AND MAJORINTRACRANIAL HEMORRHAGING. OFTEN OCCUR AS "HEADBAND" EFFECT OF IMPACT AND MECHANICAL TENSIONTHROUGH THE OCCIPUT AND TEMPORAL BONES THROUGH SPHENOID AND OTHER BASE OF SKULL BONES. CLINICALLY: RACCOON EYES, BATTEL SIGN, CSFRHINO/OTORRHEA.
Facial Fractures
NASAL BONES FX: 45% OF ALLFACEFXM/C IMPACT IS LATERAL(FIST BLOW ETC.) IF UNDISPLACEDNO TREATMENT, IF DISPLACED MAY COMPLICATE AIR FLOW AND RESPIRATORY PASSAGE, MAY BE ASSOCIATED WITH OTHER FACIAL/SKULL INJURY. X-RAYS 80%SENSITIVE, FOLLOWED BY CT INCOMPLEX INJURIES.
ORBITAL BLOW OUT FX: COMMONORBITAL INJURY D/T IMPACT ON THE GLOBE AND/OR ORBITAL BONE. FX OF ORBITAL FLOOR INTOMAXILLARY SINUS VS. MEDIAL WALL INTO ETHMOID SINUS. COMPLICATIONS: ENTRAPPEDINFERIOR RECTUS M, PROLAPSEORBITAL FAT, AND SOFT TISSUES, HEMORRHAGING AND OPTIC NERVE DAMAGE. RX: CONCERNS OF GLOBE INJURY ARE IMPORTANT, GENERALLY TREATEDCONSERVATIVELY IF NO COMPLICATIONS PRESENT
TRIPOD FX: 2ND M/C FACIAL FX#AFTER NASAL (40% OF MIDFACEFX) 3-POINT FX-ZYGOMATICARCH, ORBITAL PROCESS OF ZYGOMATIC BONE & SIDE OF MAXILLARY SINUS WALL, MAXILLARY PROCESS OF ZYGOMATIC BONE.COMPLICATED BY NERVE INJURY, TEMPORALIS M DAMAGE ETC. CT SCANNING IS MORE INFORMATIVE THAT X-RAYS (WATER'S VIEW).
LEFORT FX: SERIOUS FX ALWAYS INVOLVES PTERYGOID PLATES, POTENTIALLY SEPARATINGMIDFACE AND ALVEOLAR PROCESS WITH TEETH FROM THE SKULL. CONCERNS: AIRWAYS, HEMOSTASIS, NERVE INJURIES. CT SCANNING IS REQUIRED. POTENTIAL RISK OF BASILAR SKULL FX
PING-PONG FX: EXCLUSIVELY IN INFANTS. AN INCOMPLETE FX D/T FOCALDEPRESSION: FORCEPS DELIVERY, DIFFICULT LABOUR ETC. FOCALTRABECULAR MICROFRACTURIINGLEAVING DEPRESSION RESEMBLING APING-PONG. DX IS MAINLY CLINICALSEEN AS FOCAL DEFECT "DEPRESSION" IN THE SKULL. TYPICALLYNEUROLOGICALLY INTACT. CT MAY HELP IF BRAIN INJURY IS SUSPECTED. RX: OBSERVATIONAL VS. SURGICAL IN COMPLICATED INJURIES. SPONTANEOUSREMODELING HAS BEEN REPORTED
LEPTOMENINGEAL CYST (GROWING SKULL FX)- ARE AN ENLARGING SKULL FRACTURE THAT DEVELOPS ADJACENT TO POSTTRAUMATIC ENCEPHALOMALACIA
IT IS NOT A CYST, BUT AN EXTENSION OF THEENCEPHALOMALACIA THAT SEEN A FEW MONTHS POST-TRAUMA WITH PREVIOUS SKULL FX FOLLOWEDBY HERNIATION OF THE MENINGES AND ADJACENTBRAIN WITH PULSATIONS OF THE CSF. CT IS BEST ATDX THIS PATHOLOGY. INDICATES: GROWING FX AND ADJACENT ENCEPHALOMALACIA AS FOCALHYPOATTENUATING LESION.
CLINICALLY: PALPABLE CALVARIAL ENLARGEMENT, PAIN, NEUROLOGICAL SIGNS/SEIZURES. RX: NEUROSURGICAL CONSULT IS REQUIRED
DDX: INFILTRATING CELLS/METS/OTHER NEOPLASMSINTO SUTURES, EG, INFECTION ETC.
MANDIBULAR FXS: COMMON. POTENTIALLYCONSIDERED AN OPEN FX D/T INTRA-ORALEXTENSION. 40% FOCAL BREAK DESPITEMANDIBLE BEING A RING. DIRECT IMPACT(ASSAULT) M/C MECHANISM
PATHOLOGICAL FX D/T BONE NEOPLASMS, INFECTION ETC. IATROGENIC DURING ORAL SURGERY (TOOTH EXTRACTION)
IMAGING: MANDIBLE X-RAYS, PANOREX, CT SCANNING ESP. IN CASES OF ASSOCIATEDFACE/HEAD TRAUMA
COMPLICATIONS: AIRWAY OBSTRUCTION, HEMOSTASIS IS A MAJOR CONSIDERATION, DAMAGE TO MANDIBULAR N, OSTEOMYELITIS/CELLULITIS AND POTENTIAL SPREAD THROUGH FLOOR OF THE MOUTH (LUDWIGANGINA) AND NECK FASCIAL SOFT TISSUES INTOMEDIASTINUM. CANNOT BE NEGLECTED D/T HIGH MORTALITY RATES.
RX: CONSERVATIVE VS. OPERATIVE
Acute Intracranial Hemorrhage
EPI AKA EXTRA DURAL: (EDH) TRAUMATIC RAPTURE OF MENINGEAL ARTERIES (MMA CLASSIC) WITH RAPIDLY FORMING HEMATOMA BETWEEN THE INNER SKULL AND OUTER DURA. CT SCANNING IS THE KEY TO DX: PRESENTS AS "LENTIFORM" I.E. BICONVEX COLLECTION OF ACUTE (HYPERDENSE) BLOOD THAT DOES NOT CROSSSUTURES AND HELPS WITH DDX OF A SUBDURAL HEMATOMA. CLINICALLY: HA, LUCID EPISODE INITIALLY AND DETERIORATING IN A FEW HOURS.COMPLICATIONS: BRAIN HERNIATION, CN PALSY. O/A GOOD PROGNOSIS IF QUICKLY EVACUATED.
SUBDURAL HEMATOMA (SDH): RAPTURE OF BRIDGINGVEINS BETWEEN INNER DURA AND THE ARACHNOID.SLOW BUT PROGRESSIVE BLEED. MAY PARTICULARLYAFFECT THE VERY YOUNG AND ELDERLY AND IN ALL AGES (MVA, FALLS ETC.) MAY DEVELOP IN "SHAKEN BABY SYNDROME". DX MAY BE DELAYED AND WORSEN THE PROGNOSIS WITH HIGH FATALITIES. IN ELDERLY HEAD TRAUMA MAY BE MINOR OR NOT RECALLED. EARLYIMAGING WITH CT IS CRUCIAL. PRESENTS AS CRESCENTSHAPEDCOLLECTION THAT CAN CROSS SUTURES BUT STOPPED AT DURAL REFLECTIONS. DIFFERENTATTENUATION ON CT D/T DIFFERENT STAGES OF BLOODDECOMPOSITION: ACUTE, SUBACUTE, AND CHRONIC.MAY FORM A CHRONIC COLLECTION-CYSTICHYGROMA. CLINICALLY: VARIABLE PRESENTATION, 45-60% PRESENT WITH SEVERELY DEPRESSED CNS STATUS, PUPILLARY INEQUALITY. OFTEN WITH INITIAL BRAIN CONTUSION, THEN A LUCID EPISODE BEFORE SEVERELYDETERIORATING. IN 30% CASES OF FATAL BRAIN INJURY PATIENTS HAD SDH. RX: URGENT NEUROSURGICAL.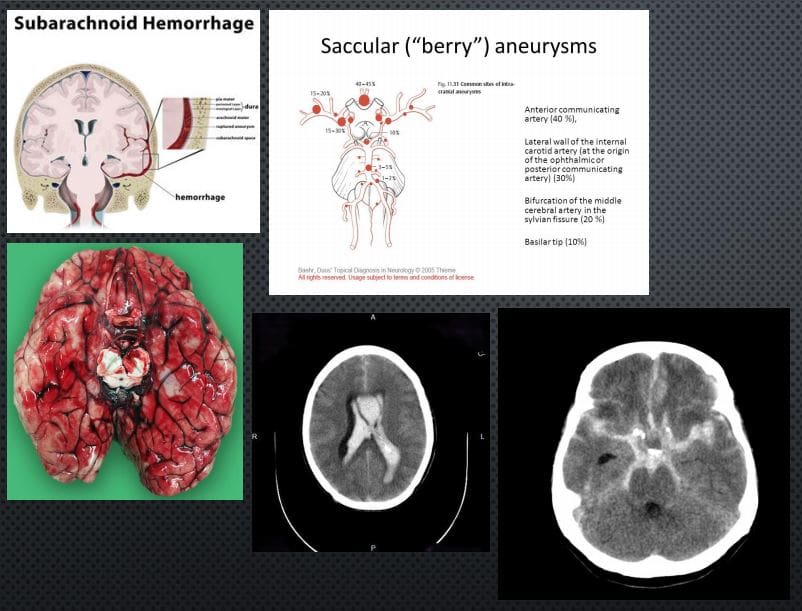 SUBARACHNOID HEMORRHAGE (SAH): BLOOD IN THE SUB-ARACHNOID SPACE AS THE RESULT OF TRAUMATIC OR NON-TRAUMATIC ETIOLOGY: BERRY ANEURYSMS AROUND CIRCLE OF WILLIS.SAH 3% OF STROKES, 5% OF FETAL STROKES.CLINICALLY: PRESENTS AS A "THUNDERCLAP HEADACHE" DESCRIBED AS A "WORST HA INLIFE". PT COLLAPSES MAY OR MAY NOT REGAIN CONSCIOUSNESS. PATHOGY: DIFFUSE BLOOD INSA SPACE 1)SUPRASELLAR CISTERN WITH DIFFUSE PERIPHERAL EXTENSION, 2) PERIMESENCEPHALIC, 3) BASAL CISTERNS. BLOOD LEAKED INTO SA SPACE UNDERARTERIAL PRESSURE INDUCES GLOBAL INCREASE IN INTRACRANIAL PRESSURE, ACUTE GLOBAL ISCHEMIA WORSENED BY VASOSPASM AND OTHER CHANGES.
DX: IMAGING: URGENT CT SCANNING W/O CONTRAST, CT ANGIOGRAPHY MAY HELP TO RULE OUT 99% OF SAH. LUMBAR PUNCTUREMAY HELP IN DELAYED PRESENTATION. AFTER INITIAL DX: MR ANGIOGRAPHY HELPS TO FIND THE CAUSE AND OTHER IMPORTANT FEATURES
IMAGING FEATURES: ACUTE BLOOD IS HYPERDENSE ON CT. FOUND IN DIFFERENTCYSTERNS: PERIMESENCEPHALIC, SUPRASELLA, BASAL, VENTRICLES,
RX: INTRAVENOUS ANTIHYPERTENSIVE MEDS, OSMOTIC AGENTS (MANNITOL) TO DECREASEICP. NEUROSURGICAL CLIPPING AND OTHER APPROACHES.
CNS Neoplasms: Benign vs. Malignant
BRAIN TUMORS REPRESENT 2% OF ALL CANCERS. ONE THIRD ARE MALIGNANT, OF WHICH METASTATIC BRAIN LESIONS ARE THE MOST COMMON
CLINICALLY PRESENT WITH LOCAL CNS ABNORMALITIES, INCREASED ICP, INTRACEREBRAL BLEEDING ETC. FAMILIALSYNDROMES: VON-HIPPEL-LANDAU, TUBEROUS SCLEROSIS, TURCOT SYNDROME, NF1 & NF2 INCREASE THE RISK. IN CHILDREN: M/C ASTROCYTOMAS, EPENDYMOMAS, PNETNEOPLASMS (E.G. MEDULLOBLASTOMA) ETC. DX: BASED ON WHO CLASSIFICATION.
ADULTS: M/C BENIGN NEOPLASM: MENINGIOMA. M/C PRIMARY: GLIOBLASTOMA MULTIFORME (GBM)METSESPECIALLY FROM LUNG, MELANOMA, AND BREAST.OTHERS: CNS LYMPHOMA
IMAGING IS CRUCIAL: INITIAL SYMPTOMS MAY PRESENT AS SEIZURE, ICP SIGNS HA. EVALUATED BY CT AND MRI WITH IV GADOLINIUM.
IMAGING DETERMINES: INTRA-AXIAL VS. EXTRA-AXIALNEOPLASMS. METS FROM PRIMARY BRAIN NEOPLASMS MAYO CCUR VIA CSF AND LOCAL VESSELS INVASION
NOTE AXIAL CT SLICE OF MENINGIOMA WITH AVIDCONTRAST ENHANCEMENT.
AXIAL MRI ON FLAIR PULSE SEQUENCE REVEALED EXTENSIVE NEOPLASM AND MARKED CYTOTOXIC EDEMA OF THE BRAIN PARENCHYMA CHARACTERISTIC OF GRADE IV GLIOMA (GBM) WITH VERY POOR PROGNOSIS. ABOVE FAR RIGHT IMAGE: AXIAL MRI FLAIR: BRAIN METASTASIS FROM BREAST CANCER. MELANOMA IS COMMONLY METASTASIZESTO THE BRAIN (SEE PATH SPECIMEN) MRI CAN BE DIAGNOSTIC D/T HIGH SIGNAL ON T1 AND CONTRAST ENHANCEMENT.
RX: NEUROSURGICAL, RADIATION, CHEMOTHERAPY, IMMUNOTHERAPY TECHNIQUES ARE EMERGING
Inflammatory CNS Pathology
CNS Infections
BACTERIAL
MYCOBACTERIAL
FUNGAL
VIRAL
PARASITIC