Fragrant Mushroom Cauliflower Skillet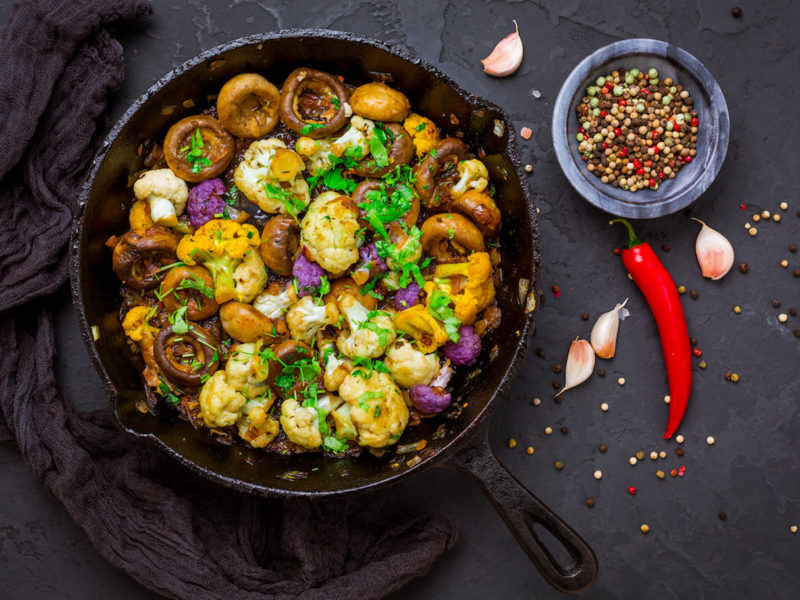 Ingredients
4 tablespoons of ghee
1/2 onion
1 tablespoon olive oil
1 head cauliflower, cut into florets
1 lb mushrooms, cleaned
2 tablespoons of water or vegetable stock
2 tablespoons fresh parsley, chopped
1 teaspoon fresh thyme, finely chopped
3-4 cloves garlic, finely minced
salt and pepper.
Instructions
In a hot pan or skillet, heat the ghee and oil, then sauté the onions until soft.
Place the mushrooms on top of the onions, cook them until brown.
Once the mushrooms have rendered as much moisture as possible, add the cauliflower florets, cook until golden.
Add the vegetable broth and let it reduce.
Add the garlic, salt, pepper, thyme, and parsley and mix them together until the ingredients become fragrant.
Enjoy as a side dish!
Nutrition Facts
Fragrant Mushroom Cauliflower Skillet
Serves: 4-5 people
Amount Per Serving:

3oz

Calories

213.83 kcal

% Daily Value*
Total Fat

16.95 g

26.1%
Saturated Fat

8.65 g

43.3%
Trans Fat

0.0 g

Cholesterol

32.77 mg

10.9%
Sodium

679.82 mg

28.3%
Total Carbohydrate

13.44 g

4.5%
Dietary Fiber

4.46 g

17.8%
Sugars

5.53 g

Protein

6.62 g
Vitamin A

12.94 %

Vitamin C

80.03 %

Calcium

4.98 %

Iron

8.18 %
* Percent Daily Values are based on a 2,000 calorie diet. Your daily values may be higher or lower depending on your calorie needs.