Do you feel:
Those bowels do not empty?
Constipation?
Difficult bowel movements?
Difficulty digesting roughage and fiber?
Unpredictable abdominal swelling?
If you are experiencing any of these situations, then you might not have been consuming enough fiber. Why not try incorporating these seven high-fiber foods in your diet.
The Importance of Fiber
Surprisingly everyone knows that a healthy diet plays a critical role in the overall human health. With a healthy diet, anyone can feel better, have more energy, and can maintain a healthy weight. However, sometimes people do get carried away with carbohydrates, proteins, and fats but often forget the most important nutrient that the body needs, which is fiber. Even though there are multiple studies and evidence that are linked to dietary fibers and how they have a variety of health benefits, studies have shown that most Americans are still falling short by taking the recommended amount for daily fiber intake. For males, they should be consumed at least 38 grams, and for females, they should at least consume 25 grams of fiber.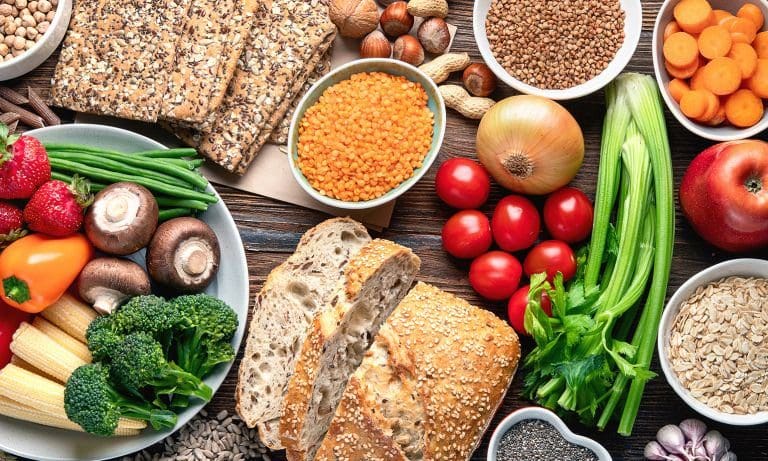 Throughout the years, fiber has been traditionally known to be considered as a mere roughage that can simply add volumes to digested foods, and the science has been proven and revealed that fiber does play a significant role in the body. Studies have shown that fiber nourishes the gut microbiomes, therefore aiding the digestion and improving the overall gut health. There have been more studies that have been shown that fiber has been linked with disease prevention, while also reducing the risk factors of a variety of conditions that can affect the body like knee arthritis, food allergies, and even type 2 diabetes.
Since fiber is essential to the body than most people realized, it can help people obtain the minimum in their diets. Since it is critical to a person's overall health and wellness, there are many ways that fiber can do more than just help the gut system. Fiber can help the body in more ways than the gut. Here is the list of the top 7 fiber-laden foods that can do so much more for the body than being a bulking item for a healthy food diet.
Chia seeds
In the natural health community, chia seeds are very popular. These seeds are highly nutritious and can be added to a variety of foods like smoothies, healthy puddings, and salads, just to name a few. Research shows that chia seeds are probably one of the best sources for dietary fibers in the world. Chia seeds pack a whopping 34 grams per 100 grams and contain high amounts of soluble fibers. Research even shows that when chia seeds absorb water and form a gel-like substance, the contents can expand in the stomach, therefore increasing the feeling of a person being full and, of course, helping them eat less.
Studies have been shown that chia seeds can help individuals suppress their appetites. Chia seeds are beneficial to patients who have type 2 diabetes by managing their body weight, control their visceral obesity, and help to prevent obesity-related risk factors from entering the body while maintaining good glycemic control as well. Another study has found that chia seeds are excellent in reducing blood pressure. The study mentioned that when individuals consume chia seeds, its contents can help the individual's body by improving the major and emerging cardiovascular risk factors in their body, thus preventing type 2 diabetes. All in all, chia seeds are an excellent source of fiber for anyone who may have diabetes or is trying to maintain a healthy weight.
Almonds
Almonds are another source of fiber that is widely popular like the chia seeds, but they are a highly underrated nut.  Almonds are rich with nutrients that the body needs as they contained magnesium, manganese, vitamin E, protein, and healthy fats that are excellent for the body. The almond nut itself has about 12.5 grams of fiber per 100 grams in each nut. Almonds are pretty remarkable due to improving gut health due to its sizable fiber contents.
Studies have found that when people consume almonds, their oxidative stress is reduced. The study explained that almonds are a good source of antioxidant nutrients that can diminish the biomarkers of oxidative stress in individuals and even enhanced the antioxidant defenses. There are more and more studies about almonds and their amazing properties like lowering the bad LDL cholesterol, hunger reduction, and even aiding in weight loss for the body.
Flax Seeds
Surprisingly, flax seeds are continuing to be one of the leading sources of dietary fibers with 27.3 grams of fiber out of every 100 grams of the seed. Studies have found out that flax seeds not only have fiber, but it contains high amounts of protein and omega-3 fatty acids as well. While other studies showed that flax seeds have a plethora of health benefits from improving gut health, reducing hunger cravings to preventing diarrhea and constipation that can happen to the body.
Popcorn
Popcorn is not only a great snack to munch on when a person is watching tv or enjoying a movie in the theaters, but it is an excellent source of fiber. What is interesting about this popular snack is that it can be air-popped and contains about 14.5g/100g per serving of fiber. Studies have found that air-popped popcorn can be as filling as a bag of potato chips while also helping with weight management.
Oats
The best way to incorporate fiber into a healthy diet is to have oats as part of a healthy breakfast. Research shows that oats have a high fiber count, and they contain beta-glucan, which can aid the regulation of blood sugar and cholesterol in the body. Not only that, but oats have amazing health benefits that can help prevent LDL oxidation and surprisingly, reduce the risk of childhood asthma. By incorporating oats into a healthy diet, can even make a person feel full in a good way and can be used in smoothies, overnight oatmeal, while also be served hot or cold.
Dark Chocolate
Consuming chocolate can be a bad thing for anyone who is watching their sweet intake; however, dark chocolate is one of those perfect delicacies that does not harm a person's health. For dark chocolate to have the fiber content, it has to be at least 70 to 95% of cocoa content, and then the fiber content would be 10g per 100 grams. Studies have shown that dark chocolate has chock-full of health benefits from reducing insulin resistance to improving brain health.
Chickpeas
Most people would look at chickpeas and see that this legume plant has protein contents, but it can be a great source of fiber. Studies have shown that chickpeas have about 7.6g/100grams of fiber that can promote the feeling of being full and can prevent a person from eating junk food. Some of the health benefits that chickpeas can provide can range from weight loss from improving the body's bowel function. Not only that, but chickpeas can be used in salads, soups, dips, and possibly desserts.
Conclusion
With these seven high fibers being incorporated into a person's diet, the body can benefit the fiber-rich food's properties and start healing in the process. By eating these fiber-rich foods, not only will the gut feel better and can make a person feel full but can help the body prevent harmful pathogens that enter the body, thus causing ailments that the body does not need. By incorporating fiber into the body, the benefits can dampen the harmful effects and can bring back a person's overall wellness and health altogether. Some products are here to help the body and provide support to the gastrointestinal system with phytonutrients, metabolic precursors, and enzymatic cofactors.
The scope of our information is limited to chiropractic, musculoskeletal, and nervous health issues or functional medicine articles, topics, and discussions. We use functional health protocols to treat injuries or disorders of the musculoskeletal system. Our office has made a reasonable attempt to provide supportive citations and has identified the relevant research study or studies supporting our posts. We also make copies of supporting research studies available to the board and or the public upon request. To further discuss the subject matter above, please feel free to ask Dr. Alex Jimenez or contact us at 915-850-0900.
---
References:
Team, Biotics Education. "7 High-Fiber Foods That Do More than Help Your Gut." Biotics Research Blog, 17 Mar. 2020, blog.bioticsresearch.com/7-high-fiber-foods-that-do-more-than-help-your-gut.
Alfredo, Vázquez-Ovando, et al. "Physicochemical Properties of a Fibrous Fraction from Chia (Salvia Hispanica L.)." LWT – Food Science and Technology, Academic Press, 23 May 2008, www.sciencedirect.com/science/article/pii/S0023643808001345.
Chen, Chung-Yen, et al. "Avenanthramides and Phenolic Acids from Oats Are Bioavailable and Act Synergistically with Vitamin C to Enhance Hamster and Human LDL Resistance to Oxidation." The Journal of Nutrition, U.S. National Library of Medicine, June 2004, www.ncbi.nlm.nih.gov/pubmed/15173412.
Francis, S T, et al. "The Effect of Flavanol-Rich Cocoa on the FMRI Response to a Cognitive Task in Healthy Young People." Journal of Cardiovascular Pharmacology, U.S. National Library of Medicine, 2006, www.ncbi.nlm.nih.gov/pubmed/16794461.
Grassi, Davide, et al. "Blood Pressure Is Reduced, and Insulin Sensitivity Increased in Glucose-Intolerant, Hypertensive Subjects after 15 Days of Consuming High-Polyphenol Dark Chocolate." The Journal of Nutrition, U.S. National Library of Medicine, Sept. 2008, www.ncbi.nlm.nih.gov/pubmed/18716168.
Hanif Palla, Amber, and Anwarul-Hassan Gilani. "Dual Effectiveness of Flaxseed in Constipation and Diarrhea: Possible Mechanism." Journal of Ethnopharmacology, U.S. National Library of Medicine, 1 July 2015, www.ncbi.nlm.nih.gov/pubmed/25889554.
Kim, Shana J, et al. "Effects of Dietary Pulse Consumption on Body Weight: a Systematic Review and Meta-Analysis of Randomized Controlled Trials." The American Journal of Clinical Nutrition, U.S. National Library of Medicine, May 2016, www.ncbi.nlm.nih.gov/pubmed/27030531.
Li, Ning, et al. "Almond Consumption Reduces Oxidative DNA Damage and Lipid Peroxidation in Male Smokers." The Journal of Nutrition, U.S. National Library of Medicine, Dec. 2007, www.ncbi.nlm.nih.gov/pubmed/18029489.
Murty, Catherine M, et al. "Chickpea Supplementation in an Australian Diet Affects Food Choice, Satiety and Bowel Health." Appetite, U.S. National Library of Medicine, Apr. 2010, www.ncbi.nlm.nih.gov/pubmed/19945492.
Nguyen, Von, et al. "Popcorn Is More Satiating than Potato Chips in Normal-Weight Adults." Nutrition Journal, BioMed Central, 14 Sept. 2012, www.ncbi.nlm.nih.gov/pubmed/22978828.
Nwaru, Bright I, et al. "Timing of Infant Feeding in Relation to Childhood Asthma and Allergic Diseases." The Journal of Allergy and Clinical Immunology, U.S. National Library of Medicine, Jan. 2013, www.ncbi.nlm.nih.gov/pubmed/23182171.
Oliva, M E, et al. "Dietary Salba (Salvia Hispanica L) Seed Rich in α-Linolenic Acid Improves Adipose Tissue Dysfunction and the Altered Skeletal Muscle Glucose and Lipid Metabolism in Dyslipidemic Insulin-Resistant Rats." Prostaglandins, Leukotrienes, and Essential Fatty Acids, U.S. National Library of Medicine, Oct. 2013, www.ncbi.nlm.nih.gov/pubmed/24120122.
Vuksan, V, et al. "Salba-Chia (Salvia Hispanica L.) in the Treatment of Overweight and Obese Patients with Type 2 Diabetes: A Double-Blind Randomized Controlled Trial." Nutrition, Metabolism, and Cardiovascular Diseases: NMCD, U.S. National Library of Medicine, Feb. 2017, www.ncbi.nlm.nih.gov/pubmed/28089080.
Vuksan, Vladimir, et al. "Supplementation of Conventional Therapy with the Novel Grain Salba (Salvia Hispanica L.) Improves Major and Emerging Cardiovascular Risk Factors in Type 2 Diabetes: Results of a Randomized Controlled Trial." Diabetes Care, U.S. National Library of Medicine, Nov. 2007, www.ncbi.nlm.nih.gov/pubmed/17686832.
Wanders, A J, et al. "Effects of Dietary Fibre on Subjective Appetite, Energy Intake and Body Weight: a Systematic Review of Randomized Controlled Trials." Obesity Reviews: an Official Journal of the International Association for the Study of Obesity, U.S. National Library of Medicine, Sept. 2011, www.ncbi.nlm.nih.gov/pubmed/21676152.
Whitehead, Anne, et al. "Cholesterol-Lowering Effects of Oat β-Glucan: a Meta-Analysis of Randomized Controlled Trials." The American Journal of Clinical Nutrition, American Society for Nutrition, Dec. 2014, www.ncbi.nlm.nih.gov/pubmed/25411276.
---
The University offers a wide variety of medical professions for functional and integrative medicine. Their goal is to inform individuals who want to make a difference in the functional medical fields with knowledgeable information that they can provide.