Do you feel:
A sense of fullness during and after meals?
Digestive problems subside with rest and relaxation?
Crave sweets during the day?
Eating sweets does not relieve the craving for sugar?
Stomach pains, burning, or aching 1-4 hours?
If you are experiencing any of these situations, then something is disrupting your gut system. Why not try some aloe vera to dampen the symptoms.
Aloe Vera
Whenever someone thinks of aloe vera or aloe itself, the mind goes to sunburns and inflamed redden skin in general. Aloe vera has claimed its way to fame by soothing sunburnt skin; however, this long-celebrated medicinal plant has many properties and potential applications that go way beyond soothing inflamed skin.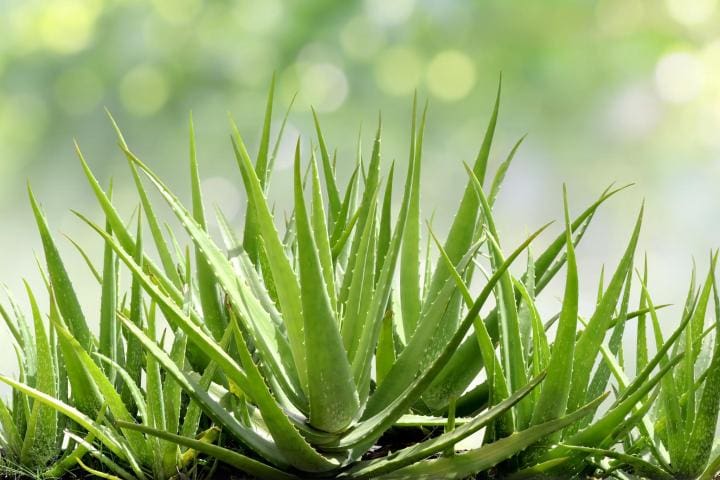 Throughout the recent years, there was a surge in research about the gut microbiome and how it both affects and is affected by various diseases. The various research showed that SCFAs (short-chain fatty acids) producing a byproduct of colonic bacteria and fermenting dietary fibers, thus having critical signaling functions and playing a role in the gut-associated immune response. Studies have shown that butyric acid or butyrate may be beneficial for brain health in the body. Furthermore, the study also mentioned how SCFAs could contribute to reducing the inflammation in the gut while also associating between high-fiber diets and reducing the risk of colon cancer.
Aloe Vera's Prebiotic Effects
Other studies showed that aloe vera has impressive prebiotic effects when it is being incubated within the human gut bacteria cultures. When a culture of mixed bacteria is being incubated with aloe vera, it shows a linear increase in butyric acid and an increase production of acetic acid when Bifidobacterium infantis is incubated with aloe vera. Studies show that when people have an increased intake of their dietary fibers, it can bring negative consequences to their bodies. The research talks about how having an increase in fiber is an obvious way to help support SCFAs, but for people who want to increase their fiber intake, they should consume aloe vera.
Aloe's prebiotic effects are fantastic due to the chemical structure of some of its components. Surprisingly the aloe vera gel is about 55% polysaccharides and contains a compound called acemannan. With acemannan and the other polysaccharides in the aloe plant, many researchers have believed that these components are a significant contributor to aloe's prebiotic and gut supportive effects. Since acemannan contains sugar molecules that are being linked to glycosidic bonds, they cannot be digested by human enzymes. However, with the body's intestinal bacteria, studies have found that it can cleave the bond that acemannan has created and making acemannan digestible for the colonic flora. Another compound that aloe has is known as barbaloin. This compound contains other bonds that are inaccessible to the human digestive enzymes but is cleavable by the GI flora in the body.
Aloe Helping with Insulin
Aloe supplements can provide beneficial properties to battle against diabetes. A study from India stated that individuals who tale aloe vera gel powder for three months showed a substantial improvement in their glycemic control and cardiometabolic health.
Earlier studies have found out that aloe supplementation can improve the biomarkers of cardiometabolic health in the body as well. The study found that individuals who are pre-diabetic or have metabolic syndrome were given the standardized aloe extract for about eight weeks, and the results were astounding. The results showed that the consumed aloe supplement leads to a significant reduction in total cholesterol and LDL-C in the body as well as fasting glucose and fructosamine. Consuming aloe can cause a reduction in insulin in the body so people can start feeling better.
There is a more recent study that confirmed that aloe supplementation helps improve glycemic control and lipid profiles for pre-diabetic individuals. The results showed a decrease in triglycerides, total cholesterol, and LDL-C, as well as an increase in HDL in the body. Research found out that low-carbohydrate and the ketogenic diets are highly effective for improving blood glucose and insulin, especially for anyone who has type 2 diabetes. By adding aloe supplementation, it can be a powerful adjunct, especially for those who have a difficult time sticking to a strict low-carb regimen when a person's dietary change is absent.
Conclusion
Aloe vera is an exotic plant that has many beneficial properties that can not only reduce red, inflamed skin but can provide support to the gut system and help individuals who may be pre-diabetic. Aloe vera can help the body's gut system by making sure that no disruption and inflammation can affect the intestinal barrier, causing leaky gut. By consuming aloe vera in plant form or even using it as a supplement can provide fantastic health benefits for the body. Some products can be taken with aloe vera in order to make sure the gastrointestinal is being healthy by supporting the metabolic system and the gastrointestinal. These products offer hypoallergenic nutrients, enzymatic cofactors, and phytonutrients for overall health and wellness.
The scope of our information is limited to chiropractic, musculoskeletal, and nervous health issues or functional medicine articles, topics, and discussions. We use functional health protocols to treat injuries or disorders of the musculoskeletal system. Our office has made a reasonable attempt to provide supportive citations and has identified the relevant research study or studies supporting our posts. We also make copies of supporting research studies available to the board and or the public upon request. To further discuss the subject matter above, please feel free to ask Dr. Alex Jimenez or contact us at 915-850-0900.
---
References:
Quezada, Maria Paz, et al. "Acemannan and Fructans from Aloe Vera (Aloe Barbadensis Miller) Plants as Novel Prebiotics." Journal of Agricultural and Food Chemistry, 26 Oct. 2017, pubs.acs.org/doi/10.1021/acs.jafc.7b04100.
Alinejad-Mofrad, Samaneh, et al. "Improvement of Glucose and Lipid Profile Status with Aloe Vera in Pre-Diabetic Subjects: a Randomized Controlled-Trial." Journal of Diabetes and Metabolic Disorders, BioMed Central, 9 Apr. 2015, www.ncbi.nlm.nih.gov/pmc/articles/PMC4399423/.
Bourassa, Megan W, et al. "Butyrate, Neuroepigenetics, and the Gut Microbiome: Can a High Fiber Diet Improve Brain Health?" Neuroscience Letters, U.S. National Library of Medicine, 20 June 2016, www.ncbi.nlm.nih.gov/pmc/articles/PMC4903954/.
Choudhary, Monika, et al. "Hypoglycemic and Hypolipidemic Effect of Aloe Vera L. in Non-Insulin Dependent Diabetics." Journal of Food Science and Technology, Springer India, Jan. 2014, www.ncbi.nlm.nih.gov/pmc/articles/PMC3857397/.
Devaraj, Sridevi, et al. "Effects of Aloe vera supplementation in subjects with prediabetes/metabolic syndrome." Metabolic syndrome and related disorders vol. 11,1 (2013): 35-40. doi:10.1089/met.2012.0066
Jurgelewicz, Michael. "Diversity Is the Key to a Healthy Gut." Designs for Health, 5 Apr. 2018, blog.designsforhealth.com/diversity-is-the-key-to-a-healthy-gut.
Pogribna, M., et al. "Effect of Aloe Vera Whole Leaf Extract on Short Chain Fatty Acids Production by Bacteroides Fragilis, Bifidobacterium Infantis, and Eubacterium Limosum." Society for Applied Microbiology, John Wiley & Sons, Ltd, 19 Mar. 2008, sfamjournals.onlinelibrary.wiley.com/doi/full/10.1111/j.1472-765X.2008.02346.x.
Sivaprakasam, Sathish, et al. "Benefits of Short-Chain Fatty Acids and Their Receptors in Inflammation and Carcinogenesis." Pharmacology & Therapeutics, U.S. National Library of Medicine, Aug. 2016, www.ncbi.nlm.nih.gov/pmc/articles/PMC4942363/.
Team, DFH. "Alternative Applications for Aloe." Designs for Health, 5 Mar. 2020, blog.designsforhealth.com/node/1209.
Team, DFH. "Could Increased Fiber Worsen Constipation?" Designs for Health, 10 Oct. 2018, blog.designsforhealth.com/node/759.
Team, DFH. "Influence of Ketogenic Diets on Blood Glucose and Insulin." Designs for Health, 8 May 2019, blog.designsforhealth.com/node/1014.
---
The University offers a wide variety of medical professions for functional and integrative medicine. Their goal is to inform individuals who want to make a difference in the functional medical fields with knowledgeable information that they can provide.