The American Chiropractic Association (ACA) applauds the U.S. House of Representatives for passing H.R. 921, the Sports Medicine Licensure Clarity Act.  The bill, passed unanimously by the House on Sept. 12, ensures that sports medicine professionals are properly covered by their malpractice insurance while traveling with athletic teams to another state.
"Continuity of care for athletes is important as they cross state lines to compete, and this bill will help ensure they can be treated by health care professionals they have come to know and trust," said ACA President David Herd, DC.
ACA worked with key members of the House to ensure doctors of chiropractic (DCs), along with other providers, were included in the bill's final language.  The initial iteration of the bill would have excluded DCs from this initiative. Addressing this issue is important, especially for DCs, who are a vital part of integrated health teams at all levels of competition: high school, college and professional.  Currently, all professional football teams, as well as 28 of the 30 major league baseball clubs, have a doctor of chiropractic as part of their medical training staff.
Sports Medicine
Special Clinic News & Events
Mar 5, 2018
12:00PM - 1:00PM
EXTRA! EXTRA! "GREAT NEWS" GRAND OPENING !!
GRAND OPENING !!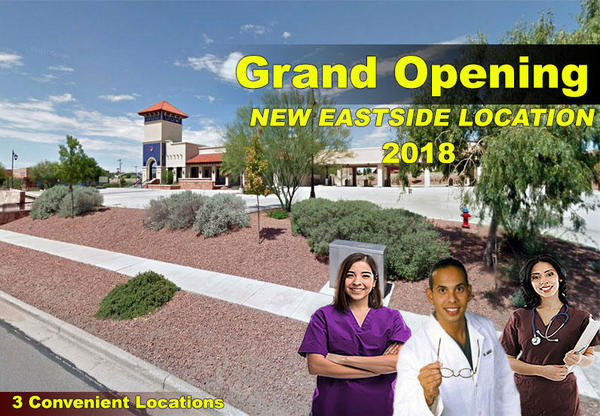 We are all excited to bring El Paso our new Chiropractic Functional Wellness Clinic. Thank you El Paso !
ACA thanks House Energy and Commerce Committee Chairman Rep. Fred Upton (R-Mich.), Ranking Member Rep. Frank Pallone (D-N.J.), Health Subcommittee Chairman Rep. Joe Pitts (R-Penn.), Health Subcommittee Ranking Member Rep. Gene Green (D-Tex.) and the bill's sponsor, Rep. Brett Guthrie (R-Ky.) for their work in bringing this bill before the House.
ACA supports swift action by the Senate and looks forward to H.R. 921 reaching the president's desk for final approval.
About the American Chiropractic Association
The American Chiropractic Association (ACA) is the largest professional association in the United States representing doctors of chiropractic. ACA promotes the highest standards of ethics and patient care, contributing to the health and well-being of millions of chiropractic patients. Visit them at www.acatoday.org.
Ground-Breaking Study: Chiropractic & Pelvic Floor Control
A couple of years ago, Spinal Research got an exciting funding application that we were all too keen to get behind. At the time, debate was raging around the use of chiropractic adjustments during pregnancy and infancy. Dr. Heidi Haavik and her co-investigators, Dr. Jenny Kruger and Professor Bernadette Murphy were keen to investigate whether adjusting vertebral subluxations would alter pelvic floor muscle function.
The results are in and the research report has been approved for publication, but as these things take time we thought you'd like the scoop. This is big news for women and chiropractors alike!
The study demonstrated that adjusting the pregnant women appears to relax the pelvic floor muscles at rest. As there were no changes seen when they adjusted the non-pregnant comparison group, this finding in the pregnant women appears to be an effect unique to pregnancy.
This relaxation of the pelvic floor muscles seen after they were adjusted may mean that chiropractic care could be of benefit to pregnant women, as it may help them have a natural vaginal delivery.
A secondary interesting finding of this study was that the non-pregnant chiropractic students in the comparison study were able to contract their pelvic floor muscles to a degree previously seen only in elite athletes. We don't yet know exactly why, but a possible explanation for this is that they were chiropractic students who were regularly getting checked and adjusted and this may have been why they had such amazing control over their pelvic floor muscles. It's also possible this would have a preventative effect against future pelvic floor dysfunction such as stress urinary incontinence! But the researchers say this needs to be followed up with future studies
Why The Pelvic Floor Study Matters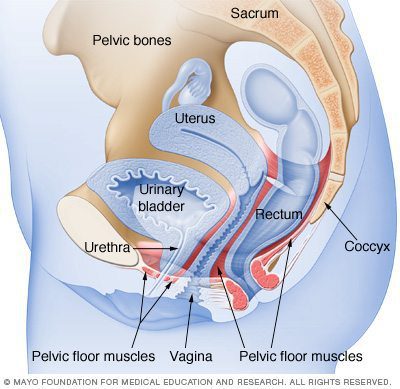 The pelvic floor muscles (the Levator Ani muscle complex) are known to have active roles in pregnancy and childbirth, as well as in spinal stabilisation. When the pelvic floor muscles are damaged or stressed over time, health issues like incontinence and vaginal prolapses can crop up. We know these are problems with massive emotional, physical, social and financial costs across the world and a significant cause of stress for these women.
For a woman in labour, the ability to relax pelvic floor muscles (as well as contract them) to allow the baby to move through the birth canal is incredibly important, especially as the baby crowns. If the woman can't relax these muscles as the baby moves through, she will tire more quickly and may require more interventions to assist the birthing process. Muscles that cannot relax could also interfere with a birth progressing without interference. In an ideal situation, strong pelvic floor muscles with an ability to relax would better prepare a mother for a natural, vaginal birth.
The primary findings of this study are incredibly encouraging, especially given the fact that quantitatively assessing the effect of spinal adjustment on pelvic floor muscle function has not previously been done! The study came about when Dr. Jenny Kruger, a midwife who completed her PhD on imaging the pelvic floor, approached Haavik. The two worked with Dr. Bernadette Murphy, who had supervised both of their PhD's. Kruger and Haavik decided to combine their interest areas to study the PFM's after spinal adjustments.
The study saw participants undergo ultrasounds, and perform three different manoeuvres – squeezing as hard as they could, bearing down (that pushing which opens up the Hiatus hole in the pelvic floor) and at rest. They studied the women in the control group and the active group, and looked at them pre and post adjustment.
"We were expecting to see changes on the squeezes and the pushes and all of that, but we saw nothing. But what was really interesting is that the actual (hiatus) hole itself got larger at rest. What it suggests is that those muscles that form the Pelvic Floor rim that holds all our internal organs and that move to give birth to the baby, must have relaxed," said Heidi Haavik in a recent interview with Spinal Research.
"That alone is extremely exciting…Opening up those muscles is so important to be able to give birth."
A Second Interesting Finding From The Study
Given the hormonal and physiological changes involved in pregnancy, the researchers added a comparison group to the mix. This group was made up of non-pregnant chiropractic students, and it is also where this study got very interesting.
"Again there weren't any major pre and post adjustment changes, but our students were capable of contracting their Pelvic Floor muscles to a degree that has only previously been seen in top, elite athletes. I was quite blown away.  Jenny was quite blown away because this is very, very unusual," said Haavik.
This secondary finding is an incidental but interesting one. It raises enough questions to demand a study of its own as we don't yet know what it means. It could be that because they are chiropractic students who are being adjusted regularly, their sensory-motor control is greater. But far more work needs to be done before we accurately interpret the results.
What Could This Study Mean?
Again, it's early days in terms of understanding the full impact of this study's findings. We do know that adjusting women in pregnancy gives them a greater ability to relax the pelvic floor. We also know that something very unusual occurs in chiropractic students who are being adjusted regularly.
For pregnant women, this has the potential to give them a greater degree of control over the pelvic floor muscles, which in turn may make vaginal childbirth easier. At this point, we can only speculate on what the impacts could be in terms of reduced need for medical interventions, or increased well-being of mother and child. But it does show us that chiropractic may be of benefit to pregnant women.
For non-pregnant women who get checked and adjusted regularly, we may potentially be looking at a completely different set of benefits. It is possible that this improves the condition of the pelvic floor muscles, enables greater sensory-motor control, and potentially decreases the risk of future stress urinary incontinence, faecal incontinence and vaginal prolapse. This is an extremely exciting possibility!
Haavik concedes that these are big 'ifs.' Once again, more research is required but the flow on effects could be far reaching.
"Why I'm even bothering with this line of research is because 1) we could potentially increase the rate of healthy, uncomplicated vaginal births and deliveries. As soon as you add interventions, their problems just skyrocket. Increasing the chances for women to have a natural, vaginal delivery is where I'm headed with this work. 2) Also preventing pelvic floor muscle problems for women, preventing stress urinary incontinence for example. There's actually very little research on female pelvic floor problems. It's surprising! If we can have uncomplicated, natural vaginal delivery without drugs and intervention, the baby is better off and the woman is better off. I'm quite convinced that chiropractic care can actually help with this, but this needs to be systematically explored with properly conducted scientific studies."
What's Next For This Area Of Study?
"We've started a second study, which again Spinal Research has funded, and we have reached the point where we are getting preliminary results," says Haavik. Again, Dr. Jenny Kruger approached Dr. Haavik with a topic to collaborate on. This time it focused on stress urinary incontinence (SUI).
At present, whether or not a woman will get SUI post-childbirth is a bit of a lottery. Some get it, some don't.
What is supposed to happen is that when we contract those muscles, the left and right sides are supposed to contract at the same time. The superficial muscles are supposed to contract first, and then the deeper muscles follow just 21 milliseconds later. But in women with SUI, this timing is all out of whack.
"It could be that when we are subluxated, that the timing of the muscle contractions become stuffed up," says Haavik. The researchers have been screening women with timing issues and adjusting them. "We've screened hundreds of women and adjusted a lot of them too. We are looking at several measures all in one go."
We will save the results of this study for another blog post, but it's another study chiropractors and their female patients are going to want to know about!
Download a Poster to use in practice.
The Oldest Practicing Female Chiropractor, 91 Years Old… & Still Serving
Being a Chiropractor is not just a job to many doctors, but a lifelong mission.  It starts as a passion to help others and then transcends into a lifestyle and mission to serve the world.  The thought of retirement to many DC's is nothing more than just decreasing the amount of people they can physically care for each day.
Case in point, Dr. Jean Koffel.
The story of Dr. Koffel was originally posted in her local newspaper, Sheboygan Press.  Here it is:
Chiropractic care has been Koffel's vocation since relocating to Sheboygan in 1945 with a Chiropractic degree from Palmer College in Davenport, Iowa, the first school of its kind.
She became first female chiropractor in the county.
Born in Racine, Koffel was raised in West Bend among relatives dedicated to chiropractic philosophy, including her late father, Alfred E Koffel, who was active in the profession for more than 60 years.
Her first office was located above the Kresge store on Eighth Street during a time when Prange's sold eggs and businesses such as The Bismarck, Keitel's Candy Store and Ford Hopkins Drug Store were the happening spots.
Koffel has witnessed many changes and transformations and through it all held true to a lifestyle of balance including good nutrition, moderate exercise (she walks regularly), restful sleep and routine hands-on chiropractic care.
She's been practicing out of the business end of her home since 1967, after her marriage to Mike Brendzej, who passed away in 1990.
Koffel doesn't operate on scheduled appointments, but instead offers hands-on manual adjustments during her select business hours. She sticks to hands-on manipulation without using any gadgets or heat and light modalities.
Over the years Koffel has kept busy with activities such as golf and bowling, but today, relies on her regularly scheduled walks.
Even getting hit by a car last November, while walking with her friend, didn't stop Koffel, who was back practicing the next business day. Her friend just recently completed healing from two broken wrists.
"If it were me, I would be out of business," she said, feeling thankful.
Koffel has patients who have grown up with her and now treats their children and their children's children, down to the fourth generation. Her oldest patient was 100.
"She's a very, very wise lady. What she lacks in size, she has in strength and common sense," said Lori. "She provides mental and physical relief."
Chiropractic is Not a Job.  Its a life mission!  Thank you Dr. Koffel and all of our forefathers and fore sisters for your lifelong work to the Chiropractic profession.  Without you millions of people around the world would never have been able to experience the power of the Chiropractic adjustment from above, down, inside out!
Advanced Chiropractic & Wellness Authority ⚕ Healthcare Educator • Injury, Sciatica Specialist • 915-850-0900 📞
We Welcome You 👊🏻.
Purpose & Passions: I am a Doctor of Chiropractic specializing in progressive cutting-edge therapies and functional rehabilitation procedures focused on clinical physiology, total health, functional strength training and complete conditioning. We focus on restoring normal body functions after neck, back, spinal and soft tissue injuries.
We use Specialized Chiropractic Protocols, Wellness Programs, Functional & Integrative Nutrition, Agility & Mobility Fitness Training and Cross-Fit Rehabilitation Systems for all ages.
As an extension to dynamic rehabilitation, we too offer our patients, disabled veterans, athletes, young and elder a diverse portfolio of strength equipment, high performance exercises and advanced agility treatment options. We have teamed up with the cities premier doctors, therapist and trainers in order to provide high level competitive athletes the options to push themselves to their highest abilities within our facilities.
We've been blessed to use our methods with thousand of El Pasoans over the last 3 decades allowing us to restore our patients health and fitness while implementing researched non-surgical methods and functional wellness programs.
Our programs are natural and use the body's ability to achieve specific measured goals, rather than introducing harmful chemicals, controversial hormone replacement, un-wanted surgeries, or addictive drugs. We want you to live a functional life that is fulfilled with more energy, positive attitude, better sleep, and less pain. Our goal is to ultimately empower our patients to maintain the healthiest way of living.
With a bit of work, we can achieve optimal health together, no matter the age or disability.
Join us in improving your health for you and your family.
Its all about: LIVING, LOVING & MATTERING! 🍎
Welcome & God Bless
EL PASO LOCATIONS
CENTRAL:
6440 Gateway East, Ste B
EAST SIDE:
11860 Vista Del Sol, Ste 128
PHONE: 915-850-0900 ✔️
MEET THE STAFF

Meet the Staff
Staff Ethics
These canons of professional ethics are based upon fundamental principles of moral and professional behavior and recommended for all doctors of chiropractic and chiropractic assistants. The following basic principles should be guiding factors in the practice of chiropractic and upheld at all times:
Consider the well-being of the patient. The primary effort and ultimate goal is for the greatest good of our patients.
Dr. Alexander D. Jimenez D.C., C.C.S.T

Chief Clinical Director

Email:

doctorback@gmail.com

---

Specializing in Severe Pain: Sciatica, Neck-Back Pain, Whiplash, Headaches, Knee Injuries, Sport Injuries, Dizziness, Poor Sleep, Arthritis. We use advanced proven therapies focused on optimal mobility, health, fitness, and structural conditioning. We use Patient Focused Diet Plans, Specialized Chiropractic Techniques, Mobility-Agility Training, Cross-Fit Protocols and the "PUSH System" to treat patients suffering from various injuries and health problems.

Message from: Dr. Alex Jimenez D.C., C.C.S.T

( Biography and my promise to you )

Hello-Bienvenido's,
My name is Dr. Alex Jimenez, I am Chiropractic Doctor specializing in advanced therapies focused on total joint health, strength training and complete fitness conditioning. We use patient Focused Diet Plans, Advanced Chiropractic Techniques, Agility Training, Cross-Fit and the PUSH System to treat patients suffering from various injuries and health problems. Our goal too is to help your body heal itself naturally. When your body is truly healthy, you will arrive at your fitness level and proper weight efforlessly. We want to help educate you on how to live a new and improved lifestyle. Our doctors have spent over 25+ years researching and testing methods with thousands of patients. We strive to create fitness and better the body through researched methods and total programs...

My goal too is to help the body heal itself naturally. When your body is truly healthy and balanced, you will move pain free and ultimatly arrive at your optimal fitness levels and proper weight effortlessly. We want to help educate you on how to live a new and improved lifestyle. Our doctors have spent over 25 years researching and testing methods with thousands of patients. We strive to create fitness and better the body through researched methods and total programs. These programs are natural, and use the body's own ability to achieve goals of improvement, rather than introducing harmful chemicals, controversial hormone replacement, surgery, or addictive drugs. We want you to live a life that is fulfilled with more energy, positive attitude, better sleep, less pain, proper body weight and educated on how to maintain this way of life.

The focus on spinal and skeletal adjustments is what makes doctors of chiropractic unique in their approach to treating patients with spinal complaints. This hallmark chiropractic adjustment, however, is not the only procedure a chiropractor may employ in managing a patient's care. I am very proud to bring my patients a variety of treatment options beyond the typical scope of care. With the advances in physical therapies and modalities we bring El Paso option that better aid in the rehabilitation process. Tissue healing is a wonderful process that begins the moment an injury occurs. How the injury is managed determine the final outcome in terms of healing. It is critical we implement immediate procedures as soon as we can in order to gain optimal recovery. The old day of let it rest until it gets better is not the only option.

Letting it rest may even be an irresponsible approach considering what we now know. The implementation of active and movement based treatments have clearly shown increased and improved outcomes in many instances.

As a doctors focused on the greater good for a patient, we must assess each patient individually and apply the appropriate protocols. It is also very important to denote, that El Paso has fine doctors in many specialties of healing and repair. The direct relationship we have with specialist of these disciplines is clearly what allows us to bring the highest quality of care to our patients.

My promise to my patients is clear for all to read here. I, with Gods help, will do what ever it takes to assist you in your recovery. I too will draw upon all the specialist in this town to find you the collaborative care that is required with the disorders being tended to.

With Great Regards to you.

Read more

Read less

Affiliations and Certifications:

Texas Chiropractic Association

Services Provided:

Chiropractic Care
Physical Therapy
Rehabiliation
Strength Training
Crossfit Doctor
Return to Competition Rehabilitation

Visit website

Truide Torres

Executive Director / Patient Liason

Email:

truidetorres@gmail.com

---

Director: Patient Relations Advocate Dept.
Truide has been working for the past 20 years in claims resolutions. She works hand in hand with patients and is availible to resolve dispute resolutions.

Truide Torres (Bio)
Driven by the passion of doing what is in the best interest of the patient, I wake up every morning with the drive to help those in need. The claims process for health care is full of pits, valleys and difficult obstacles designed to strike fear in those in need. My duty is to do what is within the confines of the law, "what ever it takes" to get those involved to pay attention to those who need help. That is what I am honored to do for our patients.

Personally, I have seen great injustices transpire on those that do NOT have a voice. Whether, a language barrier or just not knowing the rules. My job is to find out how I can help. If I personally can not help, I will find the right sources to open the possibilities. I get the job done.

As a wife and mother of 2 children, 3 dogs and 2 Cats. My passion is for God, Family and the mission of serving my fellow man.

Let it be clearly stated... I am here to help. My phone 915-850-0900

Read more

Read less

Education:

Law Student (Matriculated)

Affiliations and Certifications:

Services Provided:

Patient Advocate
Claims Managment
Case Management

Visit website

Daniel Alvarado

Exercise Physiologist

Email:

daniel@push4fitness.com

---

Daniel Alvarado is the owner and the top trainer at PUSHasRx® CrossFit Fitness Facility. Since becoming a Trainer Daniel has kept up to date on many continuing educational classes, ensuring that his clients receive the most comprehensive and advanced training. Working directly with the Doctors, he develops and collaborates on care plans that are patient specific. No patient ever gets the same clinical protocol. His expert clinical kinesiology experience spans over 2 decades. He has trained injured patients and NCAA National Champion Athletes. His technical ability to create programs that are clinically sound and second to none. He too has used his physical therapy and recovery experience to take broken top tier athletes into strict recovery protocols assisting them to achieve highly competitive national championships. He certainly will not admit it but, he is a top national champion trainer. Daniel, also develops youth programs that are sport specific to aid young athletes achieve great success. His mastery of clinical recovery is applied applied to all patients and top tier athletes alike. All patient programs are specifically designed with patient focused recovery priorities. He is happily married to beautiful Victoria Alvarado has one child. He enjoys strength training, movies, singing, conducting, writing poetry and being a CrossFit champion. Just a way cool dude. We think you will agree.

Read more

Read less

Affiliations and Certifications:

Crossfit Level I,II,III ; Pilates Instructor

Services Provided:

Fitness Training
Strength & Power Fitness
Mental Strength

Visit website

Dennise Acosta

Head Office Manager

Email:

dennis@elpasobackclinic.com

---

Dennise has been at Injury Medical & Chiropractic Clinic for four years. Known as the master multi-tasker. Dennise, handles patient care from the moment you walk in the door. She is akin to the air traffic controller. She will assist you in matter requiring clinical preparation and effective inter-office communication. She unifies all department and clinical providers making sure all important information reaches all clinicians in a timely manner. She also loves to work out, stay in shape, watch movies and help people.

Read more

Read less

Sandra Martinez

Head Clinical Therapist

Email:

sandra@elpasobackclinic.com

---

Sandra has been working at Injury Medical & Chiropractic Clinic for over 5 years. As the head Licensed Massage Therapist, she manages and directs critical aspect of clinical care. The patients love her ability to make you laugh while removing those pesky trigger points causing pain. She is able to relax and bring comfort to all she touches. There just simply is no patient that escapes her talented touch. Trained in advance myofascial techniques, she is an integral part of patient recovery. You will never see anything but a kind smile and resolute persona ready to correct your condition and aid in your recovery. She definitely enjoys helping people, has 1 dog and loves movies. She loves flowers too.

Read more

Read less

Education:

LMT: Licensed Massage Therapist

Affiliations and Certifications:

Services Provided:

Massage Therapy
Muscle Release Techniques
Neuromuscular Re-education

Visit website

Alejandra

Billing Agent

Email:

billing@elpasobackclinic.com

---

Alejandra works in accounts & billing. She is the radar of the bunch. Nothing appears to escape her mind. Highly intelligent and appears not to need a computer for recall of facts. She provides information retrieval for patients and clinical staff. She has been at Injury Medical & Chiropractic Clinic for three years and ready for any task at hand. She performs interoffice communications with attorneys and medical director of ancillary offices. She loves her family and places know how to prioritize well.

Read more

Read less

Mike Contreras

Personal Trainer

---

Big Mike was born and raised in El Paso and is an excellent personal trainer and CrossFit coach. Mike works hand in hand with each patient's clinical care plan in order to achieve optimal outcomes. A trusted clinical representative of the PUSHasRx System along with his advance protocols. Mike not only trains the injured and recovering. Mike is a sincere human that has great talent of brining out the best in every individual he works with. He will never admit it, but we will share with you a secret. He with his God given talents trains the greatest athletes and champions in El Paso. Many champions in our community know of his commitment. As a youth, he also played football (wide receiver), basketball, and track at Bel Air High School. Educated in Clinical Human Kinesiology at UTEP and loves playing football and basketball with his little nephews in his free time. Mike has three sisters and one brother, most of which live nearby in El Paso. When he's not watching the Cowboys or Spurs play, he's usually lifting, sleeping or watching movies. We are blessed to have this soul on our team.

Read more

Read less

Alexander Isaiah Jimenez

Collegiate Athletic Consultant & NCAA Wrestling Champion

Email:

alexanderijimenez@outlook.com

---

Alexander Isaiah Jimenez leads the power and agility education programs for the high school athletes. While still studying for his medical degree he provides physical performance testing in order to collaborate with clinicians. He is gifted in creating physical performance programs no matter what the clinical presentation is. As national fitness champion and collegiate wrestler, he too understands what performing at high levels entails. He too has had to recover from debilitating injuries only to return better then before an win national titles. He understand how the recovery process is different for clients, patients and extreme athletes. We are blessed to have his counsel.

Read more

Read less

Education:

Bio-Medical Science (Pre-Medical) - Matriculated

Services Provided:

Strength Coach
Agility Coach
Mentor

Visit website

Ethan Padilla

Personal Trainer & Strength Coach

---

Ethan was born and raised in El Paso and is one of our most outgoing and friendly coaches. Ethan earned his nickname "rampage Ethan" from his years at El Dorado High School, where he played inside linebacker. He has placed twice in the Strongman Competition and also recently competed in the Desert Games with his fellow PUSH Athletes as a team and placed 4th overall! Ethan is currently pursuing his Bachelor's Degree in Kinesiology at UTEP. His focus on clients is obvious to all. Ethan is able to manage very large groups of individuals like no other. His awareness of the dangers while exercising is his greatest concern. When he's not coaching or studying for class, he likes to spend time with his family (who are here in El Paso) or with his weimaraner puppy. Fun fact: Ethan loves any food with sprinkles (especially donuts with sprinkles) and is a diehard Seattle Seahawks fan.

Read more

Read less

Andres

Recovery & Nutrition

---

Andres has been at PUSHasRx for two years. He brought his company Recovery and became the official juicer. Andy will fix you right up. Andres, will make sure that your nutritional recovery programs fits within your standards. Also, there is great care in making sure the nutritional requirement are clinically met. Patients and high performance athletes depend on high performance nutritions. Upon your completion of the physical medicine portion of therapy you will be offered specialized organic recovery drinks and supplementation to help aid in your recovery. You will be confident that from your pushing to recovery, you will be taken care of.

Read more

Read less

Iylene Avalos

PUSHasRx Trainer

---

ylene has been working with us for over 4 years. In her spare time she enjoys working out and running. She has 2 dogs and loves movies. Iylene is extremely aware of body mechanics and mindfully watches rehabilitation movements. She is always standing ready to assist and respond to client needs. Her commanding voice is always clear to all, no matter what floor you are on. Iylene is always ready and willing to answer any question you may have regarding fitness and recovery.

Read more

Read less

Rick Cano

Personal Trainier Level V

---

Most early-rising PUSHasRx members know Rick well as a fantastic coach who focuses strongly on form and will always make you laugh. He was born and raised in El Paso and loves to train his athletes and coach CrossFit. Rick is a very diligent, kind and considerate trainer. He is always mindful of client techniques and aware of client goals. When he's not coaching, Rick loves to work on cars, especially his '69 Chevelle (his next car will hopefully be a '69 Charger). He not only became a certified Automotive Mechanic at 17, but while working on his certification at EPCC, he won 1st place in a bench competition when he was 16 (approx. 56 reps at 155#). His favorite movements are clean & jerks and snatches. He loves oreos (eats them every night), loves watching the CrossFit games, and loves his three bulldogs. He spent one year full-time personal training before he started coaching CrossFit two years ago. He is CrossFit Level 1 Certified and hopes to get his Level 2 Certification soon. Rick has competed in several competitions, including WOD for Toys in 2014, where his team placed 1st.

Read more

Read less

Astrid Ornelas

Blogger/Research/Curator

---

Astrid has been at Injury Medical & Chiropractic Clinic for about three years. Astrid has taken her love for writing to an new level. She is a gifted and talented copywriter able to create amazing storylines. She creates content for patient consumption. She is able to bring words to life in a way that perplexes even the elite authors of the day. She loves nutrition and the healing power of clean eating. A naturalist at heart you will never see her eating processed foods that would be contra to clean living. She enjoys movies and creating storylines for Anime.

Read more

Read less

Adam

Videographer & Graphics Specialist

---

Adam has been at Injury Medical & Chiropractic Clinic for about a year. He enjoys designing and various forms of art. A story teller by trade he can see things people don't see until his masterpieces are revealed. Adam is a director of many medias using the top graphics, audio and video medias to tell the story of our patient. Modest to the core, you would never know what he is about to create. We are blessed to have his talents telling the world about Chiropractic using any and all medias available.

Read more

Read less
Treatment Methods
Dr. Jimenez uses the following methods to treat patients.
Our Passions

Email:

doctorback@gmail.com

---

We Welcome You 👊🏻.
Purpose & Passions: I am a Doctor of Chiropractic specializing in progressive cutting-edge therapies and functional rehabilitation procedures focused on clinical physiology, total health, functional strength training and complete conditioning. We focus on restoring normal body functions after neck, back, spinal and soft tissue injuries.

We use Specialized Chiropractic Techniques, Balanced Diet Plans, Agility Training programs, Cross-Fit techniques, the PUSH-Rx Rehabilitation System and a highly specialized program for our Veterans.

We've been blessed to use our methods with thousand of El Pasoans over the last 27 years. This has allowed us to improve health and restore true fitness through researched non-surgical methods and wellness programs. These programs are natural and use the body's own ability to achieve goals of improvement, rather than introducing harmful chemicals, controversial hormone replacement, surgery, or addictive drugs. We want you to live a life that is fulfilled with more energy, positive attitude, better sleep, less pain, proper body weight and informed on how to maintain this way of life.

As an extension to dynamic rehabilitation, we too offer our patients, disabled veterans, athletes, young and elder a diverse portfolio of strength equipment, high performance exercises and advanced agility options. We are very proud to have teamed up with the cities premier therapist and trainers in order to provide high level competitive athletes the option to push themselves to their highest abilities within our facility.

Come learn how to improve your health for yourself and your loved ones.

With a bit of work, we can achieve optimal health together, no matter the age or disability.

Its all about: LIVING, LOVING & MATTERING! 🍎

God Bless

2 CONVENIENT LOCATIONS:

(LOCATION#1) CENTRAL ELPASO:
6440 Gateway East, Suite B

(LOCATION#2) EAST SIDE ELPASO:
11860 Vista Del Sol, Suite 128

PHONE: 915-850-0900 ✔️

Read more

Read less