Spinach Stuffed Chicken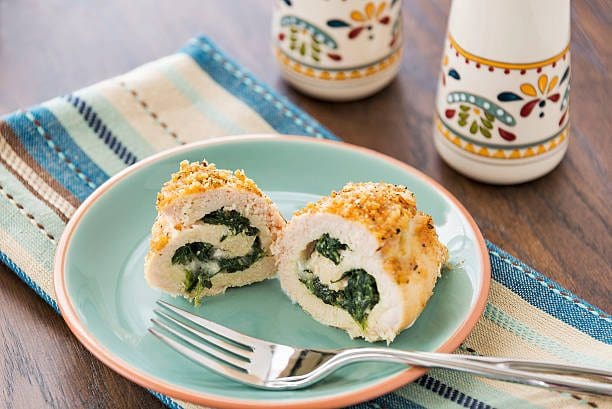 Notes
Air Fryer, Anti-Inflammatory, Entree, Keto, Spinach

Ingredients
2 boneless skinless chicken breasts 6 oz each
2 Tbsp onion chopped
2 Tbsp chicken broth or olive oil
4-6 cups fresh spinach
Salt, pepper, garlic powder, and paprika to taste
½ cup mozzarella cheese Keto option
Instructions
Preheat oven to 350°F or air fryer to 370°F.
Cut chicken breasts in half lengthwise and pound thin.
Sprinkle breast with salt, pepper, and garlic powder.
Saute chopped onion with chicken broth until softened. Add spinach and continue to saute until spinach is just wilted. Season with salt and pepper. Allow cooling.
Lay the chicken breast flat and place spinach in the center (add cheese for Keto option). Fold the sides of the breast around the spinach. Sprinkle the chicken with paprika.
Bake for 15-20 minutes or air fry for 7-10 minutes or until chicken is cooked through. If using an air fryer, turn chicken halfway through cooking time.
Slice into medallions and enjoy with your favorite side dish.
Nutrition Facts
Spinach Stuffed Chicken
Serves: 2 persons
Amount Per Serving:
Calories

439.89 kcal

% Daily Value*
Total Fat

20.98 g

32.3%
Saturated Fat

11.18 g

55.9%
Trans Fat

0.01 g

Cholesterol

182.44 mg

60.8%
Sodium

781.53 mg

32.6%
Total Carbohydrate

6.43 g

2.1%
Dietary Fiber

2.07 g

8.3%
Sugars

1.64 g

Protein

55.04 g
Vitamin A

54.67 %

Vitamin C

24.27 %

Calcium

46.36 %

Iron

16.35 %
* Percent Daily Values are based on a 2,000 calorie diet. Your daily values may be higher or lower depending on your calorie needs.