Spaghetti Squash and Turkey Meatballs
Total Time
1 hour, 10 minutes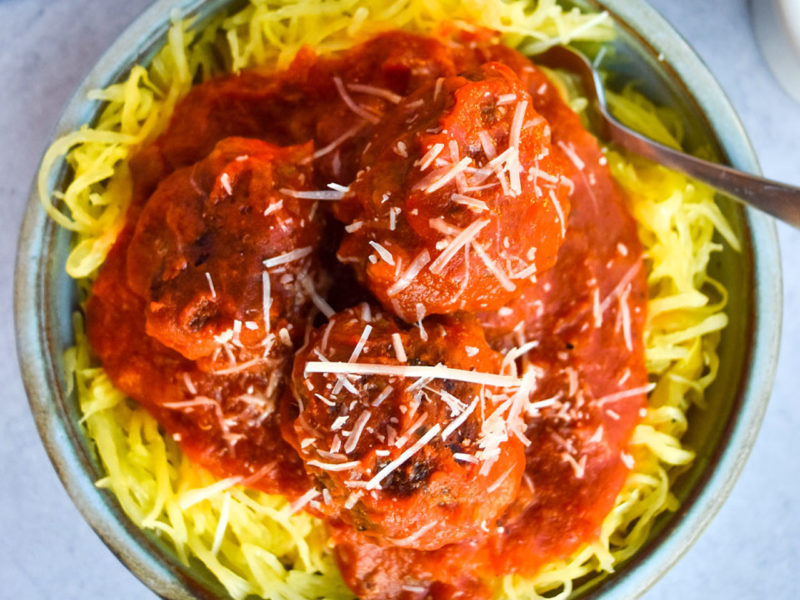 Ingredients
Spaghetti
1 medium spaghetti squash (about 2 pounds)
Kosher salt
3 tablespoons extra-virgin olive oil, plus more for brushing
Meatballs:
2 stalks celery, chopped
1 medium carrot, roughly chopped
1 medium onion, roughly chopped
6 cloves garlic
1 cup fresh parsley leaves
1 pound turkey meat
1 large egg
1 cup Italian-style breadcrumbs
1/4 cup plus feta cheese
Sauce
2 28-ounce cans of tomato puree
2 large sprigs of basil
1 teaspoon dried oregano
Instructions
Preheat the oven to 425 degrees F. Halve the squash lengthwise and scoop out the seeds. Put the squash, cut-side up, in a baking dish and cover tightly with aluminum foil. Sprinkle the cut sides with 1/2 teaspoon salt, then brush both sides with olive oil. Roast 20 minutes, then uncover and continue roasting until the squash is tender about 35 more minutes.
Meanwhile, make the meatballs: Brush a baking sheet with olive oil. Pulse the celery, carrot, onion, garlic, and parsley in a food processor to make a paste. Transfer half of the vegetable paste to a bowl; add the turkey meat, egg, breadcrumbs, feta, and 1 teaspoon salt and mix with your hands until just combined. Form into about 24 two-inch meatballs; transfer to the prepared baking sheet. Bake until firm but not cooked through, about 10 minutes.
Make the sauce: Heat 3 tablespoons olive oil in a large pot over medium-high heat. Add the remaining vegetable paste and cook, occasionally stirring, until it looks dry, about 5 minutes. Stir in the tomato puree; rinse each can with 1 cup water and add to the pot. Stir in the basil, oregano, and 1 1/2 teaspoons salt. Bring to a simmer, then add the meatballs and simmer until the sauce thickens and the meatballs are cooked for 15 to 20 minutes. Remove the basil.
Use a fork to scrape the spaghetti squash flesh into strands; transfer to a large bowl. Season with salt. Divide the squash among bowls and top each with some meatballs, sauce.
This recipe makes extra sauce and meatballs. Let cool completely, then freeze in a storage container for up to one month!
Nutrition Facts
Spaghetti Squash and Turkey Meatballs
Serves: 4 people
Amount Per Serving:

1 slice

Calories

576.22 kcal

% Daily Value*
Total Fat

19.22 g

29.6%
Saturated Fat

4.44 g

22.2%
Trans Fat

0.01 g

Cholesterol

130.82 mg

43.6%
Sodium

2046.04 mg

85.3%
Total Carbohydrate

67.39 g

22.5%
Dietary Fiber

13.1 g

52.4%
Sugars

26.43 g

Protein

41.1 g
Vitamin A

32.63 %

Vitamin C

72.26 %

Calcium

34.21 %

Iron

53.13 %
* Percent Daily Values are based on a 2,000 calorie diet. Your daily values may be higher or lower depending on your calorie needs.