Mediterranean Eggplant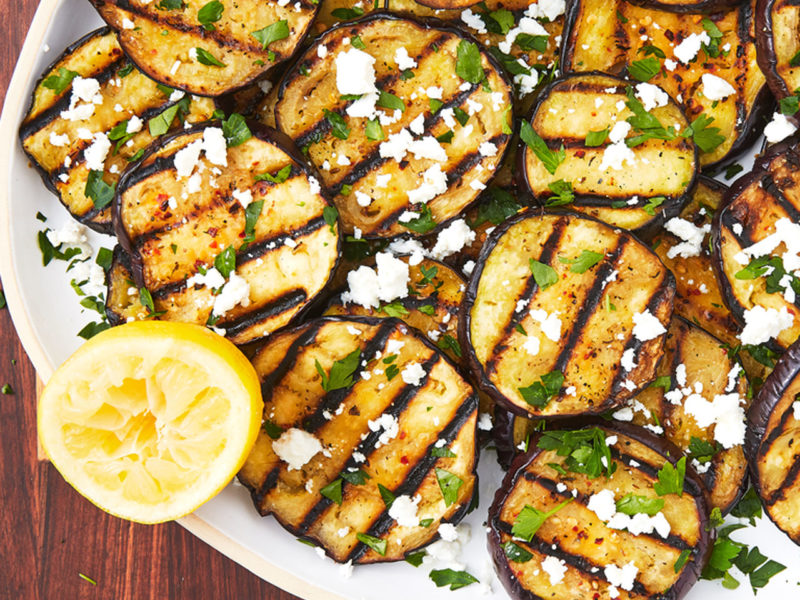 Ingredients
EGGPLANT
1/2 c. extra-virgin olive oil
1 tsp. dried oregano
1/4 tsp. crushed red pepper flakes
Kosher salt
Freshly ground black pepper
2 large eggplants, sliced into 1/4" rounds
1/4 c. crumbled feta
2 tbsp. freshly chopped parsley
Juice of 1/2 lemon
TAHINI DRESSING
1/3 c. tahini
Juice of 1 lemon
2 tbsp. water
1 clove garlic, minced
Kosher salt
Instructions
Make eggplant:
1) Heat grill or grill pan over medium-high heat.
2) In a small bowl, combine oil, oregano, and red pepper flakes. Brush all over eggplants and season with salt and pepper.
3) Grill eggplants until tender and slightly charred, about 3 minutes per side.
4) Top grilled eggplants with feta and parsley, then squeeze lemon juice over.
Make tahini dressing:
1) In a medium bowl, whisk together tahini, lemon juice, water, and garlic. Season with salt. If dressing is too thick, add more water, a tablespoon at a time, until desired consistency.
2) Serve eggplant warm with tahini dressing.
Nutrition Facts
Mediterranean Eggplant
Serves: 4 people
Amount Per Serving:

1 slice

Calories

480.23 kcal

% Daily Value*
Total Fat

40.5 g

62.3%
Saturated Fat

6.79 g

34%
Trans Fat

0.0 g

Cholesterol

8.34 mg

2.8%
Sodium

1005.21 mg

41.9%
Total Carbohydrate

28.19 g

9.4%
Dietary Fiber

13.27 g

53.1%
Sugars

13.18 g

Protein

8.59 g
Vitamin A

2.8 %

Vitamin C

24.27 %

Calcium

18.27 %

Iron

18.22 %
* Percent Daily Values are based on a 2,000 calorie diet. Your daily values may be higher or lower depending on your calorie needs.