Garlic-Ghee Lamb Chops
Serving Size
2 1/2 lamb chops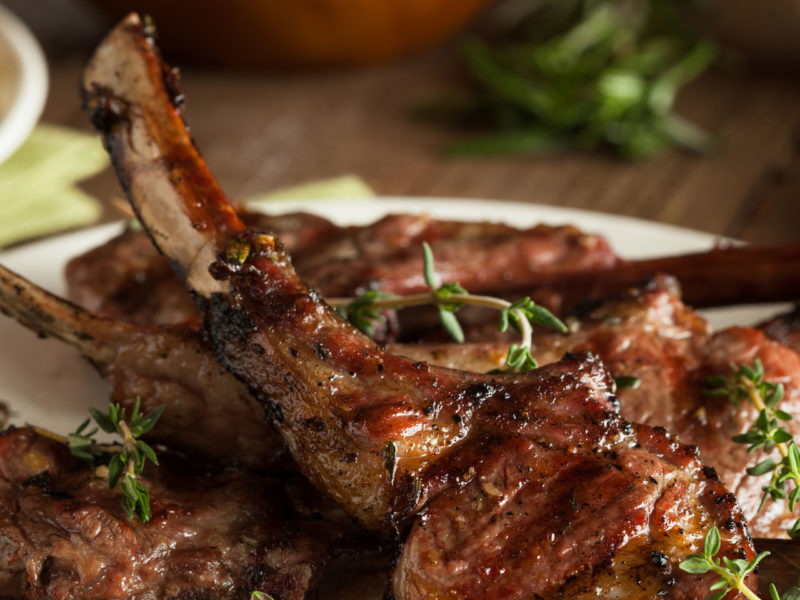 Ingredients
5 lamb loin chops
Sea salt and freshly ground black pepper
2 tablespoons ghee
3 cloves garlic - minced
1 teaspoon fresh thyme – chopped
Instructions
Remove loin chops from the fridge 20-30 minutes before cooking. Once tempered, pat them with a paper towel to remove any moisture and season with salt and pepper.
On the stove, ht a dry 12-inch cast-iron skillet over medium-high heat. In the skillet. Once the skillet is heated, place the chops with the fat side down.
Manage your chops with tongs and cook all the sides of your lamb chops. This process usually takes 5 min.
Once the fat has melted into the pan, lay the chops flat on one of their sides. Cook for additional 3 minutes, until browned, then turn and cook on the other side.
Turn the heat to medium-low. Using a spoon, pour off most of the lamb fat.
Then add 2 tablespoons of ghee, garlic, and thyme
Mix thoroughly until the ghee is foaming, and pour the ghee over the lamb for a minute or so.
Place lamb chops in a serving dish and pour ghee sauce on top.
Nutrition Facts
Garlic-Ghee Lamb Chops
Serves: 2 people
Amount Per Serving:

2 1/2 lamb chops

Calories

857.41 kcal

% Daily Value*
Total Fat

76.03 g

117%
Saturated Fat

35.87 g

179.4%
Trans Fat

0.0 g

Cholesterol

208.52 mg

69.5%
Sodium

595.24 mg

24.8%
Total Carbohydrate

2.08 g

0.7%
Dietary Fiber

0.34 g

1.4%
Sugars

0.05 g

Protein

39.18 g
Vitamin A

12.08 %

Vitamin C

2.27 %

Calcium

4.96 %

Iron

22.49 %
* Percent Daily Values are based on a 2,000 calorie diet. Your daily values may be higher or lower depending on your calorie needs.