Fresh Buddha Bowl with Roasted Chickpeas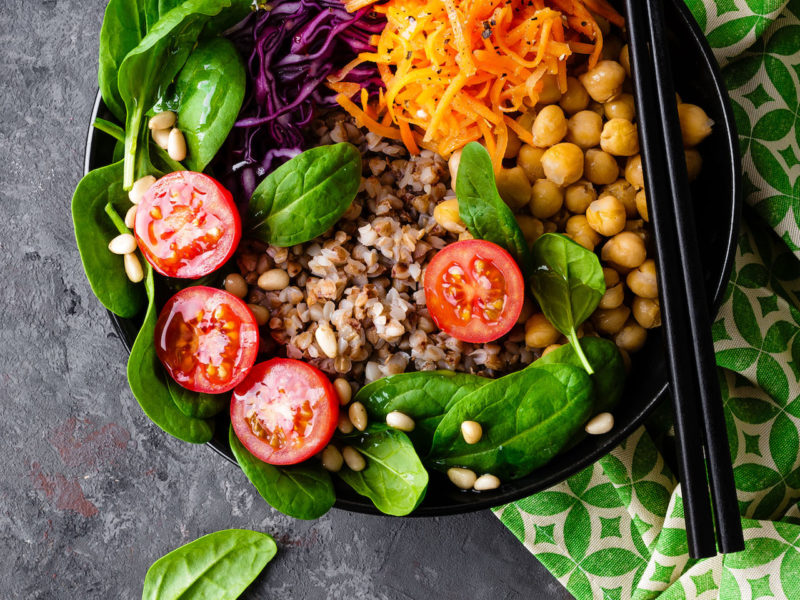 Ingredients
2 Tbsp olive oil
1/2 red onion (in wedges)
2 sweet potatoes (cut in wedges)
1 pc broccoli (without the stems)
2 cups of kale (without the stems)
For the chickpeas:
2 oz chickpeas (drained, rinsed, and dried)
3/4 tsp chili powder
1 tsp cumin
1 tsp garlic powder
salt and pepper
1/2 tsp turmeric
Instructions
1. Preheat your over at 400 F or 204 C.
2. On a baking tray covered with a baking sheet: arrange the onions and sweet potatoes, drizzle them with oil making sure they are all coated. Bake for 10 min.
3. Toss the sweet potatoes and onions, then add the broccoli, season with salt and pepper, bake for an additional 10 min.
4. for the chickpeas: in a large skillet at medium heat, add the chickpeas with the seasonings and olive oil. Toss them until roasted.
5.Serve: On a large bowl add the fresh kale, the roasted vegetables, and sweet potatoes. Top the salad with your roasted chickpeas.
If you want you can add olive oil as dressing with apple cider vinegar!
Nutrition Facts
Fresh Buddha Bowl with Roasted Chickpeas
Serves: 1
Amount Per Serving:

1 serving

Calories

801.65 kcal

% Daily Value*
Total Fat

32.36 g

49.8%
Saturated Fat

4.37 g

21.9%
Trans Fat

0.0 g

Cholesterol

0.0 mg

0
Sodium

1394.63 mg

58.1%
Total Carbohydrate

113.01 g

37.7%
Dietary Fiber

22.86 g

91.4%
Sugars

23.2 g

Protein

23.49 g
Vitamin A

231.53 %

Vitamin C

207.17 %

Calcium

28.38 %

Iron

48.96 %
* Percent Daily Values are based on a 2,000 calorie diet. Your daily values may be higher or lower depending on your calorie needs.