Chicken Tikka Masala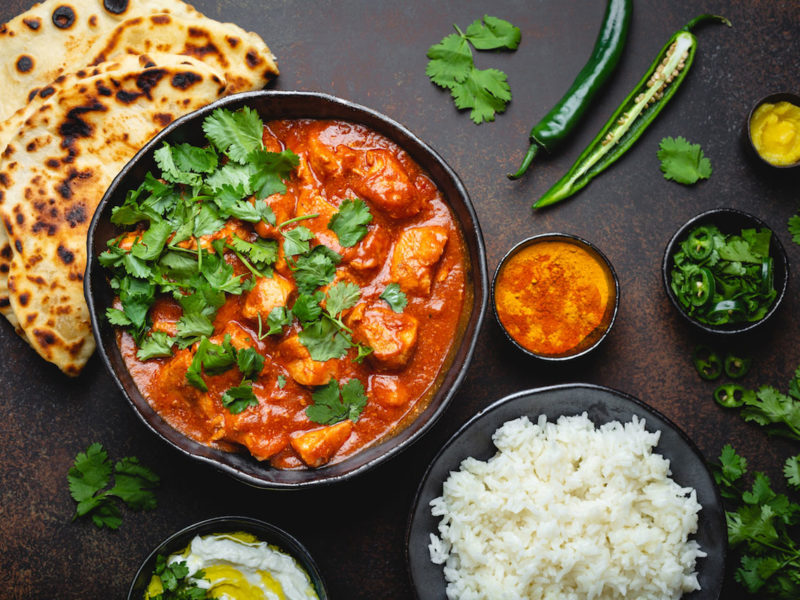 Ingredients
4-5 ripe tomatoes, diced.
One large onion diced.
One garlic.
ginger, diced and smashed
One teaspoon of cumin.
Two tablespoons of Garam Masala (Indian spice mix with coriander, cumin, cinnamon, black pepper, and cloves)
One teaspoon of turmeric.
One teaspoon of cayenne.
Two tablespoons of olive oil.
15 oz of coconut milk.
One tablespoon of tomato paste.
1 lb chicken breast, diced.
Instructions
In a large pot add the oil at medium heat, then add the onions and cumin seeds. Cook for 5 minutes.
Add the chicken and cook until the natural juices are coming out from the chicken.
Add the ginger and garlic to the pot and then add the Garam Masala, turmeric, and cayenne. Cook for 2 minutes.
Introduce the diced tomatoes and the tomato paste. Incorporate all the ingredients together.
Add the coconut milk and stir to combine, let it simmer at low heat for 25 minutes.
Serve it with rice or quinoa, top it with cilantro!
Nutrition Facts
Chicken Tikka Masala
Serves: 4 people
Amount Per Serving:

1/2 cup

Calories

532.39 kcal

% Daily Value*
Total Fat

40.66 g

62.6%
Saturated Fat

24.21 g

121.1%
Trans Fat

0.12 g

Cholesterol

72.57 mg

24.2%
Sodium

129.48 mg

5.4%
Total Carbohydrate

17.94 g

6%
Dietary Fiber

3.6 g

14.4%
Sugars

6.02 g

Protein

28.47 g
Vitamin A

11.18 %

Vitamin C

30.03 %

Calcium

10.01 %

Iron

42.07 %
* Percent Daily Values are based on a 2,000 calorie diet. Your daily values may be higher or lower depending on your calorie needs.