Asparagus & Mushroom Sorghum Risotto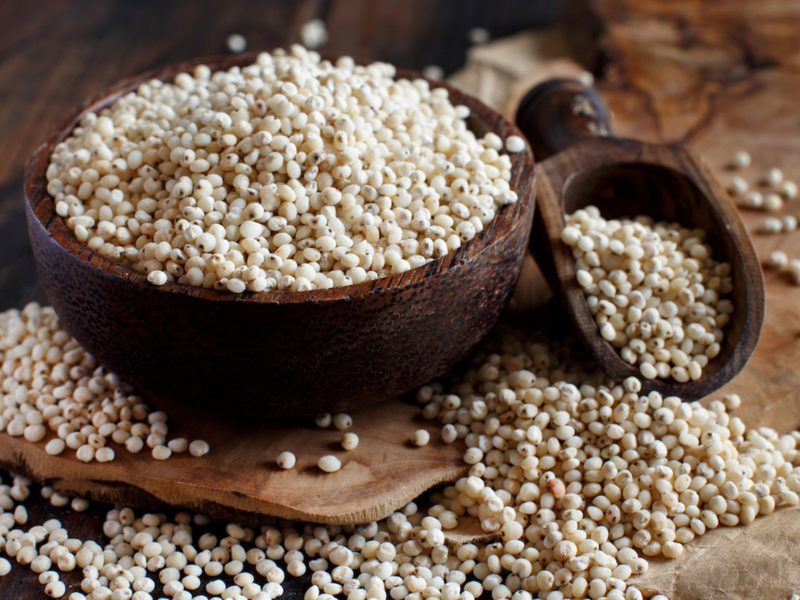 Ingredients
3 tablespoons olive oil
2-3 garlic cloves, minced
1 bunch thin asparagus spears, sliced into ¼ inch pieces
10 ounces baby Bella mushrooms, sliced or diced
1 medium onion, diced
1 cup whole grain sorghum
2 cups low sodium vegetable broth
1/2 cup white wine
1/4 teaspoon sea salt
1 tablespoon truffle oil (olive oil can be substituted)
1 tablespoon lemon juice
1/2 teaspoon lemon zest (optional)
1 tablespoon nutritional yeast
Instructions
Heat a 6-quart pressure cooker over medium heat with the lid off (use "sear" setting for electric pressure cookers.) Add 2 tablespoons of olive oil and garlic. Once the garlic is golden brown, add asparagus and mushrooms. Sauté approximately 5 minutes until mushrooms are soft. Set mixture aside in a small bowl.
Over medium heat, add 1 tablespoon of olive oil and onions, sauté approximately 3-4 minutes until onions are translucent. Add sorghum, broth, and wine, bring it up to a simmer. Remove from heat and close lid securely.
After the lid is securely locked, bring up to high pressure over medium-high heat for approximately 20 minutes. You will need to adjust heat to medium or level needed to maintain high pressure for a stovetop pressure cooker.
After 20 minutes, remove from heat and release the pressure through the steam vent. Once pressure is released, remove the lid. (Refer to your owners manual for additional suggestions)
Stir in truffle oil, lemon juice, and lemon zest to the sorghum mixture and combine well. Add the asparagus, garlic, and mushrooms and stir until combined and asparagus is warm through.
Serve immediately.
Nutrition Facts
Asparagus & Mushroom Sorghum Risotto
Serves: 4 people
Amount Per Serving:

1/2 cup

Calories

350.81 kcal

% Daily Value*
Total Fat

15.77 g

24.3%
Saturated Fat

2.02 g

10.1%
Trans Fat

0.02 g

Cholesterol

0.0 mg

0
Sodium

145.01 mg

6%
Total Carbohydrate

43.68 g

14.6%
Dietary Fiber

6.11 g

24.4%
Sugars

5.02 g

Protein

10.4 g
Vitamin A

1.63 %

Vitamin C

8.67 %

Calcium

3.27 %

Iron

16.72 %
* Percent Daily Values are based on a 2,000 calorie diet. Your daily values may be higher or lower depending on your calorie needs.