Overnight Oats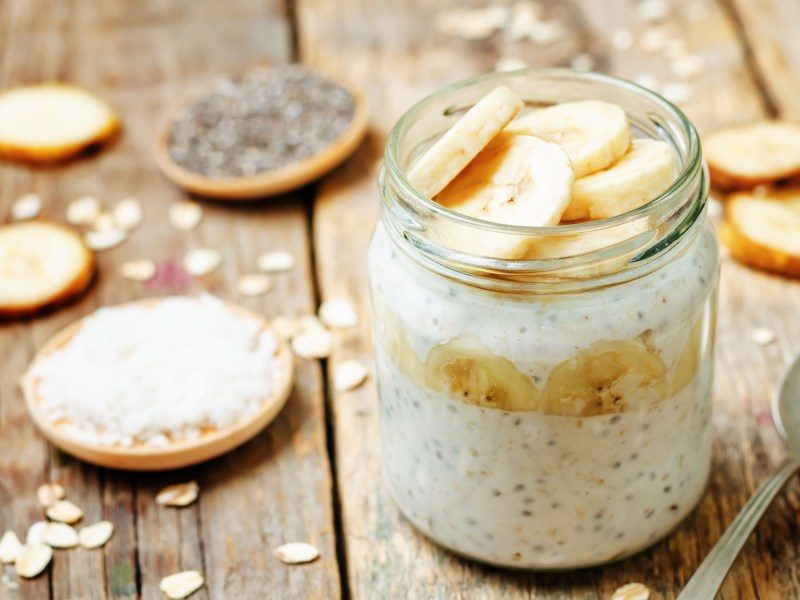 Notes
Breakfast is my favorite time of the day, unfortunately, most of the time I have to take my breakfast to go. This is why these overnight oats are a lifesaver for me. They are versatile and allow me to vary my fruit intake day by day.
Change the banana for 1/2 sliced apple and add cinnamon or 3/4 cup of a blueberry and strawberry mix!
As an alternative, on those days I need an extra protein serving or I am out greek yogurt, I add a scoop of previously mixed vegan protein. However, this alternative needs some extra milk or water to improve the consistency. Also, mix it up! you can add vanilla extract or even cocoa powder!
Ingredients
Fruits (options):
1/2 sliced banana
6 pcs walnuts or 8 pcs almonds
1 tbsp chia seeds
1 tbsp flax seeds
Condiments:
1 tbsp Maple syrup or Agave syrup
1 tsp organic peanut butter or almond butter
Cereals:
1/2 cup rolled oats (preferably certified gluten-free)
Diary:
1/2 greek yogurt (or dairy-free alternative)
1/2 cup of dairy-free alternative milk
Instructions
In a mason jar:
Add the rolled oats, chia seeds, and flax seeds. Mix them together.
Add the maple or agave syrup.
Add the yogurt and milk, mix them together.
Close the mason jar and keep it in the fridge through the night.
Next morning:
Add the walnuts or almonds of choice.
Add the sliced fruit of your choice.
Top it with almond or peanut butter.
Enjoy!
Nutrition Facts
Overnight Oats
Serves: 1 person
Amount Per Serving:

1 cup

Calories

697.97 kcal

% Daily Value*
Total Fat

37.05 g

57%
Saturated Fat

7.97 g

39.9%
Trans Fat

0.02 g

Cholesterol

26.95 mg

9%
Sodium

115.25 mg

4.8%
Total Carbohydrate

77.56 g

25.9%
Dietary Fiber

14.08 g

56.3%
Sugars

32.54 g

Protein

22.62 g
Vitamin A

9.86 %

Vitamin C

6.85 %

Calcium

44.54 %

Iron

24.61 %
* Percent Daily Values are based on a 2,000 calorie diet. Your daily values may be higher or lower depending on your calorie needs.